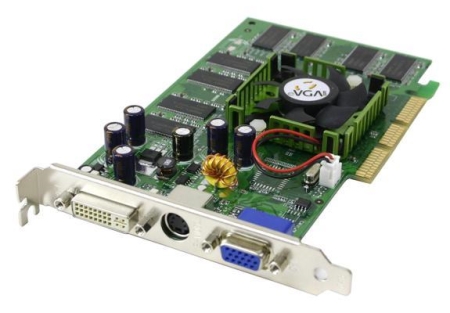 An Entry-Level Card for an Entry-Level price!
Summary
An entry level video card for a great price.
Pros
Cheap, great quality and performance…
I just upgraded the graphics card for one of my oldest clients about two weeks ago with this decent EVGA GeForce FX-5500 (256 MB) graphics card. This card is basically an overclocked version FX-5200 that is a bit faster. This card is simple, cheap, and you will be able to play some of the good games that are available today at low settings; it also has a lot of standard Nvidia features like dual monitor support, and great media playback. My client paid about $60.00 for this card with shipping and handling included. This card is definitely not made for gaming, but instead mostly for normal day to day desktop usage.
WHY WOULD YOU BUY THIS CARD?
If you are like my client (who does not play games that much), then you probably need a graphics card like this one for your computer. This car will give you great performance and quality for a great low price; it also has a lot of features that you would get in a high-end card from Nvidia. If you upgrade from the older FX-5200 card, you would notice boosts in quality, performance, and overall speed. Best of all, it is made by Nvidia so you can only expect great quality and performance, and also the flexibility to overclock it a little bit.
WARRANTY AND REGISTRATION
eVGA provides a one-year standard warranty. Just visit evga.com or call them at (888) 881-3842 to find out more about the warranty. When you register your card with EVGA they will generously extend it to two years for free. You can visit evga.com/register to register your card.
PACKAGE CONTENTS
GeForce FX 5500 256 MB AGP Graphics Card
S-Video Cable
DVI to VGA Adapter
User Guide
Low Profile Bracket
Driver Installation CD
ABOUT THE CARD
This particular graphics card is for an AGP (Accelerated Graphics Port) interface; AGP is faster than PCI (Peripheral Component Interconnect) which means faster graphic performance as well. There is a newer much faster interface available now called the PCI-E (PCI Express) which is twice as fast as AGP; but there are no games or systems available yet that can take full advantage of the increased speed of the PCI-E, so you might as well stick with the AGP for now. I am not saying that you should not buy PCI-E because it is clearly the future of graphics cards; as technology advances, future games and systems will eventually be able to take full advantage of the PCI-E technology. I would stick with AGP for now though.
The EVGA GeForce FX-5500 has three connections (VGA – 15 pin D-Sub x 1, DVI x 1, and S-Video x 1) which will allow you to connect most display devices. DVI can also be used to connect the huge and bulky CRT displays (with adapter) or the newer lightweight and space-saving LCD monitors. The S-Video can be used to connect your TV monitor, but some of the newest TV's have DVI connections available.
The card itself is not as big (lengthwise) as the newer 6600, 6800, and 7800 series cards and it is thin enough to only use up one slot in the back of your computer. The heat-sink is small enough also since the card does not generate that much heat; it keeps the GPU (Graphics Processing Unit) cool at all times (even after some overclocking).
INSTALLATION
The installation was a breeze as it only took me about 5 minutes maximum. There is nothing new that requires extra attention when installing this card. It is not like the newer once that require an additional power source. I did not use the drivers that were provided in the installation CD because I wanted to have the latest up-to-date drivers; I went to nvidia.com and downloaded the latest available driver package and installed that. The up-to-date drivers provide better performance and stability, so it is always best to get the latest versions.
DRIVERS
Once you install the drivers, you will notice an additional tab in the "Display Properties -> Advanced Settings" window; this tab will have the name of the graphics card (in this case GeForce FX-5500 or something similar). This tab has all of the settings that can be controlled by the drivers available. You can change the display settings, performance and quality settings, color, refresh rates, multiple or single display options, and some other helpful settings.
There is a utility available at guru3d.com that will allow you to overclock and some other advanced features like the card temperature monitor. I like this because I do not have to download an additional utility that will do this for me and take up hard disk space and system resources. So if you are an overclocker like me, go to the website and download it for yourself.
EXPERIENCE
I had a little more than a week of personal experience with this graphics card and I would say that it is a very nice card for the price. My client seems to like the increased performance and speed from the older FX-5200. I also noticed that movie playback and video output is much better when compared to the 5200. I did perform some benchmarks and they were obviously better than those from the older 5200 scores. My client says that his game performances have increased a lot. I performed benchmarks with 3DMark 2001 and 2003 at stock speed and overclocked speed. Here are the results:
| TEST | RESOLUTION | SPEED | SCORE |
| --- | --- | --- | --- |
| 3DMARK 01 | 1280 x 768 | Stock Clock | 8,302 |
| 3DMARK 03 | 800 x 600 | Stock Clock | 2,456 |
| 3DMARK 01 | 1280 x 768 | Overclocked | 8,654 |
| 3DMARK 03 | 800 x 600 | Overclocked | 2,699 |
By looking at these results, I can proudly say that the EVGA GeForce FX-5500 256 MB graphics card is one of the best low-end ones available nowadays. Even at full load and with overclocked speeds, the temperature stays well below 65 degrees Celsius (with the stock heat-sink). Compared to the noise of the heat-sink fan of my processor the heat-sink fan of this graphics card is almost mute; you will not be able to hear the fan ever.
FINAL THOUGHTS
I can happily say that I was very happy with this graphics card and my client says he was surprised with the performance and quality boost for the price he paid. It also has the ability to overclock to gain more power do deliver better performance and stability without any major disadvantages. The two-year warranty is another advantage that my client and I liked; I mean everyone likes to be protected in case a defect should appear after a year or so of use. The drivers are easy to install and tweak to your specific needs. My client says that it was worth every penny because he is just astounded by the overall performance. I would highly recommend this graphics card to everyone in need of a great graphics card for a fraction of the price.