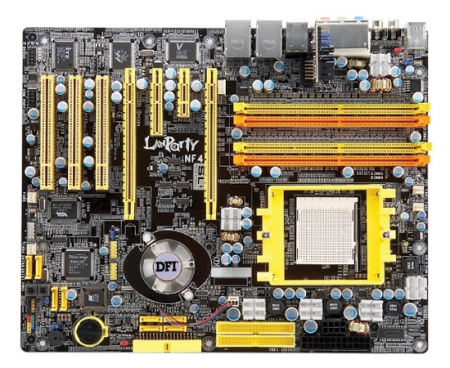 Party Mobo!
Summary
One of the best SLI motherboards available!
A little more than a month ago I built a computer for a new customer of mine; he wanted a very fast computer but he did not want to spend over a thousand dollars on just the processor.
So I recommend the AMD Athlon 64 FX-55 processor and this DFI LanParty UT nF4 SLI-DR motherboard. As always, I went online to newegg.com and ordered it for about $170 plus shipping. The reason recommended this motherboard to my client is that one of my best friends has this and is always telling me to try them
FEATURES AND DESIGN
This particular motherboard has a lot of features that a gamer, enthusiast, or even some professionals would like. First of all, the yellow and orange color combinations are somewhat nice if you have a case with a window (if you have lights, it would look even better). After reading many reviews about this motherboard and its predecessors, I did notice that DFI made some very nice changes on the layout of the components, and addressed a few issues that were present in previews versions. The position of the processor socket is in the center of the board and as far away from other components as possible. This is 939 pinboards that are compatible with the AMD Athlon 64/FX, Opteron, and even some Sempron processors. One thing I did notice is that there is not enough room around the processor socket if you want to use a big heat-sink and fan, but you will be fine if you use the stock heat-sink and fan. Another good thing that DFI did was to put more room for the memory sticks and video cards.
Another thing I noticed (you can call it an issue) is that the 24 pin ATX and the 4 pins 12V connectors are right next to each other. It absolutely makes sense to put these power connectors together, but I do not know why most other manufacturers put them on different sides of the boards. One more thing that I liked about the power connectors is that DFI put stickers on it to put minimum requirements; for an AMD Athlon 3400+ combined with a pair of 6600 GT video cards, you would need a minimum of 350-watt power supply. I know it seems a bit low, so my minimum recommendation would be about 400 to 450 watts.
You also have an option to connect up to about 10 or 12 hard drives to this motherboard if you wanted. It also supports RAID (Redundant Array of Independent (or Inexpensive) Disks) configurations and also has 4 SATA (Serial – Advanced Technology Attachment) ports.
This board also features two of PCI-E x16 (Peripheral Component Interconnect – Express) slots to fit two Nvidia SLI (Scalable Link Interface) video cards. It has x1 and x4 PCI-E slots and two standard PCI slots. There is a set of jumpers in between the x16 and x1 slots that will allow you to switch between VGA (Video Graphics Array) or SLI modes. In VGA mode you will only be able to use one video card, but two in SLI mode which will give you more graphic power. Therefore, the SLI mode will run at 2 x8 and the VGA mode will run at 1 x16. Unlike some other motherboards that have a card that you have to flip to enable/disable SLI, this uses the jumpers. I have heard many stories that the card easily falls out, but with these jumpers, you will not have that problem.
There are many things on the back of this motherboard; it still has PS2 ports (for a mouse or keyboard), but who uses those nowadays when we have USB (Universal Serial Bus). There are six USB 2.0 ports available on the back and on top of that, you can add two more with the onboard connectors. There is a firewire port on the back and you can add one more with the onboard connector. You will also find that this has two, yes two, LAN (Local-Area Network) connectors that provide high-speed connectivity.
There is also a semi-on board sound available on this board. Meaning, it will not operate unless you insert another card in the 14 pin connector. I think DFI made it this way because they put so much on the board and they simply ran out of the room. The 7.1 channel sound is very good and it does sound nice, but if you are like some hardcore music junkies, you would want to use your own sound card for better quality.
INSTALLATION
Hardware
This motherboard is compatible with the ATX form factor so it should fit any current ATX PC case. Installation from the side is somewhat standard and the motherboard did not create any complications for my client's case. His case is medium-sized but it fits without much hassle.
The physical installation for this motherboard is no problem since all screw positions (to hold it in the case) are conveniently accessible even with the processor (CPU or Central Processing Unit) and memory (RAM or Random Access Memory) already installed on the motherboard. However, watch out which screws you use since neither the motherboard nor the case goes into too much detail about that. The ones that fit the studs for the motherboard are the ones with the Hex/Phillips head! You should also use the red/pinkish washers so there are never any shorts.
This motherboard requires ATX 24 pin and the 4 pin ATX 12V power connectors to work properly. My client already has a 450-watt power supply so he does not have to worry about lack of power. This power supply has all the connections and the power that the motherboard (any component in the computer) will ever require.
My client wanted 4 PC-3200 512 MB memory sticks to be installed on this and this board accommodates for them without any problems. After fine tuning the Bios settings to my clients needs, you can start using the computer without any worries. The BIOS controls almost all features on this board. I personally like the ability to save up to five different configurations and recall them when needed. This will come in handy when you are overclocking or playing around with the settings. This will save you a lot of time if you ever mess up.
Software
The driver CD has all of the software needed to make the board compatible with your operating system. My client already had the 32-Bit version of Windows XP Pro installed on the computer, but wanted to try out Windows XP 64-Bit to see the difference in performance and power. I installed the retail version I had so and it was very quick to install. I did not notice any incompatibilities with the 64-bit operating system. Major speed increases are not expected in the 64-bit version, but I did notice that it boots up faster than the 32-Bit version does.
Once everything was installed, I downloaded all updates and drivers for Windows XP Pro and Windows XP 64-bit for this motherboard. This is a lengthy process since there are a lot of critical updates (which includes SP2) that is supposed to make the system more secure. But I personally think the updates makes the system run slower. The whole process takes a good hour or two. If you do not want to spend this time downloading and installing, you can just purchase a Windows XP version that already comes with SP2 and a lot of other updates.
PERFORMANCE
I installed antivirus, anti-spyware, firewall, sound software, and other software that is needed to get everything running properly. After we had all the hardware and software (even the updates) installed, it was time to see how it worked. I agree that a lot of credit goes to the graphics card, but the overall speed and power enhancements were great. I noticed a reduced boot-up time from somewhere about 15 to 20 seconds to about a solid 10 to 20 seconds, which is amazing.
My client is very happy with this configuration and just flies through everything that he does on this new system. With the entire performance boost, these motherboards have plenty of room to expand. The memory can be upgraded to a maximum of 4 gigabytes.
FINAL THOUGHTS
This DFI LanParty UT nF4 SLI-DR motherboard is all about performance and you definitely get that bank for your bucks. You will love how easy it is to tweak the Bios and have the boarding working as you want it to.
My client knows that PCI-Express and SLI are the future of graphic cards and motherboards so that is why he went ahead with this motherboard. After this upgrade, my client's computer is now ready for the future and will not need any major upgrades for a long time. So if you are thinking of going this somewhat expensive upgrade route, I would only give you encouragement.