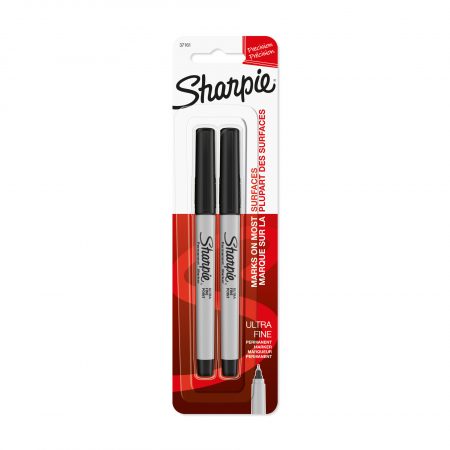 A marker and pen hybrid!
Summary
An average ultra thin marker for all you ultra thin needs!
Pros
Ultra thin, cheap, and bright!
Cons
No finger grip, and cap does not clip on the rear end!
When I start working here at my current job, I found a lot of good office supplies that were just lying around getting wasted. One of them was this Sanford Sharpie Ultra Fine Point Permanent Marker (a black one). I used it for a while and liked how I could also use it just like a pen. I would not say that I love this marker/pen, but it is good enough. I checked prices at Staples.com and they go for about $1.99 (or so) for a pack of two.
DESIGN AND DESCRIPTION
These permanent markers are about 5 and ½ inches in length and a little more then a 3/8 (0.375) inches in width (with the cap on). The ultra-fine tip is about a ¼ of an inch in length. The body of the marker is cylindrical and grayish with manufacturer prints on it. There is not much that is special about this marker, but all that matters is that they write very fine and there is no mess. There is not finger grip on these markers, but they will never slip out of your grip. These are just thick enough so that you can hold these in your hands comfortably. On the other side, there is a black cap that cannot be unscrewed and there is also a clip on the cap of the marker for clipping onto a shirt pocket, binder, book, etc…
I was amazed to see that these markers write on most surfaces that some pens tend to flake out on. The ink is permanent on most surfaces also, so it will last you a long time. Finished work written with this marker looks neat and sharp (therefore the name Sharpie).
EXPERIENCE
I came across these markers when I first started my job and I used these almost daily for double-checking employee timesheets. But I just had to store it again once I got my Pentel R.S.V.P. (red) ballpoint pens. It is not that I did not like using these markers, it is just that our employees write with black ink and I wanted something that would stand out (red) from the rest. Now I have not tried the red version of this marker, but so far I am happy with my Pentel pens. I personally like the ultra-sharp point, a bright and clear color of this marker. I also use these to make temporary labels for our customer records (Smead hanging folder labels). They last a pretty long time, and the results are great.
I like to put the cap on the rear end of the marker when I write because it puts some weight on it for better handling, but unfortunately the cap does not clip on like other markers and pens. That was another one of the reasons I decided to switch. Also, putting the cap on the rear end also keeps it from getting lost in this big shop.
It would have been a motivation for me to use these pens if it had finger grips to make my writing experience more comfortable and to provide the smoothest writing experience. Sometimes my hand's sweat (in hot weather) so I needed something that would not slip out of my hands. The cap does not clip on the read end so if you shake these markers somewhat roughly, the cap will fly off and maybe it will hit you in your eye (if you are lucky).
FINAL THOUGHTS
These Sanford Sharpie Ultra Fine Point Permanent Markers are one of the average marking utensils I have used to write at work. I always keep one or two in stock just for my own personal needs, but sometimes even my boss asks for these for precise marking needs. I would recommend these for your daily office use or even your home and school needs.