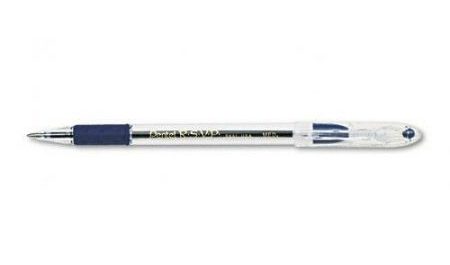 A Pentel for every job!
Summary
Write your fingers of with these pens…
Pros
Vibrant color that is easy to read.
A couple of months ago we ran out of those cheap BIC Round Stic ballpoint pens and I had to order more. I ordered the same ole BIC Round Stic's for the shop people and I remembered that I used to have a Pentel RSVP red pen with was very nice and wanted to get more for myself. So I looked around the pages at Staples.com and found a box of black and a box of red. It cost more than our BIC Round Stic's but it was well worth it. I kept these pens is my personal drawer at work so no one else could use it; a twelve-pack of pens disappears in just four days at our shop, so I had to be careful.
PURCHASING
Staples sells a dozen of the RSVP pens for $5.99 that is about 50 cents for each pen. I bought two boxes of these; one black and the other red. Now you may find better deals than these from other retailers, but since we have an account at Staples.com I used them to make the purchase.
DESIGN & DESCRIPTION
These pens are almost 5 ½" in length and almost ½" in width with the cap on. The stainless steel pen point by itself is about ¼" long. The cylinder in which the ink cartridge goes is see-thru and circular. The way the clear plastic is cut inside the cylinder, it appears hexagonal and the exterior of the pen is perfectly circular without any lumps and bumps.
There is a rubberized finger grip that provides you with comfort while writing. This black grip is the same color as the ink of the pen; this grip is about an inch in length. Some small craters on the finger grip help maintain proper grip at all times. On the other side, there is a cap that can be unscrewed to replace or remove the ink cartridge. There is also a clip on the cap of the pen for clipping onto a shirt pocket, binder, book, etc…
EXPERIENCE
I came across these RSVP pens when I first started my job and I found one of the red colored pens that worked great for me. I like the sharp point and vibrant color of the pens. The color of the ink is always bright and it stays like that until it runs out. I do not know who they make the ink for these pens but they are always easy to read.
I use these black pens for almost all of my writing that I do at work and I use the red for auditing things like employee time-sheets and other internal forms. I mostly write messages, notes, work orders, and part information with these and they are always easy to read because the color is never dull or blurry.
I like to put the cap on the read end of the pen when I write because it puts some weight on the pens for better handling; that is just how I like it, but you may like it differently. Putting the cap on the rear end also keeps it from getting lost in this jungle of an office I have here.
The finger grip keeps helps me keep the pen in place to provide the smoothest writing experience ever. Sometimes my hand's sweat (in hot weather) so I needed something that would not slip out of my hands. The little craters on the finger grip almost stick to my fingers like glue to provide stability in writing.
I am not saying that I have the best handwriting, but since I started using this pen I think my handwriting has improved a bit. Or maybe it is the same and this pen is making it look better. Who knows?
FINAL THOUGHTS
These Pentel RSVP pens are one of the best pens I use to write at work, school, and home. I love to use them. They fit nicely in my pocket, hand, and drawer. I keep two stashed somewhere in my car just in case I run out. So go ahead and try these pens for yourself for about 50 cents each; I mean you cannot go wrong with Pentel.