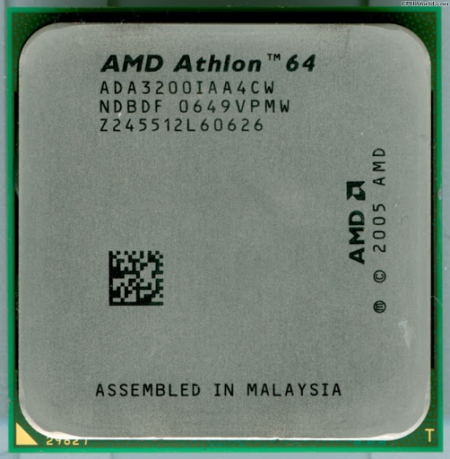 An Amazing Processor for an amazing price...
Summary
Not so expensive 64-Bit processor…
Pros
Fast, Smooth, and Reliable…
The AMD Athlon 64 3200+ is the smoothest and fastest processor that I could afford at this point in time (this system is for my wife). I will try my best to get all of the most helpful information on this review, but I may still miss some information.
INSTALLATION
The installation was as easy as always when it comes to AMD processors. I purchased the Asus A8V Deluxe motherboard again to go with this processor since I already have a system that uses it and plus it is after all an Asus. The easy installation guide that is in the box comes in handy if you are doing this for the first time. The guide clearly guides you step-by-step on what to do to properly install your processor.
After installing the processor, you can either choose to install the stock heat sink (which is also perfectly good if you do not plan to overclock) or one of the favorites that will keep you processor cool and performing at its best. One tip I would like to give you if you are planning to install it yourself; use Arctic Silver thermal grease when installing the heat-sink.
Now when you boot-up for the first time with this processor, you would probably have to clear your CMOS to make sure you start out with a clean system. Then just install your operating system or if you already have an operating system install, just boot up. One thing to keep in mind when booting for the first time is to keep an eye on the processor temperature (especially if you used a different heat-sink and overclocked).
I knew that this motherboard requires certain memory sticks because of the problem I had the first time I installed on my own system (AMD Athlon 64 4000+). I did not want to have the same problem again.
FEATURES I LIKE
Two of the features I like the most are AMD's Cool N' Quiet and Enhanced Virus Protection technologies. The Cool N' Quiet technology helps to reduce noise and power consumption by the processor. It automatically throttles the processor speed along with a thermally controlled heat-sink fan(s). When the processor is not being used that much, it reduces the processor and the heat-sink fan(s) speed to reduce the amount of heat and noise this is produced by the processor and the fan(s).
The Enhanced Virus Protection technology is only on AMD's Athlon 64 processors. It is designed to prevent many viruses from infecting your computer. Enhanced Virus Protection works together with Microsoft's Service Pack 2 for Microsoft Windows XP. When enabled the operating system watches for a lot of activities that often imply a virus has infected the computer.
Other than these two newer technologies the processor supports the standard Athlon 64 features including SSE2, a 1000 MHz (up and downstream) Hypertransport link to the motherboard, integrated dual-channel memory controller, 8 extra 64-bit registers, and other very useful features.
EXPERIENCE
I have had this processor for about four weeks now and it has not yet given me any problems. It does not overheat (I did not overclock yet) ever. I did notice a great difference in speed from my old AMD Athlon XP 2500+ system I had a while back.
I did not perform any benchmarks on this processor, so I would not be able to provide any scores. All I can say is that it felt faster and smoother than the Athlon 2500+ so I would assume that the scores would have been a bit higher also. My old AMD Athlon XP 2500+ used to get around 6573 for 3DMark 03 and 1678 on 3DMark 05 (actual data). These benchmarks are accurate as of September 10th, 2005.
My wife's new system computer runs way faster than my old Athlon 2500+ and provides me with the capability of 64-bit computing for the future. I have installed Windows XP Pro SP2 on this new computer and this processor does not even blink.
FINAL THOUGHTS
I used to have an Intel Pentium based computer (my first computer) that my data bought back in 1998. It was fast (133 MHz); at that time it was a state of the art computer. In 2003, I finally got tired of that old guy and decided it was time for me to upgrade to a much faster computer, so I built my very first system (2.2 GHz); which was the fastest in its time. Then just about a month ago, I upgraded again to 2.4 GHz (do not be fooled by the technical difference). It is only a 200 MHz upgrade technically, but when you use it, you will feel like there is a 1 GHz difference. After a lot of requests/orders from my wife, I finally built her this computer for her to use for her computing needs. My wife has not complained about any speed problems or the system hanging for any reason. I have noticed that the computer boots up really fast, programs startup quickly, and the Low-Fi games run smoothly as ever. And on top of that, this system is ready for the future with 64-Bit capability. Are you ready for the future?