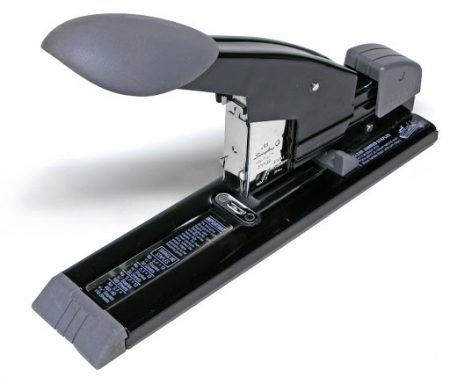 Look out you little staples...
Summary
If you can't get it together, get the strongarm…
Pros
Fast, portable, and tough.
I rarely ever have the need to use this stapler, but when the time does come it never fails to do the job right. If you staple a lot at work or at home, you may want to consider purchasing an electric stapler, but for some big jobs, I would suggest getting this unit as a backup. I have been using the Swingline 113 Strongarm stapler for about a year now and it has served me well.
I had never used a heavy-duty stapler prior to working for my current employer, so this was something new and exciting for me to get my hands dirty with. I usually use this unit for stapling our fifty-page handbook and I wrote myself and I do not even have to put any effort into it to get those pages stapled. The big handle does allow you to put more force when stapling.
DESIGN
The Swingline 113 Strongarm is nicely designed to take less of my closet space; this is always good for me because I can use all the space I can get. The black and grey color is nice and it matches all other office supplies and electronics on my desk like my Swingline Half-Strip, Panasonic KX-T7425B Phone, and Canon P1-DH III Calculator. The design is compact and tough at the same time.
PERFORMANCE
The Swingline 113 Strongarm can handle up to one hundred and ten (110) (20 lb) sheets at one time which is a lot more than what I use it for. I usually use my Swingline Half-Strip for my smaller needs but this unit always comes in handy for the big jobs.
I have stapled about forty to fifty pages at a time with this stapler and this unit does not seem to give up until the staples run out. It does not freeze up when used excessively; it does the job correctly every single time.
Loading staples is easy as one two three… Just pull the grey knob out from the back, replace the staples, and push in the staples holder and you are done. So far this unit has performed as it should for me and I know it will continue to do so for a very long time.
EXPERIENCE
I would say that I use this stapler at least two to three times a month, and at the end of each month, I get to put it to the test with my two hundred page report print outs that need stapling. I regularly update our company's handbook; therefore I get to print it out too. So far it has gotten up to about fifty pages and this stapler does not sweat because fifty pages are nothing for it. Even though this unit is not made or designed for less than fifteen pages, it will happily accommodate for it.
FINAL THOUGHTS
For the time I have used the Swingline 113 Stongarm stapler, I can proudly say that it can only make your job a bit easier and quicker. So go ahead and get one for yourself, just as a backup that is.