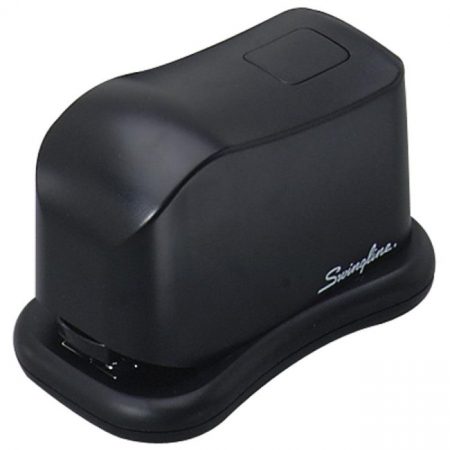 A Lazy Boy's Dream!
Summary
Don't make friends with your manual stapler, get the staplalizer instead.
Pros
Fast, portable, and compact.
Like me, if you staple a lot at work or at home, you may want to consider purchasing an electric stapler, and what better place to buy one from than Staples or Staples.com. I have been using the Swingline Half-Strip electric stapler for about two years now and it has served me well. I had never used an electric stapler prior to working for my current employer, so this was something new and exciting for me to get my hands dirty with.
Every month, at work, I print out hundreds of pages of reports to mail out to our other locations, so I need a stapler that is fast, strong, and portable. I usually staple a maximum of ten pages together and with a regular manual stapler I used to hurt my wrist and it was slow; for a business, time is money (as everyone knows already).
DESIGN
The Swingline Half-Strip is nicely designed to take less space on your desk; this is always good for me because I can use all the space I can get on my desk. The black color is nice and it matches all other electronic devices on my desk like my Panasonic KX-T7425B Phone and Canon P1-DH III Calculator. The exterior design is so compact that it is smaller than my calculator in length and maybe in width also by the looks of it.
POWER OPTIONS
This unit can either work with batteries or AC power. The flexibility is useful for portable use, but I can use the power cord if I keep it on my desk all the time.
Battery
This unit takes 4 double A (AA) batteries to operate and these batteries last a very long time. During the almost two years I have used it I have replaced the batteries only once. Replacing the batteries is easy; just open the cover on the bottom and replace the batteries (markings clearly specify which direction the batteries go in).
AC Power
I do not use the AC power cord because I like the portability with using the batteries instead. But if you have an extra outlet and prefer AC over DC, there is a power cord available that uses 115V AC power. The power cord is long so you will not have any problems finding a proper outlet.
PERFORMANCE
The Swingline Half-Strip can handle twelve (20 lb) sheets at one time which is more than what I use it for. If I ever do need to staple more than twelve, we have a heavy-duty stapler that can handle up to one hundred and ten pages, and it is also a Swingline product.
I have stapled about two to six pages of up to two hundred pages one after the other and this stapler does not seem to give up until the staples run out. It does not warm up or freeze up when used excessively. Loading staples is easy as one two three… Just push the black button on top, replace the staples, and push in the staples holder and you are done. The noise is no problem for me since I work in a repair shop and it is always loud in the shop, but for an office that has low noise bounds, I would say it is a tad bit loud. So far this unit has performed as it should for me and I know it will continue to do so for a very long time.
EXPERIENCE
I would say that I use this stapler every single day, but once every month I get to put it to the test with my two hundred page report print outs that need stapling. Since my printer is located in the next office, I have to carry the Swingline Half-Strip to the printer, and using batteries makes it easier than using the power cord.
I do not have a problem with the noise level because my office is already loud enough with machines running in the shop. I am also very happy with the battery life as I do not like to have to replace batteries in the middle of something. The flexibility of the power options for this unit is another advantage that made me purchase it for my desk. I can use the power cord if I plan to use it only on my desk, but I can also use batteries to make it portable.
FINAL THOUGHTS
For the time I have used the Swingline Half-Strip electric stapler, I can proudly say that it can only make your job a bit easier and quicker if you are a lazy boy like me. So go ahead and get one for yourself and get rid of that manual stapler.