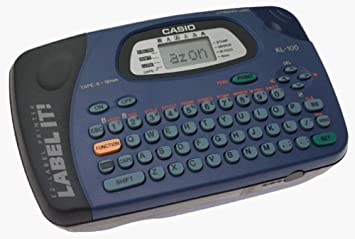 Got Labels?
Summary
For all your labeling needs, get the Casio KL-100…
Pros
Inexpensive, reliable, and efficient label maker…
Now I am not sure how long my company has had this Casio KL-100 label maker, but all I know is that it works and well enough to get the job done and fulfill our needs. I am pretty sure that whoever purchased it paid well around $50 for this because I know it would have been the latest and the greatest during its time. Even though the blue color hardly matches with other equipment on my desk, but why would I keep this on my desk when I can store it in my closet.
DESIGN & CONTROLS
One thing that attracts me the most about this unit is the compact size of this unit. I have seen many other label makers a while back but this still seems pretty small. I mean if I do decide to put this unit on my desk, it would not take up too much space, but I think it is happy in the closet. Now do not think that the size matters (in this case anyways); this unit does its job very efficiently.
This unit is about 7 inches in length, a little over 4 inches in width, and about 2 inches in height. It has a full keypad with ¼ by ¼ inch buttons which are durable enough to be used in a repair shop like ours. One of our mechanics used this label maker to label parts and vehicles. I mean if it can handle rough jobs like that, then it can probably handle anything.
The LCD is about 1 and ¼ inches in length and 3/4 of an inch in width. This LCD can display three (3) characters at a time; it will show you what you are going to print and all of the effects, styles, or sizes you are going to apply to the text you want to print.
There is a 1 and ½ inches by 3/4 of an inch window in the back which allows you to see how much of the tape is left without having to open the rear panel. If you open the rear panel you will notice the tape and batteries that power the unit. This unit takes six (6) double-A (AA) batteries; these batteries will last you for months at normal use. I have only replaced the batteries once in the two years I have used it. The tape is easy to replace also; they are also not too expensive to buy either. There is also a groove on the rear panel for a comfortable grip with only one hand. I think this is one of the best features of this unit.
By the way, you can either use batteries or an AC power cord to power this unit, but if you need portability, I would suggest using batteries. You can purchase a variety of labels in different sizes and color combinations. The options built-in in this unit will help you adjust to all supported tape sizes. You can even print text on two different lines with the appropriate tape and option settings.
There is a built-in label cutter that allows you to cut the label quickly and easily when it has finished printing. I have never had a damaged label because of the cutter.
PRINTING LABELS
This unit takes several types of tapes which differ in size and color. The Casio KL-100 can handle tapes in the size of 6mm to 18mm; this can come in handy when there is a need for better visibility of the printed text. There are a lot of colors to choose from for the tape; some popular ones are black prints on white tape, white prints on black tape, gold prints on black tape, and black print on gold tape.
These tapes to last a while with normal use and they do not cost an arm and a leg like most printer cartridges, but I think it is a bit high for these little tiny cartridges. I am pretty sure you can find a good deal on the tapes online somewhere. I bought my tapes from staples.com for about $15 each; I got a two-pack for around $28.
EXPERIENCE
I have done a lot of printing with the Casio KL-100 label printer and I can proudly say that I have had a wonderful experience with it. It has not once provided me with what was not expected. I use it for labeling mail bins, employee mail slots, parts, and other things that require labeling.
When I first started my job, it did not take me long to figure out how to use this unit. Since it is Casio I just assumed that they made everything very user friendly. I use batteries to power this unit so I can take it anywhere without worrying about if the power cord will be able to reach or not. Like I said before, one of our mechanics used it to label parts (in vehicles). This means he had to take this label maker under the hood of the vehicles.
FINAL THOUGHTS
I would say that the Casio KL-100 label printer is a really good label maker for any small business like ours. It will take care of all your labeling needs without any hesitation and the results of the printed labels will be worth every penny you spend on it. If you are looking for a nice label maker that is inexpensive, reliable, and efficient I would suggest getting this Casio KL-100 label printer or the latest model if you can; you will not regret making this purchase… you can take my word for it.