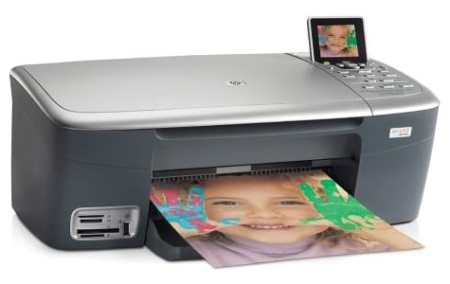 Yet another excellent photogenic printer!
Pros
Fast, compact, reliable, and low cost printer…
Sometime last week the old printer at our Oakland shop decided to permanently go on strike, so I was called up again to find a good printer to replace it.
As usual, I went online to do some research; after a couple of hours I decided to recommend two printers and let my boss choose the one he wants. My first choice was either the HP OfficeJet 7310 or the 7410 and the other one was this HP Photosmart 2575 all-in-one printer. The same day my boss went to Costco Wholesale and purchase this Photosmart 2575 xi for the shop (they actually have three models: Photosmart 2575, Photosmart 2575v, and Photosmart 2575xi). Now I had to drive all the way from South San Francisco to Oakland in broad daylight; can you just imagine the traffic?
HARDWARE & SOFTWARE INSTALLATION
Setting up the printer was quick and easy because the installation guide properly instructs you through step by step on what to do to get the printer to get up and running. It took me less than fifteen minutes to unpack and set up the unit.
For some reason, HP made their software installation a bit of a pain. There is nothing wrong with it, but it just takes too long. And since we have the slowest computer of all at the Oakland shop, it took me even longer to install the software and the drivers. But overall, it is definitely worth the wait because the software and drivers are what make this printer go, but you can also print, copy, or scan without a computer also.
INSTRUCTION MANUAL
The user manual is very simple to read and comprehend; everything is easy to find. The manager at the Oakland show does not know how to work a computer, but with a little help from the user manual, he will be operating this machine with both his hands tied behind his back. HP has always done a really good job of writing all their user manuals because all of the ones I have ever used are really easy to read and understand.
DESIGN AND CONTROLS
This all-in-one printer is 17.32 inches wide, 6.77 inches high, and 11.18 inches in depth; this is a very compact all-in-one machine. And it only weighs about 12.13 pounds so almost anyone can carry it and install it. We really do not care about the weight because we are just going to place it on a shelf and forget about moving or lifting it. On the other hand, the guys here at the shop are strong enough to lift a mere 12-pound package. As long as it prints copies and scans, we will have no problem with it.
There are not many buttons on the control panel so you will not have to look at the manual work with this machine. You can copy or scan with just a press of a button and printing is just as easy from any connected computer. But the best way to find out what each button does and how to use them is by reading the user manual (thoroughly) which will provide a lot of information with details on how to operate this unit.
There is a PictBridge port in the left front lower corner so you can print directly from your compatible digital cameras or flash memory. If you do not want to transfer your images from your camera to your computer then this is a nice tool for you. The LCD comes in handy when you want to print directly from the printer without a computer. It also shows you the status and other error notifications. You can see your images clearly on this LCD as it is 2.5 inches. It also tilts up or folds flat so you will never have a hard time seeing what is on the screen.
SPEED & MEMORY
This all-in-one prints 30 draft quality black pages every minute, about 8 normal quality black pages every minute, and 2 best quality black pages every minute. On the other hand, it prints 24 draft quality color pages every minute, about 5 normal quality color pages every minute, and 2 best quality color pages every minute.
OPERATIONS WITH A COMPUTER
All the software and drivers that take so long to install, help you print what you want and how you want it quickly and easily. The software is easy to use and manage, but when it comes to managing your photo library, Adobe Photoshop Album and Google Picasa lead the pack.
OPERATIONS WITHOUT A COMPUTER
Yes, you heard it correctly; you can print, copy, and scan without a computer. You can print photos directly from your camera or your flash memory cards. All you do is, plug in a PictBridge compatible camera to the appropriate port on the printer or plug in a memory card and you can print the photos you need. You can use the LCD screen to see the pictures and choose what you want to print. This feature is nice because at the shop they will mostly use this printer for copying, printing, and scanning only. I do not think they will ever print photos on it because they do not have a digital camera at that shop.
INK CARTRIDGES
This all-in-one machine is compatible with a wide variety of HP ink cartridges. Here is a list of these cartridges and how they are helpful (all of this information was gathered from hp.com):
HP 94 Inkjet Print Cartridge

($19.99)

This cartridge provides laser-quality black text and graphics. Using this cartridge will ensure optimal and genuine HP performance.

HP 95 Inkjet Print Cartridge

($24.99)

This cartridge provides rich, lifelike color for vibrant, professional-quality photos and bright bold graphics that resist fading for generations.

HP 96 Inkjet Print Cartridge

($29.99)

This cartridge provides professional, laser-quality black text and graphics. This cartridge is designed for faster printing and higher yield.

HP 97 Inkjet Print Cartridge

($34.99)

This cartridge provides rich, lifelike color for vibrant, professional-quality graphics and photos that resist fading for generations. It is designed for higher yield and frequent printing.

HP 99 Inkjet Print Cartridge

($24.99)

This cartridge produces crisp, true-to-life colors for vibrant photos that resist fading for generations. It is designed especially for color photos.

HP 100 Inkjet Print Cartridge

($24.99)

This cartridge is useful for printing professional quality black and white or color photographs. Photos printed using this cartridge will resist fading for generations (except where noted, all prices are estimated U.S. HP prices. Actual prices from other locations or websites may vary.)
All of the ink cartridges are easy to install and/or replace; all you have to do it open the cover, unlock the cartridge which allows you to remove and replace the cartridge, and replace them. These cartridges may cost you more separately, but if you want to save a lot of money, I would suggest purchasing all your ink supplies in two or three packs.
QUALITY
I did plenty of test prints before I was ready to let my boss and guys at the shop try out this new machine. Every single print I made (whether it is text, text with graphics, or just photos) turned out to be great. The text quality is indistinguishable from those of a laser printer.
Text Prints
All the text prints we make are either of normal or draft quality, but the normal quality looks better because it is very close to laser quality. We never have to use higher quality for our text needs because the normal quality is already better and efficient for all our needs. We only use a high-quality setting if we print something for a proposal or presentation.
Graphics and Text Prints
Whenever we print graphics and text together, like a web page (like driving directions), we just select what we want to print and let the printer handle the rest. At normal quality, the prints are crystal clear and easy to read. At the draft setting, the quality is the same but the prints are lighter because it uses less ink.
Photo Prints
I print a picture or two just for testing purposes and have never had a ruined photo due to printer malfunction or printer problems. This printer does not know how to waste paper at all and every photo printed was of the best quality.
PROTECTING YOUR INVESTMENT
The manual suggests some useful tips on how to maintain this printer and at a shop like ours, you know it will get dirty and messy. So do perform a cleanup every now and then.
Maintaining as per the manual
The manual shows you exactly how to clean and have it performing at its best all the time. It also shows how to check the ink level and perform self-tests. It has very helpful tips on how to handle/clean/dispose of ink cartridges (new or used) properly. I suggest recycling all your ink cartridges so you can save more money in your future ink purchases.
I have up close and personal experiences with many different kinds of prints and I know that dust does tend to collect over time, so it is always best for the printer and its performance that you clean the exterior and the interior at least once a month (maybe use some kind of compressed air blower to blow the dust away then wipe it with a dry piece of cloth or paper). Also, wipe the scanner bed glass carefully for the best copies and scans.
WARRANTY INFORMATION
HP provides a one-year limited hardware warranty backed by HP Customer Care, service and support; one-year technical phone support; plus a toll-free number. You can visit hp.com or dial 1-800-474-6836 (-800-HP invent) to get warranty support. You will be asked for the serial number and service ID of this unit, which can easily be found by following instructions in the manual.
Warranty Duration : (gathered from the manual and/or hp.com)
Duration of Limited Warranty (hardware and labor): 1 Year
Duration of Limited Warranty (CD media): 90 Days
Duration of Limited Warranty (print cartridges): Until the HP ink is depleted or the "end of warranty" date printed on the cartridge has been reached, whichever occurs first. This warranty does not cover HP ink products that have been refilled, remanufactured, refurbished, misused, or tampered with.
FINAL THOUGHTS
It has been about a week now and I have not received any complaints about the printer from my boss or other employees from the Oakland shop. This probably means that everything is fine and they do not have any problems with it yet. I am sure this printer will last us for years and will keep providing us with low cost and high-quality photos.