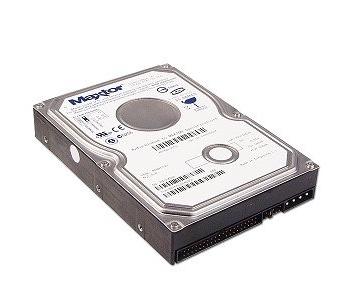 My Internal to External Backup Solution...
Summary
One of the largest capacities available with cooler and quieter performance.
Pros
Fast, quiet, and cool drive…
As expected there were lots of items on sale the day after Christmas and one of them was this Maxtor 300 GB hard drive. The regular retail price for this hard drive is about 200 bucks, and yesterday I purchased it for about 80 dollars after rebates. If you go to compusa.com and type in "Maxtor 300" you will see this drive for $79.99. But just did not want to get another internal hard drive; in fact, I wanted an external for my backup needs. So I bought one of those internal to external converter kits by Acomdata for $50 and I was ready to go for half the price of retail external drivers.
INSTALLATION
Internal
Internal installation is easy and like any other 3.5-inch drive installation. Slide the drive into the appropriate slot, tighten the screws properly, plug the IDE and power cables, and install drivers and software if it is needed. Once that is done, you will probably need to format the drive and partition it to make it faster. Oh yeah, if this is the only drive you have in your computer then do not forget to change the jumper setting to master; otherwise, put it on slave or cable select as needed. I use a slave if I only have two drives, but use cable select when I have three or more.
External
If buy an additional kit to convert this drive into an external drive, then just follow the steps described in the instruction manual that came with the kit to continue. You have to set the jumper setting to master when making the drive an external. So far I have two external hard drives that were converted from internal drives. I use firewire cables and connectors to connect the drives to my computer because I back up my music, pictures, documents, and videos to it; I have read somewhere that firewire is better than USB for video and music streaming.
SOME BENCHMARKS
I will perform some more benchmarks and update these results later. This is just a result of one test only.
Random Access: 14.1 ms
CPU Utilization: 1%
Average Read Speed: 49.9 MB/sec
EXPERIENCE
As I have said before, I converted this drive into an external drive using a fifty-dollar conversion kit. For about $130.00 I had a 300 GB external drive that would have cost me about $330.00 if I had bought it pre-built at a retail store. When I first turned this drive on, I thought I messed up because I did not hear the drive spin. I double-checked the power cables and tried again, but this time I put my ear next to the drive. All I heard was a slight beep and the drive was on. So if you are concerned about noise, I can proudly say that you will not even notice that the drive is spinning.
This drive runs quieter and cooler than all my other drives; even my fairly new 200 GB drive (louder). I do not have expensive equipment that measures exact noise and temperature because I do have the funds at my disposal… yet. So far I have divided (partitioned) this drive into two 150 GB sections that I will use to store my videos and music on to. I am not absolutely sure what else I will be using this drive for just yet, but I will figure something out soon.
FINAL THOUGHTS
This drive runs cooler and quieter than any drive I have used so far and I will recommend it to everyone in need of a bigger better hard drive for their computer. The sale at CompUSA will go one the whole week so go ahead and take advantage of this great deal.
Since I copy a lot of movies I was in need of a lot more storage space for my computer because I was deleting older movies to make room for more new ones. I think you can probably get somewhat of the same deal at newegg.com or Fry's Electronics.
If you are looking for a quiet, fast, and cool drive for your computer that will give you a great deal of storage space, then this drive is for you. But if you want this deal that I got, do not wait, go to the nearest CompUSA store and get one or maybe two for yourself.