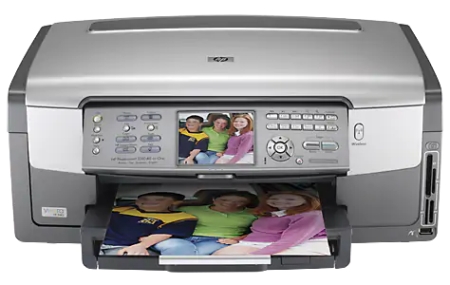 A very nice top-end printer...
Summary
A very nice and fast printer that provides great quality prints.
Pros
Fast, great quality, cheap ink, and quiet…
I have always recommended and trusted HP for their reliable printers and laptops; likewise, I recommend them (the HP Photosmart 3310 InkJet printer) to my cousin who decided to get this for her daily printing needs.
Everything went well and without any problems; the quality was better than expected as this printer uses the new HP 02 ink cartridges. My cousin purchased this from an online store for about $350.00 (including shipping).
SOFTWARE & HARDWARE INSTALLATION
At least the setup was not too much problem as HP provides step by step instruction on how to set up and install drivers for this printer. Best of all, there are two types of drivers available; a basic drive package, and a full package that includes other useful software and utilities. If you are still new to printer installation–the quick installation guide properly instructs you through step by step on what to do to get the printer to get up and running. It took me less than fifteen minutes to unpack and set up the unit.
Since there are two different packages of drivers available, we chose to install the basic driver package as my cousin's computer is a bit old. The basic package takes about a minute or two to install whereas the full package takes about ten to fifteen minutes (but there are certain advantages to the full package like the additional useful software and utilities).
A good thing about this printer and most other new HP printers is that they calibrate/align the cartridges automatically–so you do not have to do set them manually. Most of them have self-cleaning features as well but may require manual cleaning when you have not used your printer for a long period of time.
THE PACKAGE
HP Photosmart 3300 series All-in-One
Power cord
Ink cartridges
Control panel faceplate (might be pre-attached)
4 x 6 inch (10 x 15 cm) photo paper
User Guide on CD
Microsoft Windows and Macintosh software CD
DESIGN AND CONTROLS
This photo printer is only about 18.3 inches wide, 8.7 inches high, and 15.6 inches in depth; this is a compact printer so it will not take up too much space on your desk (or wherever you put it). And it weighs about 26.5 pounds so almost anyone can carry, move, or install it with much hassle. I personally like this as I sometime do move my setup around for better convenience.
The control panel on this printer does not have too many buttons to confuse you, so you will not have to look at the manual (too often) to work on this printer. But the best way to learn what each button does and how to use them is to read the manual that is designed to provide a lot of information with details on how to operate this unit properly and efficiently. You can print photos right from the control panel without even having to connect to a computer. It has a PictBridge that is compatible with most major flash memory cards that will allow you to print/view your pictures with or without a computer. The PictBridge comes in handy when you want to print pictures without transferring them to your computer or just want to print something quickly.
There is a large LCD (Liquid Crystal Display) screen that comes in handy when you want to print directly from the printer without a computer using your flash memory cards or even the camera itself. It also shows you the status and other error notifications. You can see your images clearly and in full color on this LCD as it is 3.6 inches. The whole control panel tilts so you will never have a hard time seeing what is on the screen.
WHY I RECOMMENDED IT?
The main reason I recommended this printer was because of its compact size and fast printing and copying capabilities. It can print 32 black (draft/fast quality) pages per minute or 31 colors (draft/fast quality) pages per minute; that is a resolution of 300 x 300 (dots per inch). Also, it can print 7.8 black (normal quality) pages per minute or 5.7 colors (normal quality) pages per minute; that is also a resolution of 300 x 300 (dots per inch). And it can print about 1 black and color (best quality) pages per minute; that is a resolution of 600 x 600 (dots per inch). At maximum resolution (1200 x 1200 dots per inch), it can print about 0.35 (about a third) of a page per minute. Besides the printing speed, I also like the fact that it has wireless network capability too (optional).
INK CARTRIDGES & THEIR COSTS
This all-in-one printer is compatible with the following ink cartridges that do not cost a lot at all. As always, if you buy them in bulk, you will get a better deal and save even more. I always buy my ink from Costco Wholesale as they always have the best prices.
HP 02 Light Magenta Ink Print Cartridge

(C8775WN)

This cartridge enhances your pink hues.
Cost: $9.99
Quantity: 5.5 ml

HP 02 Yellow Ink Print Cartridge

(C8773WN)

This cartridge brightens up the yellow tones in your pictures of sunflowers, sandcastles, and kids selling lemonade.
Cost: $9.99
Quantity: 6 ml

HP 02 Light Cyan Ink Cartridge with Vivera Ink

(C8774WN)

This cartridge is for great photos with beautiful blues.
Cost: $9.99
Quantity: 5.5 ml

HP 02 Cyan Ink Cartridge with Vivera Ink

(C8771WN)

This cartridge will give you professional-quality photos with gorgeous blue hues.
Cost: $9.99
Quantity: 4 ml

HP 02 Magenta Ink Print Cartridge

(C8772WN)

This cartridge adds a punch to photos of red roses, fire engines, and glorious sunsets.
Cost: $9.99
Quantity: 3.5 ml

HP 02 Black Ink Cartridge with Vivera Ink

(C8721WN)

Get laser-quality black text and superior photos with this cartridge.
Cost: $17.99
Quantity: 10 ml
WARRANTY INFORMATION
HP provides a one-year limited hardware warranty backed by HP Customer Care, service and support; one-year technical phone support; plus a toll-free number. You can visit hp.com or dial 1-800-474-6836 (-800-HP invent) to get warranty support. You may be asked for the serial number and service ID of this unit, which can easily be found by following instructions in the manual.
EXPERIENCES
This printer is a little faster than my own HP OfficeJet 7310/7410 all-in-one printer. The quality of the prints is very good and as expected with the new ink cartridges from HP (HP 02). We printed a bunch of test photos just to see how this machine handled them; first I tried directly from my Olympus C-8080 8 MP digital camera and then from the flash memory card. Both of these prints were prompt and of high quality. Printing from my cousin's picture library on her computer was simple also when using the ImageZone software included in the package. You really do not need to read the manual to get started on this printer but I would highly recommend it to get to know it even better.
I would like to mention that this printer is very fast and also very silent. The quality looks that same to me as it would be from a photo printing store. All the prints come out almost dry, so do not touch them right then; just wait a minute or two to let it fully dry before it is safe to touch (it may still be a little sticky even after a minute or so though). These prints would last you about a hundred years if you used their Vivera ink cartridges; I cannot say this for sure as I have not lived that long to experience it yet, but this is what HP says.
FINAL THOUGHTS
My cousin has used this printer for about a month now and I myself have used it a week. So far neither my cousin nor I have had any problems with this printer. I was very pleased with the speed, quality, and features of this printer and I know that it will last my cousin for years. It has so far only provided us with high-quality photos and we would not expect anything less. I would like to recommend this to everyone for all their photo printing or just daily printing needs. If you have been looking for a fast printer with great quality then this is the printer for you.