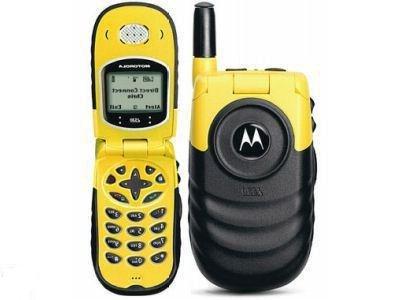 Tough and reliable at the same time!
Summary
A cheap phone for all your business needs.
Pros
Solid, reliable, great sound quality, and cheap.
Cons
Small LCD, overall huge phone, and non-color.
My company recently gave me this Nextel i530 cell phone to keep in touch with me. Although I would have preferred a better phone (with a color screen, camera, and other nifty features), I am happy with this for business needs. We usually purchase these phones from the local Nextel store and right now we can get them for about $50.00 each after a $200.00 instant rebate. So the company was happy that I was in touch and it did not cost them a lot of money.
THE PLAN
They gave me the $45.99 plan that includes 500 anytime, unlimited nights and weekends, included nationwide long distance, and unlimited walkie-talkie minutes. This plan also has free call hold and waiting, 3-way calling, and voicemail. Since it is a company phone, I do not know about the contract term.
THE PHONE AND FEATURES
The i530 is built with military-grade resistance to shock and dust, but it also very ugly, bulky, and ideal for users who spend more time on the road than in the office. Although this phone does not have many features, it includes Web and e-mail access; it is mostly intended for users who need a tough phone for use in any kind of condition. This phone has lots of features and protection; it will not win any beauty contest because of its dreadful looks. It is about 3.5 inches in height, 2 inches in width, and about 1.1 inches in depth; it weighs about 5.2 ounces, which makes it huge and heavy, unlike most other newer phones available today. Basically, this phone is more likely to be worn on a belt clip than slipped into a pocket. It is available in basic black and bright yellow (and black combination).
Even though it is big, it will fit easily in your hand and its skin will give it a very solid look. Nextel says that this phone meets military standards for resistance to dust, shock, and vibration. The rubber casing also protects the extendable antenna, battery door, accessory connections, and the speaker. As usual, on Nextel phones, there are volume controls and a Push To Talk (PTT) buttons on the left side, while the top has the speakerphone button and a button that makes calls when the flip is closed. There is also a small LED (Light Emitting Diode) light that alerts you of incoming calls.
The buttons on the keypad are pretty small for my needs, but it is not too small. You can make calls quickly and easily with this phone. If you are used to buttons on Samsung, Sony, LG, or other personal mobile phones than you will need to get used to the button layout of this phone. They are in places you would never expect them to be; like the speakerphone button is on the top of the phone next to the antenna.
There are a back-lit monochrome LCD (Liquid Crystal Display) screens that will show you everything you need to; it is about 1.5 inches diagonally. Although the screen is easy enough to read in most lighting environments, it is too small when you use the Web or e-mail features. Navigating through the menus on this i530 is pretty tough with the crowded arrangement of a four-way toggle, two soft keys, and a dedicated Menu button. While the buttons are easy to use after you get the hang of them, the text-driven menus are dry and unappealing. On the other hand, the back-lit keypad buttons are well designed and spaced.
This i530 has a reasonable assortment of features, regardless of the downsides. The phone-book can store 600 contacts with up to seven entries for each. You can also set distinct ring tones (4 polyphonic and 12 monophonic) for your contacts. There is also a built-in speakerphone, a memo pad, a WAP 2.0 wireless Web browser, vibrate mode, text messaging, USB connectivity, and call-waiting available on this low-end phone.
The phone also supports voice activation if you download additional software (you will need to sign up for Nextel iDEN Update service); with iDEN, you will be able to choose from hundreds of ring tones from an online service. Web services include access to news, weather, entertainment, and other Mobile Net-enabled sites.
SIGNAL AND QUALITY
I tested this single-band (iDEN 800 MHz) i530 in the South San Francisco area using Nextel service. All our employees and managers are happy with the signal and sound quality. The sound quality was good both inside buildings and out on the field. Speakerphone quality also was solid, although the speaker should have been on the front or sides of the phone so you do not have to flip is when you lay it on a table or some or something.
BATTERY LIFE
I usually run about 4 days of standby time; talk time was about 2.5 to 2.75 hours which is a little disappointing. I usually have to charge the phone every other day or so as I use it quite a lot during the day. I never had an incident where the phone was out of juice in the middle of the day with my normal use and recharging.
EXPERIENCE
I have used this phone for about a month now and I am very satisfied with it so far. It is not my first choice for a cell phone, but since the company was giving it to me for free—can not argue with free. This phone is solid and reliable; it does not look and feel cheap like my older Samsung E105. This phone gives me long talk and standby times too. The signal strength of this phone is great compared to other older phones I have used in the past. I have noticed clear call quality and louder too; the speakerphone is excellent. The menus are somewhat easy to navigate through without getting lost, but you always have the manual that explains everything but without much detail. If you really need detailed information I suggest researching on the Internet.
FINAL THOUGHTS
This Nextel i530 cellular phone is one of the best work phones I have used because it is built for the field and you will be happy with the signal strength and reliability. So if you have a company and want to give your employees phones to keep them in touch–I suggest you get these cheap and reliable phones that will last you for a long time.