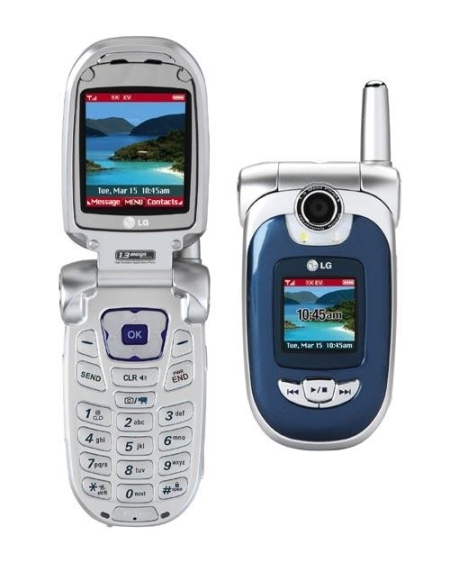 Life's Great with VX8100!
Summary
The best of the best in cell phones…
Pros
Lots of cool features…
As the 16th day of September 2005 was approaching slowly I restlessly started hunting for new phones, service providers, and plans because two (Sprint and T-Mobile) of my wireless contracts were about to expire. I looked high and low, store to store, but with nothing of interest to me. Exhausted after the week's hunt without any success, I went to Costco Wholesale and stumbled upon the wireless booth there.
I looked through the phones and plans they had and decided right away which one's I wanted. The big day came and my contracts expired… I was a free man… for a while anyway. I went back to that wireless booth and purchased my new LG VX8100 and a Samsung A670 for my wife. The total for the two phones came out to be about $325, but since I signed up for a two-year agreement, I got this phone for $110 and the other one for about $10 after four mail-in rebates.
MY SERVICE PLAN
I decided upon the current Family Share Plan they had which offered 700 minutes at $69.99 for two lines (this was about $25 less than what I was paying before with the two different accounts). This plan also has free mobile to mobile (calls, SMS, pix, and flix). This required me to sign up for a new two-year contract with Verizon. This is not a problem as long as I get a good deal and a bunch of rebates on the phones.
PHONE AND FEATURES
The VX8100 is a fully digital cellular phone that can operate on the CDMA system; it can handle digital and analog signals without any problems (sound quality with the digital signal is always better).
This phone is a bit greater in size and weight compared to my old Samsung E105, but after using this new high tech gadget for over three weeks now I think I have already forgotten about the old… whatever it was. It is about 3.58 inches in length, 1.92 inches in width, and 1.03 inches in depth. It weighs about 4.16 ounces.
This phone beholds most of the newest and the coolest technology available to the wireless phone area. It had text, pix (picture messages), flix (video messages), wireless connectivity (via Bluetooth), an MP3 player, high-speed internet connectivity, speakerphone, and an external flash memory card slot to increase the storage capacity. It also has all of the regular features like an alarm, calendar, calculator, and more.
The keypad is nicely designed because all the keys or buttons are placed in the right place so you do not have to search for it. If you feel that a button performs a certain feature, you are probably right.
There are two full-color LCD (Liquid Crystal Display) screens. The main LCD is about 1.75 inches in length and 1.5 inches in width. Likewise, the external LCD is about 1 inch in length and 0.80 inches in width. Both of these LCDs show exactly the same thing except when there is not enough room for the external LCD crops some items. But most of the time they display the same thing in full color and excellent quality. Both of these LCDs are back-lit (which can be adjusted) and offer excellent image quality.
You can take high-resolution pictures and videos. You can choose between different resolutions for pictures which are 160 X 120 all the way up to 1280 X 960 (1.3 MP); you can also zoom in and out at all resolutions except the highest. Videos can be recorded at a resolution of 176 X 144 with zoom capability. The quality of the videos and pictures are good but not of the highest quality that can be printed and framed, but at the highest resolution the pictures can come out pretty well and you will be able to print the image to a 4 x 6 picture paper without any problems. The videos are not excellent but good enough for those Kodak Moments. You can use the camera button on the side of the phone to take self-portraits when the flip is closed. There is also a handy one-touch flash (on/off) button on the other side if you need it (the flash does not increase the quality of the pictures at all when in low light areas).
One of the excellent features I like the most is the Voice Dialing which works hand-in-hand with my Motorola HS850 Bluetooth headset. I can receive or place a call with just a press of a button on the headset. The voice recognition is enhanced enough that it will recognize almost anyone's voice, but if you train it the accuracy will be increased drastically.
You can also browse the Internet with this phone via the built-in browser. You can check your account balance with just a few presses of a button. I did notice that it is much faster than all the other phones I have used before. The specifications say that it is very close to broadband speeds (sweet).
The menu structure of this phone is different brands which are expected but still are easy to navigate through without problems. If you have owned and used a cell phone before you will be able to navigate through the menu option of this phone with trouble.
There are some very easy shortcut buttons placed in the right places so you will not have a hard time using them when you need them. For instance, the volume control is on the right side of the phone which controls the master volume when the phone is not in use, but the voice volume when you are talking. The memo button under the volume control helps record your memos easily without opening the flip. The camera button on the other side allows you to take pictures and video with opening the flip also. The play and skip buttons on the top of the phone are for the MP3 player; these can also be used for some menu navigation.
The MP3 player is very nice but the only problem was when I purchased it, the player was not installed. I guess they forgot to install it when they shipped it. So to get your MP3 player to work, you will have to go to a Verizon wireless store to upgrade the phones operating system. This will take about 30 to 40 minutes. The new software will increase the stability of the phone and add some other new features that should have been in there before it was shipped.
You can quickly lock the phone by pressing and holding the # (pound) key for a couple of seconds. You will need to remember your password to unlock; the default code is the last four digits of your phone number. You can also change this to something else for more security.
By pressing the * (star) key, you can quickly switch the phone to vibrate mode and back to normal mode. This comes in handy when you do not have time to use the volume control to decrease the volume level of the phone.
SIGNAL AND QUALITY
I did notice that this phone has a wider reception range and the sound quality is louder and clearer. There are some places where my Samsung N400 – Sprint did not get reception and my Samsung E105 – T-Mobile barely acquired the weakest signal, but this VX8100 provides the clearest signal of them all. So far I have never had a dropped call or a call with poor quality. If you have full signal the caller on the other side will not be able to tell if you are on a cell phone or a landline. With weaker signals it will be obvious, but the quality is still better.
Now if for some reason you drop to roaming mode (no signal) the quality will decrease significantly. There will be lots of static so you may have dropped calls.
PACKAGE AND ACCESSORIES
The package has the LG VX8100, 1000 mah Li-Ion battery, the travel charger, and the manual pack. On top of this, I also got a cheap headset (wired), car charger, and leather pouch free; this was a gift from Costco Wholesale. Later, I also purchased a Bluetooth headset and a mini SD (mini secure digital) flashcard to store my files.
You can also get an extended battery (1700 mah) for extended talk and standby times; it costs about $60 dollars. A Verizon wireless customer service representative told me that it adds about an hour and a half of talk time and about two more days of standby time. This extended battery is thicker so it comes with a new back cover to accommodate it. This will make your phone even bulkier.
BATTERY LIFE
This phone can give you about 3.75 hours (225 minutes) of talk-time when the battery is fully charged. This actually gives me just about three hours of talk-time because like playing with the MP3 and taking pictures so that uses up some battery life also. I would say that I can get over three hours of talk time if I just talked.
The standby time for this phone is 163 hours (about 7 days). I have never gotten to a point that I did not use my phone for seven days so I cannot say if that is the actual time or not. I mean it did not use my phone for seven days, I would not want to spend this much money on it. Nevertheless, this phone easily makes it through 2 to 4 days of normal use before needing to charge again.
EXPERIENCE
I have used this phone for about a month now and I am very satisfied with it. I think this is my second love after my wife (my first love) of course. No just kidding… that is just my lust for electronics talking. This phone feels solid and reliable; it does look and feel cheap like my older Samsung E105. This phone gives me longer talk and standby times. I have always wanted to get a camera phone because I never knew what it was like. So after finally giving it a try, I am very happy that I purchased it.
The signal strength of this phone is superb compared to other older phones I have used in the past. I have noticed clear call quality and louder too. The menus are easy to navigate through without getting lost, but you always have the manual that explains everything but without much detail. If you really need detailed information I suggest researching on the Internet.
FINAL THOUGHTS
The LG VX8100 cellular phone is the most advanced phone I have used in my entire life which has some amazing features to top it off. If you are like me and love to have the latest and the greatest technology at your disposal then this is the phone for you. This phone is an all-in-one device for communicating (voice, TXT, pix, flix) and entertaining yourself anywhere, anytime. If your wireless contract is expiring or if you are just looking to upgrade your current phone, I would highly recommend this VX8100 from LG.