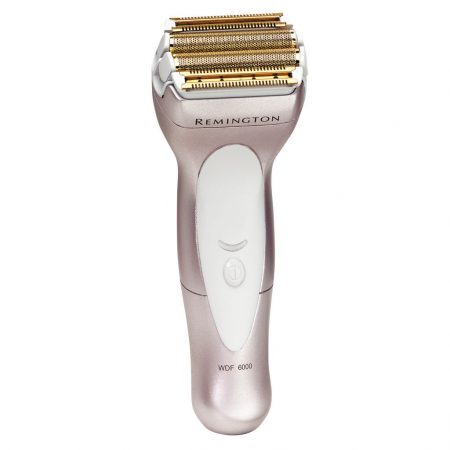 Good deal for an excellent shaver!
Summary
Get this if you want get rid of the red bumps and irritation from shaving with razors…
Pros
Comfortable, affordable, and reliable…
After a suggestion from my wife's doctor that she should try using an electric shaver for her legs instead of the regular razors; the doctor suggested that it would help reduce the irritation, bumps, and other visible horrible results of the razor.
So we went to Target and saw a bunch of shavers but this Remington Smooth and Silky Ultra Plus WDF-6000 because of the marked price and the cool look. The marked price was $39.99 (incorrectly marked), but after we paid for it that we figured out it was actually $59.99 (Target's Guest Service was happy to make up for the mistake by giving us back the difference, so we actually paid $39.99 plus tax for it). My wife has been using this shaver for about a month now and she says that the irritations are gone for good. I even noticed that her legs were smoother and sexier than before. I mean who does not enjoy great legs… huh?
DESIGN & CONTROLS
This particular model has four flexible heads that provide a comfortable and close shave every time. Another plus for this shave is that you can use it dry or with lotion if you have very sensitive skin like my wife. These flexible heads are designed to compensate for every curve of women's legs.
The over-sized head and the unique design of the Remington Smooth and Silky Ultra Plus is very attractive and comfortable to use. It is designed so that your hand will have no problem maintaining its grip while shaving; it is designed to keep women in mind. The head area is big so that it can cover more areas in one stroke which will result in less time shaving and more time enjoying your smooth and silky legs.
There is only one button to turn this unit on and off to make everyone's life less confusing. You will spend less time learning to use this shaver than actually shaving because Remington has put a lot of work into this model to make it easy to handle, use, and store. There is also a LED indicator that will inform you about battery life; you will also be informed about when to recharge.
PROS
First of all, let me tell you about the silver pouch that stores and protects this shaver. It not only keeps it safe, but it comes in handy when traveling. You can squeeze it in any tight space in a bag and it will not disturb anything. But you will always have to find some other place to store the charging base or figure out a way to fit everything in this little pouch.
The charging base is very nicely designed as it can be easily plugged in to charge the shaver. Even with its small size, the base is very stable when the shaver is connected to it. I have not once seen it fall or heard my wife complain about it not being stable enough for her. The cleaning brush comes in handy when you do not want to wash the shaver; like when you travel and you do not have that much water at your disposal. Just brush off the trapped hairpieces and the shaver is ready for use again and again.
The protective head cap for the shaver keeps the heads safe from most elements that can harm it and the tight fit design helps it stay in place even if you drop the shaver. I can say this from experience as I dropped it once and the whole head came off, but the head cap stayed put with the head (my wife did yell at me for doing this if you were wondering…)
The instruction manual is easy to read and helpful. It quickly guides you through the operations and quick start features of the shaver. It covers every feature of the shaver in detail. The shaver itself is designed so it is easier to hold, use, and store. My wife likes the sleek look and feel of this shaver. The noise it makes while shaving is not too loud, but my wife says that it could have been quieter.
The LED in the middle of its body shows you the amount of battery life left (with red/green lights). This is good so you do not have to find out that the battery is dead when it is dead; all you have to do is charge it before the battery power runs out completely.
Now amazingly the battery lasts my wife for about a month and a half or sometimes more because she only uses this shaver twice a week. Recharging does not take that long; this unit takes about an hour to hour and a half to fully charge which is not too bad. Finally, the two trimmers come in handy when you want to shave of longer hair that you do not want or need in places that you do not want or need hair.
CONS
My wife does not really have any cons for this shaver but she just wanted to say that the cleaning gets tiring after a while. I mean that is not a huge problem because you do have to clean it if you want a good shave every time. I do not really think it is a con, but more of the required maintenance for the shaver.
EXPERIENCE
The user manual instructs that it will take about a week for your skin to get used to the shaver, but it only took my wife about three or four uses. So far my wife's experience with this shaver has always been good because she likes to shave about twice a week and it takes her about in 3 to 5 minutes compared to using a razor that takes more than 10 minutes. Also, here hair is not too think and not too thin either… it's medium so results may vary with different kinds of hair. The user manual recommends shaving after washing your skin or after a shower and this shaver has no problems with gliding smoothly against my wife's skin whether it is wet or dry.
PACKAGING
The package included the shaver itself, the charging base, the cleaning brush, head cap, and a pouch to store the charging equipment when not in use. My wife and I initially thought that the pouch was actually for the shaver itself, but we had a bit of a hard time getting the shaver to fit in there. It is a bit tight, but you can get it to fit; if you want to fit the charging base, the brush, and the shaver in the pouch at once believe me when I say this that the pouch is not designed to fit everything that comes in the package. So that was a bit disappointing because my Norelco shaver came with a pouch that had enough room for everything that came in its package.
FINAL THOUGHTS
My wife and I would highly recommend this shaver because it provides an extremely close and comfortable shave every time. With a fully charged battery, you can shave for about 4 to 6 weeks without having to recharge. This electric shaver eliminates all cuts that can occur with a blade. I would certainly purchase another Remington electric shaving system if my wife or I ever have the need to.