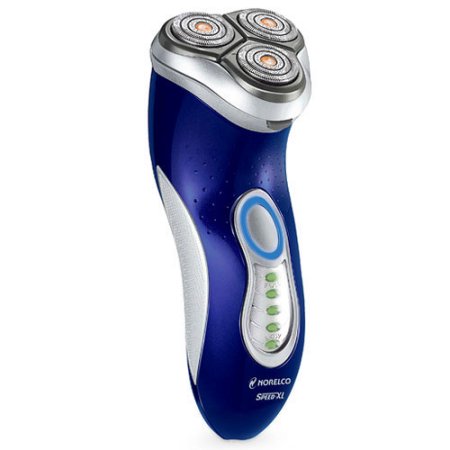 Want a smoother shave every single time?
Summary
One of the best electric shavers I have ever owned and used…
Pros
Smooth shave, long lasting battery, inexpensive, and reliable…
After my older shaver (the Norelco 8894XL) past away as a result of it accidentally coming in contact with the underside of my sisters Mazda MPV's right rear tire, I decided to present myself with this newer and more attractive looking replacement (the Norelco 8160XLCC).
I went with the Norelco brand again because I had used it for a couple of years and I liked their reliable products. The price was just right and it was almost like my older one but better.
DESCRIPTION
There are three floating heads as in most shavers by Norelco that give you a very close shave every time. The three head formation will allow the shaver to glide smoothly on your face and meet the unique contours of your face so you get the closest shave every single time.
It has five LED lights in the front that notify you of the battery level and when it is charging. There is an On/Off button that is in easy reach of your thumb. And best of all it comes with the Jet Clean system which will clean your shaver and make it like new after each use; it will also charge your shave. This shaver also has a trimmer on the back just like my older 8894 XL. This comes in handy when you want to quickly trim of those out of line mustache or beard hair.
PROS
First of all, let me tell you about the storage pouch that stores and protects this shaver. It not only keeps it safe, but it comes in handy when traveling. You can squeeze this in any tight space in a bag and it will not disturb anything. But you will always have to find some other place to store the charging/cleaning system.
The charging/cleaning system is very nicely designed because it can clean and charge the shaver. Once you are finished shaving, just put the shaver into the charging stand to charge, or you can just use the cord to charge it without the stand. You can even shave when the shaver is charging. The cleaning brush comes in handy when you do not want to wet the shaver; like when you travel and you do not have that much water at your disposal. Just brush off all the trapped hairpieces and the shaver will be ready for use again and again.
The protective head cap for the shaver keeps the heads safe from most elements that can harm it and the tight fit design helps it stay in place even if you drop the shaver (but do now count on it all the time). I can say this from experience as I dropped it once or twice and the whole head just comes off instead of it breaking into pieces. The user manual is easy to read and is very helpful. It quickly guides you through the operations and quick start features of the shaver. It covers every feature of the shaver in detail. It will also give you instructions on how to properly clean and store the shaver. It will even tell you how to shave with an electric shaver.
The shaver itself is designed so it is easier to hold, use, and store. The noise makes while shaving is not too loud because it is a little quieter than my older one. The battery lasts for about a month or two and sometimes more because I only shave for about a minute or two each morning. Recharging does not take that long; this unit takes about an hour to fully charge which is not too bad. There is a two to three-minute quick charge feature which is great if you are in a hurry.
CONS
I did not find any problems with this yet, but I would have liked the LCD screen like the one on my older (8894 XL) shaver. I do not really think it is a con, but more of a luxury kind of feature that would be nice. Well, it is fine as the higher priced models to have the LCD instead of LED lights.
EXPERIENCE
I have used this shaver for about a month now and have not found any problems with it. I think my shaving experience has just gotten a lot easier than before. Norelco has made these shavers easier to use, store, and even clean with the Jet Cleaning system. The user manual specifies that it will take about 21 days for your skin to get used to the shaver, but for me, it was about a week or so before I did not feel the irritation anymore. So far my experience with this shaver has been really good because I like to shave every morning and it only takes me a minute or so. I do not have to double pass over certain areas of my face like I used to with my older one.
The user manual recommends shaving after cleaning and drying your skin or after a shower but I always shave before the shower. This is because when my skin is wet it is hard to scroll the razor on my face; I have to wait about ten to fifteen minutes.
PACKAGING
The package included the shaver itself, the charging stand, the cleaning brush, a protective head cap, and a storage pouch to store the charging equipment when not in use or when you are traveling.
FINAL THOUGHTS
I would highly recommend this shaver because it provides an extremely close and comfortable shave every time. With a fully charged battery, you can shave for about 4 to 6 weeks without having to recharge. This electric shaver eliminates all cuts that can occur with a blade. I would certainly purchase another Norelco electric shaving system if I ever need to again. I have always had pleasant experiences with this shaver.