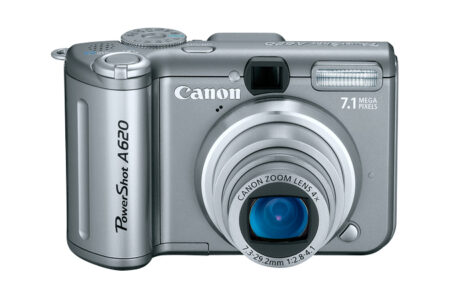 A gift from me to you...
Summary
One of the better compact digital cameras…
Pros
Compact, light weight, lots of features, reliable, great picture quality, and huge resolution.
It was my parent's anniversary last week and after hours of searching my wife and I decided to give them this Canon PowerShot A620 digital camera, so they can send us pictures regularly.
The lowest price I found for this camera right was about 330 dollars. You will only find this kind of pricing online and you can also save on tax if you are lucky. I used Epinions to compare prices and picked the store that seemed the safest and the cheapest.
REASON FOR MY PURCHASE
The main reason I purchased this particular camera for my parents was that it has a 2 inch LCD screen (which is good because sometimes my parents have a hard time seeing), can be fully automated (they will not have to play around with it too much), it has a built-in flash and uses double-A (AA) batteries so there is no need for charging or recharging. It also has a faster shot to shot rate so there is less lag. The movie mode can also record audio which is good because my parents like to take video clips once in a while.
LCD AND VIEWFINDER
The PowerShot A620 has a 2 inch LCD (Liquid Crystal Display) screen and it also has an optical viewfinder that is not available in some cameras I have seen and used. I personally like to use the viewfinder to take that need precision and also when I want to save a little battery life by turning the LCD off. The LCD on this camera has 115,000 pixels resolution which is bright and clear at all times. This LCD is a vari-angle screen that allows you to swivel it 180 degrees to the front so you can either view a mirror image or non-reversed images. This feature allows you to take pictures from just about any angle quickly and easily.
BATTERY AND POWER
This camera can use 4 double A (AA) batteries, 4 double A rechargeable batteries, or an AC adapter. Canon says that you will get 500 shots out of one set of batteries but after using it for a week with my parents I say it is more in the range of 350 to 375 shots. My parents like to use the non-rechargeable double A batteries in this camera because they do not want to wait for the batteries to charge; they can be impatient at times. You can save a lot of battery power if you use the viewfinder more than the LCD and also limit flash usage to a minimum.
MOVIE MODE
The PowerShot A620 has a very good movie mode that records video clips with audio at 640 x 480 pixels @ 30fps (max) and the length is only limited to the amount of memory (SecureDigital (SD) card) you have. I did take some video clips of my family just to test it and it turned out really nice. The clips are not of the highest quality but they are better than some other digital cameras I have had experience with. This camera can also record videos at 60fps but the length is limited to only 60 seconds. And on the other hand, you can also record at lower resolutions and obviously the quality will degrade accordingly.
ISO & WHITE BALANCING
The ISO and White balancing settings are somewhat customizable so it is not much you can do manually to customize your shot. The ISO sensitivity ranges are Auto, 50, 100, 200, and 400. The white balancing settings are more manual so you can take your pictures the way you want to (settings include Auto, Daylight, Cloudy, Tungsten, Fluorescent, Fluorescent H, Underwater, and a custom mode. Most compact digital cameras I have seen do not have these options or just automate them.
SHUTTER
This camera is pretty fast and takes about a second or two to startups. The shutter fires quickly that it takes about a second at most. Autofocus (AF) is also very quick and accurate almost every time. This AF system gets the picture in focus in less than a second or maybe two. If you take lots of continuous pictures than you will be glad that Canon equipped this camera with the new DIGIC II image processing chip which speeds up focusing so you can take pictures faster.
EXPERIENCE
I have used this Canon A620 digital camera for about a week or so, and it has given me a wide range of quality pictures. I took a lot of pictures of ours and my mom's flower garden. These pictures are good enough for everyday use. You can pretty much take it everywhere you go, and it will fit perfectly in your pockets. Plus it is lightweight so you will not feel uncomfortable while carrying it.
This camera switches on and becomes ready very quickly so you can get to your picture taking right away. It also focuses quickly in almost all lighting conditions.
I like to take a lot of pictures, especially of my family and the beautiful Mother Nature and so I visit places and capture all their beauty. My mom has a beautiful flower garden and I usually go to her place and take close-ups of the pretty flowers and other wonderful plants. I usually take my Olympus C-8080 to take close-ups but I tried it with this new camera also and the results are pretty impressive. I like to use the built-in flash, even during the day, to light up all parts of the subject I am capturing which this camera allows me to do that without any problems.
PROTECTING YOUR INVESTMENT
I did buy a carrying case for this camera because I do not want to see it go to the trash because of external damages. So far I did not notice any scratches or damages on the camera since my parents use the case to store this camera. So if you want to protect your investment, it will only help to purchase a good case for this camera. For great quality pictures, you should not touch the camera lens with your fingers. Keep the LCD clean at all times and when storing, cover the LCD with a piece of cloth to prevent scratches. Or wrap the camera in something to protect it. I also suggest that you buy a lens cleaning kit so you can get the dust and fingerprints off easily when they do get on the lens.
PICTURE QUALITY
Finally, the image quality that this A620 provides is excellent as can be expected from any Canon camera. I would say that my Nikon Coolpix S1 also provides about the same great quality as this one. The colors are always accurate and never washed out. My parents set the resolution to five or six megapixels because they do not print anything bigger than 4 by 6 (and they still have the flexibility to edit the pictures). My parents and I are still pretty new to digital cameras and digital photography so I may not be able to provide all the information in detail. But I can proudly say that every picture I have taken with this camera turned out very nicely and my parents like that a lot.
FEW THING TO NOT LIKE
Unfortunately, I do not have anything bad to say about this camera as it really does not have any problems in my opinion. I like everything about this camera. I just wish I could trade this one with my Nikon.
FINAL THOUGHTS
If you are looking for a compact, lightweight, and reliable digital camera that will provide you with excellent pictures quickly then this is the camera for you. I would definitely recommend this as a holiday present for everyone as it will make their holidays very merry. I have tried many other compact digital cameras but this camera will definitely be one of the high-quality ones. This camera will last you a long time as it is Canon and you will get great photos every time.