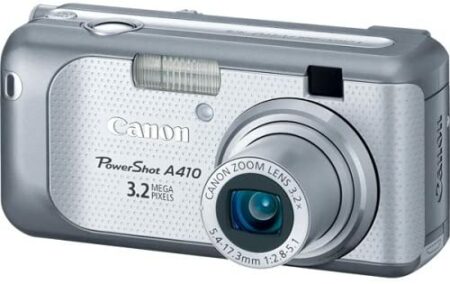 A small and easy to use digital camera!
Summary
If you want a small and inexpensive digital camera that provides great photos then this is for you.
Pros
Small, inexpensive, good quality, and fast.
Last weekend my in-laws, my parents, and my wife and I went sightseeing around the bay. My in-law had just bought their very first digital camera (this Canon PowerShot A410) and wanted me to teach them how to use it and transfer images to their computer.
Basically I had the whole weekend with this camera and taught them how to use it in the process. They purchased it from Target for about $150 plus tax.
REASON FOR BEHIND PURCHASE
The main reason for the purchase of this digital camera was that my in-laws old film camera died and they like the digital idea better. They also liked the idea that they could see the images instantly and delete them if needed. I able to print and share these pictures quickly and easily was also another reason.
LCD AND VIEWFINDER
This camera has a 1.5 inch fixed LCD (Liquid Crystal Display) screen and an optical viewfinder. The image that you see on the LCD will be what gets captured and saved on to the memory card. The viewfinder is small and does not cover the whole picture that will get captured (it only shows about 80 to 85 percent or the image). I personally like to always use the viewfinder to take pictures and it also saves battery life. The LCD on this camera has 120,000 pixels resolution which is bright and clear at all times; it even increases brightness in low light conditions.
BATTERY AND POWER
You can use rechargeable NiMH batteries in this camera which will give you about 400 shots, according to Canon. But for our needs, we used two regular alkaline double-A sized (AA) batteries. We were able to take about 150 shots with these batteries; this is because I mostly used the viewfinder and turned off the LCD to save some juice. A downside of using these regular batteries is that the camera will not be able to tell you how much battery life you have left. So you just have to shoot while you can and then replace the batteries.
MOVIE MODE
This camera has an average video mode that records video clips with audio at 640 x 480 pixels at 10fps (320 x 240 @ 20fps) and for a maximum of 180 seconds or 3 minutes. The number of clips is only limited to the space available on your flash memory card (Multimedia & Secure-digital). I did take some video clips of the family just to test it and they turned out to be very good quality. I also show how to do this to my in-laws and they were surprised that this on this small camera had the ability to record video clips.
ISO & WHITE BALANCING
The ISO and White balancing settings are somewhat customizable so it is not much you can do manually to customize your shots. The ISO sensitivity ranges are Auto, 50, 100, 200, and 400. The white balancing settings are pretty much automatic and the settings are Auto, Daylight / Sunny, Cloudy, Fluorescent, Tungsten, and manual. Some compact digital cameras I have seen and used have a little more settings but some high-end ones do have manual settings. These settings are very accurate and the quality is acceptable.
SHUTTER AND FLASH
This camera is very quick; it starts up in about 2 to 3 seconds. You will also not notice the shutter lag on this camera as it is very quick. The Auto Focus (AF) is quick and accurate almost every time. This AF system gets the picture in focus in less than a second or maybe two in low lighting. This camera uses the AiAF 9-point focusing system which makes it easy for you to see where the camera is currently focusing. There is also an option to switch to a 1-point focusing.
There is a built-in flash on this camera that also has a red-eye reduction mode and has a range of up to 10 to 12 feet. Each time you use the flash it will take about 4 to 6 seconds to recycle and be ready for next use (the LCD usually turns off while the flash is charging). If you take lots of continuous pictures than you will be glad you purchased this camera.
EXPERIENCE
I used this camera extensively the whole weekend and took about 200 or so high-quality pictures. I have taken pictures outdoors, indoors, in sunlight, on a cloudy day, and even on a rainy day. And on every single instance, I was amazed at the quickness and quality of this camera. It is noticeably faster than my Olympus C-8080 digital camera. I like to use the built-in flash, sometimes even during the day, to light up all parts of the subject I am capturing which this camera allows me to do without any problems. My in-laws are very happy with their purchase and like the quality of the pictures that this camera produces. They are also happy that they do not have to deal with will developing photos anymore. Now they take this camera everywhere they go and they never miss a good "Kodak" moment. It is small enough to fit in just about any pocket you may have; and it is lightweight so you will not feel uncomfortable while carrying it.
Now my in-laws love taking pictures and getting instant results; plus it is quick and easy. I just taught my in-laws how to transfer the photos from the camera to their computer and print. They think it is simple enough and if they get stuck, I am always here to help them out. They bought an additional 256 MB flash memory card that can hold about 270 pictures and they are amazed at the capacity.
PROTECTING YOUR INVESTMENT
Since my in-laws are just starting out with digital photography, they did not purchase a case for this camera. After that heavy use during the weekend, I did notice some scratches on the LCD, so I suggested that they purchase a good case for this. So if you want to protect your investment, it will only help to purchase a good case for this camera. For great quality pictures, you should not touch the camera lens with your fingers. Keep the LCD clean at all times and when storing, cover the LCD with a piece of cloth to prevent scratches. Or wrap the camera in something to protect it. I also suggest that you buy a lens cleaning kit so you can get the dust and fingerprints off easily when they do get on the lens.
PICTURE QUALITY
At 3.2 megapixels, the images are very clear and the colors are also accurate. The edges are sharp and clear, unlike some other compact digital cameras that have softer edges. I suggested to my in-laws that they should leave the resolution setting to 3.2 MP to get the best possible pictures and flexibility to edit later on. When you compare the quality of this camera with some of my other cameras, you will notice that the pictures turn out to be of better quality. I did not notice any noise when I set the ISO sensitivity to 50, but when you set it to 100 or 200 you will notice some noise in darker areas of the image. This camera will provide you with an excellent 4 x 6 or even 5 x 7 photos without any noise. You can print 8 x 10 pictures but you will notice the quality will decrease; if you use Adobe Photoshop software, it will allow you to enlarge these images better that will not have that much noise.
You can select between the Standard, Fine, and SuperFine quality levels at any resolution setting. At 3.2 MP the SuperFine images are about 2 megabytes, the Fine images are around 1.5 megabytes, and the Standard images around 1 megabytes. I usually like to use the Fine and SuperFine settings as the Standard sometimes results in some noise.
FINAL THOUGHTS
If you are looking for a compact, lightweight, and reliable digital camera that will provide you with excellent pictures quickly then this is the camera for you. I would highly recommend this camera to everyone who needs a low cost and compact digital camera. This camera will provide you with great 4 x 6, 5 x 7, or even 8 x 10 sized photos without any problem. If you want a larger LCD or more megapixels (larger pictures), then you should consider looking at some higher-priced cameras.