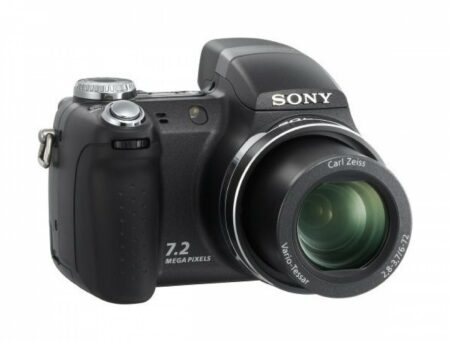 A great ultra zoom digital camera with built-in memory...
Summary
This would be a perfect camera if they just added the ability to use external flash.
Pros
One of the fastest digital cameras with a 3-in LCD and ultra zoom…
Cons
Cannot use external flash on this camera…
One of my friends just purchased this new Sony Cyber-shot DSC-H5 digital camera and asked me to check it out to see if it was worth it or not. I had used this camera for a week before he came and took it away from me. This camera costs about $500 (but I think my friend paid about $400) and is one of Sony's high-end ultra zoom series. It is capable of 7.2 megapixels with a 12X optical zoom lens that also has image stabilization.
THE PACKAGE
The Cyber-shot DSC-H5 comes in a nice package with some good accessories. Inside the box are the following items:
7.2 effective Megapixel Cyber-shot DSC-H5 digital camera
Two NiMH rechargeable AA batteries
Battery charger
Lens cap w/retaining strap
Lens hood
Conversion lens adapter
Wrist strap
USB cable
A/V cable
CD-ROM featuring Sony Cyber-shot Viewer
Fold-out "Read This First" guide + 120 page camera manual (both printed)
There is not flash memory card included in this package because Sony has built 32 MB (30 MB usable – holds 8 high-quality pictures) of memory right in this camera; you will find that this is the case with most new digital cameras nowadays. Besides the internal memory, this camera can also use the Memory Stick Duo cards that have capacities of up to 2 GB. I would recommend purchasing the 512 MB or 1 GB card just to get started with this camera.
REASON FOR PURCHASE
The main reason for the purchase of this digital camera was that my friend wanted to switch from his old (Nikon) film camera that was slowly dying. My friend also liked the idea that he could see the images instantly and delete them if needed too. The ability to print and share these pictures quickly and easily was also another reason. He also wanted to be able to print pictures from his home computer to save money printing.
THE LCD AND VIEWFINDER
The H5 has a huge 3 inch LCD (Liquid Crystal Display) screen; I think it is one of the only ultra-zoom cameras with such a big LCD. With the screen size so large, the resolution increased with it to 230,400 pixels. So since the LCD is huge and the resolution is greater, photos displayed on this LCD are nice and sharp. As with most LCD screens visibility outdoors (in the sun) was average. In low light conditions, the LCD automatically brightens so you can see what you want to capture. But the brightness is not too much which I think is good because it won't hurt your eyes.
There is an electronic viewfinder (EVF) on the upper left-hand corner of the LCD; basically, it is an LCD screen but a lot smaller. This viewfinder will show you exactly what would show on the regular 3 inch LCD, so you do not miss anything. The only thing I do not like about EVF's is that their sharpness (you can use the diopter adjuster to set it to your specification) is nowhere close to the optical viewfinders that I personally prefer. I do not think any of the ultra-zoom cameras have an optical viewfinder. On the other hand, the EVF has a resolution of 200,000 pixels. And the visibility is as good as the LCD.
THE POWER
This H5 uses to AA (double-A) batteries and Sony includes two 2500 mAh NiMH rechargeable batteries in the package. These batteries will give you about 325 shots. The battery life is a bit lower than average but it uses only two batteries. I would suggest having extras in your carrying case just in case. Having to use AA batteries is better than using other kinds because they cost a lot less but they do not last as long. With regular AA batteries from the store, you will be able to take about 145 shots (give or take a few). If you use the EVF a lot then you will save a lot of battery power. Also, if you use regular AA batteries, this camera will not tell you how much life is left in them accurately.
MOVIE MODE
This H5 has the Sony Venerable MPEGMovie VX feature for recording video clips. It records movies at 30 frames per second at a resolution of 640 x 480. You cannot use the internal memory to record movie clips; you will need the Memory Stick Pro Duo card. I used a 1 GB card and it can hold up to 12 minutes of video at the highest quality.
One amazing thing about this movie mode is that you can use the zoom feature while recording videos, but a bit slower to reduce the noise from it. The image stabilizer is on during movie recording to make the clips much sturdier.
ISO & WHITE BALANCING
This camera has both automatic and manual shooting modes. There is also a high sensitivity mode that will boost the ISO as high as needed to take sharp photos. And as usual, the noise in photos increase as the ISO is increased. The ISO and White balancing settings are somewhat customizable so it is not much you can do manually to customize your shots. The ISO sensitivity ranges are Auto, 80, 100, 200, 400, 800, and 1000. Up until ISO 100, the images are clear, but noise starts to show up after 200. And it increased thereafter.
The white balancing settings are pretty much automatic and the settings are Auto, daylight, cloudy, fluorescent, incandescent, flash, and one push (lets you use a white or gray card to get better color in any light condition). These settings are very accurate and the quality is acceptable.
THE SHUTTER AND FLASH
This camera is very quick; it starts up in about 2 to 3 seconds. You will also not notice shutter lag on this camera as it is very quick (only about a second). The Auto Focus (AF) is quick and accurate almost every time. This AF system gets the picture in focus in less than a second or maybe two in low lighting. The flexible spot feature lets you select a spot in the frame on which to focus on.
There is a built-in flash on this camera that also has a red-eye reduction mode and has a range up to 0.3 to 9.0 meters (0.98 to 29.53 feet) at wide-angle and 0.9 to 6.8 meters (2.95 to 22.31 feet) at telephoto. The only thing is that you cannot add an external flash to this camera.
EXPERIENCE
I used this camera a lot during the 7 days I had it and took about 300 pictures altogether with it. I have taken pictures outdoors, indoors, in sunlight, and on a cloudy day. This camera's response was very quick and I had no problems. I noticed that it was much faster than my Olympus C-8080 digital camera. I like to use the built-in flash, sometimes even during the day, to light up all parts of the subject I am capturing which this camera allows me to do without any problems. My friend is very happy with his purchase and likes the quality of the pictures that this camera produces. He is also happy that he does not have to deal with developing photos at the store anymore. Now he takes this camera everywhere he goes and he never misses a great Kodak moment.
My friend is just like me and loves taking pictures and especially now that he has this new digital camera of his. He loves seeing the results instantly and the ability to take about 300 pictures in one memory card. He also enjoys printing his pictures at home so he saves a lot of money.
PROTECTING YOUR INVESTMENT
Since my friend is just starting out with digital photography, he did not purchase a case for this camera. After that heavy use during those seven days, I did notice some very light scratches on the LCD, so I suggested that he purchase a good case for this. So if you want to protect your investment, it will only help to purchase a good case for this camera. For great quality pictures, you should not touch the camera lens with your fingers. Keep the LCD clean at all times and when storing, cover the LCD with a piece of cloth to prevent scratches. Or wrap the camera in something to protect it. I also suggest that you buy a lens cleaning kit so you can get the dust and fingerprints off easily when they do get on the lens.
PICTURE QUALITY
At 7 megapixels, the images are very clear and the colors are also accurate. The edges are sharp and clear, unlike some other compact digital cameras that have softer edges. I suggested to my friend that he leave the resolution setting at 7 MP to get the best possible pictures and the flexibility to edit or crop later on. If you compare the quality of this camera with some of my other cameras, you will notice that the pictures turn out to be of better quality. I did not notice any noise when I set the ISO sensitivity to 80 or 100, but when you set it to 200 or higher, you will notice some noise in darker areas of the image. This camera will provide you with an excellent 4 x 6, 5 x 7, 8 x 10, or even larger photos without any noise. To enlarge the pictures, I suggest you use Adobe Photoshop because it will produce better results.
You can select between the Standard or Fine quality levels at any resolution setting. At 7 MP the Fine images are just over 3 megabytes most of the time; the Standard images are around 2 megabytes. I usually like to use Fine settings as the Standard sometimes results in some noise.
FINAL THOUGHTS
If you are looking for a camera with an ultra-zoom, then this is the camera for you. I would highly recommend this camera to everyone who needs or wants a mid-range digital camera. This camera will provide you with great 4 x 6, 5 x 7, 8 x 10, or even larder sized photos without any problem. If you are looking for a large LCD, you do not have to look any further. Twelve-time optical zoom will get you much closer to your subject than your eyes can. So why are you still sitting there reading this, go out and get yourself one of these?