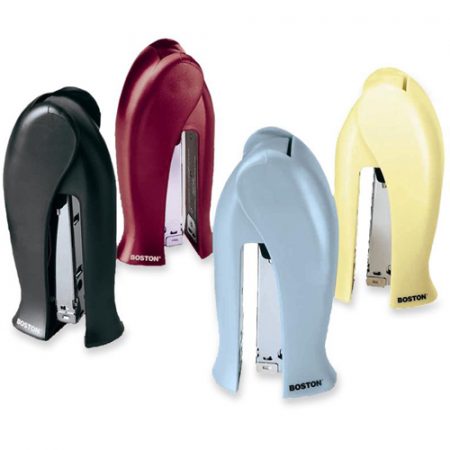 Will the real BOSTON please STAND-UP...
Summary
Got small jobs, this is the tool for you…
Pros
Reliable and quick for small jobs…
Cons
May jams once in a blue moon…
When I started college I needed a lightweight and durable stapler that I could carry in my backpack to school because I always had papers to staple. So I went to Office Depot and looked around and found this Hunt Boston Stand-Up for about 10 bucks. It stands up to save space on a desk, but that was not an issue for me because I mostly carry this in my backpack and it fits perfectly in one of the side pockets.
DESIGN
The Hunt Boston Stand-Up stapler is nicely designed to take less space on a desk if I was ever to put is on a desk. Nevertheless, it is always good to save space because everyone can use all the space they can get… right? The black and chrome color is nice because it matches the color of my backpack, my notebooks, and binders. I have used a lot of other staplers that are bulky and heavy, but these are compact and lightweight. By the way, I am reviewing the middle one in the picture above.
PERFORMANCE
This unit can handle up to twelve (12) 20 lb sheets at one time, which is a lot more than what I needed it for. I usually use my Hunt Boston Stand-Up to staple my essays and homework. But there also comes a time when I use it at home for other stuff like bills.
So far I have stapled up to eight to ten pages at a time with this stapler and this unit does not seem to ever hesitate. It has never frozen up or chewed up staples when used excessively; it does the job correctly every single time. If you do have more than twelve pages that you want to staple together, I would suggest using something more powerful (please refer to my related reviews section at the bottom).
Loading staples is easy as one, two, and three… Just lift the black top-up from the chrome staples holder, replace the staples, and push it down again and you are done. So far this unit has performed as it should for me and I know it will continue to do so for a very long time (or at least until I graduate).
EXPERIENCE
I probably use this stapler at least once a day (business days only) and I am very happy with it thus far. I have used it for about a year or more now and I have not had any staple jams. So far I have stapled up to about ten pages and this stapler does not sweat because it is fully capable of handling up to twelve pages at a time. Even though this unit is not made or designed for more than twelve pages, I think it will happily accommodate thirteen or fourteen with a little boost from the good old elbow grease.
FINAL THOUGHTS
During the time I have used this Hunt Boston Stand-Up stapler, I can proudly say that it can make your stapling need a bit simpler. It can save you some desk space also. I would give one of these a try without hesitation because it is only ten bucks; you just cannot go wrong with a deal like this.