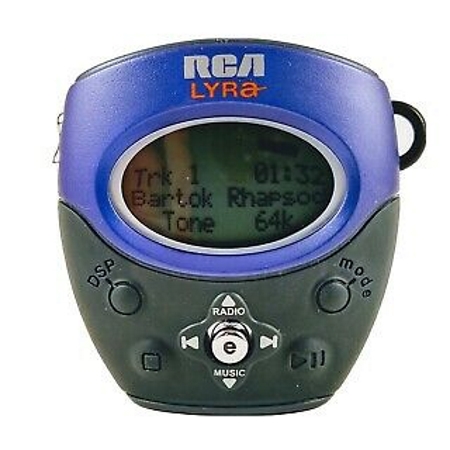 Small but cool...
Summary
No too expensive MP3 player for beginners…
Pros
Simple to use, compact, and light weight…
Cons
Buttons are a bit hard to press…
I purchased this RCA Lyra RD1080 128 MB MP3 player before I bought my iPod because I wanted to see if getting rid of my CD's would be worth it or not. I did not want to pay $150 or more on an iPod and later decide that it was not for me, so this was my try out, player. I only used this player when I went to school and maybe sometimes at home too. Overall the unit provides good quality sound and it has a radio.
DESIGN & CONTROLS
The RCA Lyra MP3 player is very lightweight and compact for efficient portability, but with certain limitations. This unit is about 2.4 inches in height and width, and about 1.2 inches in depth; amazingly it only weighs 2.08 ounces.
The face of this player has all the necessary buttons to control the music quickly and efficiently (play/pause, stop, DSP, mode, and arrows). To turn on the player, just press the play/pause button and to turn it off, use the stop button. You can use the DSP button to adjust the quality of the sound with preset equalizer settings (flat, bass, pop, rock, jazz, tone). The mode button allows you to select between repeat one, repeat all, random playback, random shuffle, program, and program repeat all modes.
The unit takes two triple-A (AAA) batteries to operate which is located in the back of the unit. I personally had a hard time figuring out how to open the battery compartment cover. I still have a hard time opening it; I never got used to it.
On the bottom of the unit, there is a USB port so you can connect it to your computer and transfer music to the internal memory. You can also use Secure Digital (SD) or Multimedia (MMC) flash memory cards to store and play music from. On the top, there is a slot to accommodate both these card types.
On the top, the left side of this unit is the volume control arrows. Press the up button to increase the volume and likewise the down button to decrease it. On the top right there is a little loop so you can put a chain (or something similar) and wear it around your neck.
The LCD (Liquid Crystal Display) is an oval that displays big and clear characters. Well, it is not really an LCD screen but a 3-line dot matrix display (somewhat like LCD). There is a backlight on the display so you can clearly see and read it when it is dark. This screen displays you a variety of things like total tracks, the track being played, elapsed time, bit rate, DSP modes, play modes, volume level, battery indicator, hold, radiofrequency, and USB download status.
BATTERY LIFE
The specifications say that the battery will last for about eight hours but mine always lasted for around six to nine hours depending on the usage. I would say that the two triple A's do a very good job, but life also depends on the brand of the batteries also. I have used some generic brands and they only lasted me for a couple of hours, so if you want longer battery life, use some good name-brand batteries.
SUPPORTED AUDIO FORMATS
The following are the format and bit rates supported by this player:
MP3 – 32 kbps to 320 kbps.
Windows Media Audio – 48 kbps to 160 kbps
MP3PRO – 64 kbps to 96 kbps
EXPERIENCE
I had used this MP3 player for about a year before I got my iPod, but it was the most compact and lightweight player that I ever owned. I even used a cassette adapter in my car to play music from this unit. The good thing was that I did not have to carry any CDs with me. I just downloaded the songs to the internal and external memory and I was ready to go.
This unit is designed to be safe even if I drop it. The cover is made of some kind of rubber/plastic material to prevent scratches or other kinds of damages. The only thing that I did not like was that the buttons were a bit hard to press because of this protective material.
The quality of the music is good, but not great; I sometimes did hear some static. The headphone that came with it was good, but I did not like the design. I like to smaller headphones like the ones that come with the iPods.
FINAL THOUGHTS
I have always liked using this player besides my iPod, but the hard to press buttons were the only discouragement for me. I would definitely recommend this player or the newest model to everyone who wants to get rid of their CD's and step into the future of portable music.