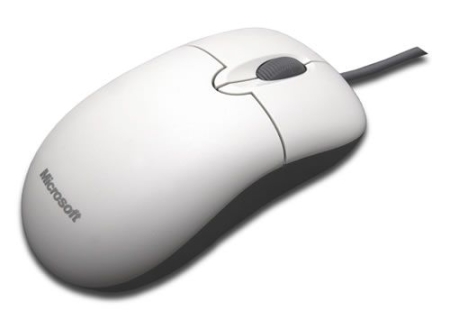 The Red Eyed Mouse!
Summary
A very good mouse for very little dinero…
Pros
Smooth, cheap, and quiet…
Just last week my boss said that his mouse was acting up and if we had another one in stock. I told him that my mouse was acting up too because the ball always got dirty and it did not work properly. So I ordered two of the Microsoft Basic Optical Mouse from officedepot.com since their price was the cheapest and they would deliver (about $8 for shipping) it the next day. These two units cost me about $15 each so my boss agreed to get them without hesitation.
DESIGN AND HANDLING
The first and most important feature that attracted me to this mouse was that there was no ball. I did not want to get another mouse with a ball and go through the cleaning and another hassle that comes packaged with it. So this Red-Eyed Mouse is the first in our office, but I have used one for more than two years now at home.
After using this for a couple of days I noticed that the scroll wheel and the buttons were much quieter than my older mouse. The optical sensor on the bottom scans almost any surface so there is really no need for mouse pads anymore, but I use one anyway (at work only). But at home, I have a smooth computer desk where I do not use any pads what so ever.
The body of this mouse is designed so that it can be used by both left-handed and right-handed people. I think this is good because the one I have at home is specifically designed for right-handed people (luckily no one is a lefty at home). There are virtually no moving parts so there will be no wear and tear.
WARRANTY
For fifteen bucks, do you really need a warranty when you can just replace it? But nevertheless, Microsoft gives you a 2-year limited warranty for the hardware. For $15 you are covered for two whole years; which is a very long time for a mouse anyways. For technical support, you can visit microsoft.com/support which is available 24 hours a day and 7 days a week.
INSTALLATION
Installation was very easy as it should be; just unplug your old mouse and plug this new one in. That is it… you are done. This is a USB mouse but it already comes with a USB to PS/2 adapter if you do not have a USB port in your computer; so there is no question if this mouse is compatible with your computer. I did not even have to restart my computer. It only took about a second or two for my computer to recognize this mouse and make it fully operational. This is a plug and play device so you will not need any extra drivers or software to make this thing work.
It does come with a little (15 pages) booklet that shows you how to quickly install and use this mouse. It even shows you how to clean the optical sensor and proper usage. Microsoft has also included some safe practices for this mouse and last but not least the product support and warranty information towards the end of the booklet
EXPERIENCE
My boss and I have been using this mouse for just over a week now and he has not complained about it yet. I myself do not have any problems with it so far. I have used many different kinds of the mouse in my days and this mouse is the quietest and smoothest of them all. Even the mouse I have at home is a bit louder than this although this mouse is a bit small in size and feels different. I guess my hand is so used to my mouse at home that every other mouse seems foreign to me.
This mouse glides smoothly on almost any surface in my office and I barely even hear the clicks and scroll sounds. My hand is always comfortable with this mouse. My boss says that this mouse feels good; if he feels good and if luck is on my side I just might get a good raise… but that is another story.
FINAL THOUGHTS
After through use of this mouse for a solid week or so, I can confidently say that I am happy with this very cheap and comfortable mouse. My boss seems to like these and so do I. I am glad we dumped the old-fashioned mechanical mousse with balls and got this Red-Eyed Mouse. If you are thinking about replacing your old mouse with a ball, I would highly recommend this cheap and quality optical mouse.