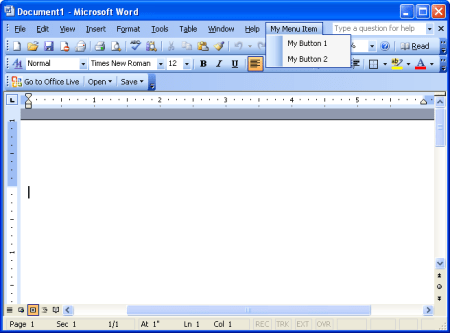 Word for Words!
Summary
The best of the best and most popular in word processing…
Pros
A lot of useful features…
Cons
Sometimes too many features to deal with…
Well since I wrote a general review about Microsoft Office 2003 Pro I decided to break it up and explain more about some of the included software. I doubt I will cover every single feature but I will do my best to bring out what is important for daily use. I want to do this because Microsoft does offer each of the software included in the professional version separately. This review is about Word 2003; please refer to the What's New? section to get more details.
INSTALLATION
The installation on my computer takes about five to ten minutes for the "typical" setup. But if you want, you can go in and customize the installation and add or remove components to your needs. Most of the time I do not even have to restart the computer after installation. The hard part is installing the updates or service packs after the installation; this process takes a lot of time. To make your life easier, I suggest using a broadband Internet connection for downloading and installing the updates and service packs.
Microsoft has simplified the installation process to make our lives a bit easier. The setup process is designed so that you will not need any help from anyone to get yourself started quickly. But if you need to, you can get help with the installation from Microsoft's website.
A downside to the installation is the new "Activation" process. Even though this helps Microsoft reduce piracy, it also produces more work for us. Once you do activate it, you will never have to deal with it again; unless of course, you re-install.
LOOK AND FEEL
This version of Word 2003 looks and feels a lot like its predecessor Word 2002 or XP but with a lot of improvements and eye candy. If you are just a beginner you may not even notice a difference from the preview version. All of the improvements and enhancements are either for professionals or business users.
One feature that I think we all need and use is the "Reading Layout" which allows you to read any document easily and without the need to scroll a lot. It shows two pages at a time on the screen; somewhat like the print preview feature but with edit capability.
The toolbar buttons are easy to work with if you are upgrading but you might have to get used to it if you are new to this; just move your mouse over the buttons and it will tell you what it is. If you want to figure out what a certain button does, just look it up in the help contents or click it and see for yourself.
The menus are almost the same as the previous version except for the newly added features. The menus will show you the options you use the most first and if you want everything else. You can customize all of the tools to your needs and they will happily comply with you. Another amazing feature I like about it is the "Getting Started" bar attached to the right side of the window. This bar helps you open new or recent documents, or work with templates. I think this is one of the best additions to the application.
WHATS NEW?
Word 2003 now has the capability to save documents in XML (Extensible Markup Language) format so that you can separate the content of a document from the confines of its binary (.doc) format. The content becomes available for automated data-mining and re-purposing processes. The content can easily be searched and even modified by processes other than Word.
In addition, if you are using Microsoft Office Professional Edition 2003 or stand-alone Microsoft Office Word 2003, you can attach an XML schema to any document by using the XML Schema tab in the Templates and Add-ins dialog box. You specify the name of the schema file and whether you want Word to validate the document against the schema. Then, use the XML Structure task pane to apply XML tags to your document and to view XML markup in your document.
This version also makes it easier than ever to read documents on your computer. Word now optimizes its display for your screen size and resolution, and a new reading layout view for the improved reading experience. Reading layout view hides unnecessary toolbars, displays the Document Map or the new thumbnail pane, so you can quickly jump to sections of the document, automatically scales the contents of a document to pages that fit comfortably on your screen and that are easy to browse and allows you to highlight portions of the document and add comments or make changes.
If you are using a device that supports ink input, such as a Tablet PC, you can use the tablet pen to take advantage of handwriting in Microsoft Word 2003.  Sometimes viewing multiple users' changes in one document can be overwhelming, but now you can use a new approach to compare documents— comparing documents side by side. Comparing documents side by side using Compare Side by Side allows you to simply determine the differences between two documents without having to merge multiple users' changes into one document. You can scroll through both documents at the same time to identify the differences between the two documents.
Document protection can be fine-tuned to control document formatting, content, or both. You can specify that only certain styles are available to use, and those styles cannot be modified. When protecting a document for changes to content, you no longer have to apply the same restriction to everyone and to the entire document. You can selectively allow certain people to edit specified parts of the document.
The new research task pane offers a wide variety of reference information and expanded resources if you have an Internet connection. You can conduct research on topics using an encyclopedia, web search, or by accessing third-party content. These new features are some great additions to this new version which help create professional-looking documents quickly and easily. Since I work in an office environment every day, I get to use most of these new features to make my work better in quality and style.
TEMPLATES
You can download templates easily from the "Getting Started" bar by clicking a link that will take you to Microsoft's templates page. There you can search and download the templates you need. I have personally used this feature a lot and it really does come in handy if you are in a hurry and do not have the time to create something from scratch. So go ahead and take full advantage of it and make your life a bit less stressful.
Word Templates: http://office.microsoft.com
HELP AND UPDATES
Microsoft has made things easier by making "Office Updates" similar to "Windows Update" on its website. This update feature will allow you to get the latest service packs and security updates quickly and easily without too much interaction from you. One thing I do not enjoy about the online update is that it does take up a lot of bandwidth when it downloads the updates. It also uses a lot of system resources when installing the downloaded updates. Most of the time, I even have to restart my computer to complete the update installation. If they only made it work without restarting my computer, I would be very happy.
SOME CONS
One of the features I have come to hate a lot is the "Help Assistants" who are very annoying for me. I always opt-out of installing this feature. I really think that they are more of a distraction than a source for help when creating important proposals that require a lot of thought. I do not have any other cons to list about Word 2003 yet, but if I do find more I will definitely update this section.
EXPERIENCE
I have been using Word for about nine years now, and I am still figuring out new ways to make my spreadsheets better. I usually write essays, reviews, letters, resumes, and documentation for my software with Word. I like to make everything look pretty so I use a lot of colors and smooth fonts to accomplish that.
The feature that I use the most in Word is probably the Spell Checker; it does correct a lot of spelling, and grammatical errors that I make. The reading layout view is another best feature that I use a lot when I proofread something. It helps me focus on that I am reading than on the scrolling. I downloaded a template to write my resume from Microsoft's website and it has helped me get the job I have right now.
SYSTEM REQUIREMENTS
Computer and Processor
Personal computer with an Intel Pentium 233-MHz or faster processor (Pentium III recommended)
RAM
128 MB of RAM or greater
Storage
150 MB of available hard-disk space
Optional installation files cache (recommended) requires an additional 200 MB of available hard-disk space
Optical Drive
CD-ROM or DVD drive
Display
Super VGA (800 x 600) or higher-resolution monitor
Operating System
Microsoft Windows 2000/XP, or later
Internet Connection
Internet functionality requires dial-up or broadband Internet access (provided separately)
Local or long-distance charges may apply
Other
Microsoft Exchange Server is required for certain advanced functionality in Microsoft Office Outlook
Microsoft Windows Server 2003 running Microsoft Windows SharePoint Services is required for certain advanced collaboration functionality
Certain inking features require running Microsoft Office on the Microsoft Windows XP Tablet PC Edition
Speech recognition functionality requires a Pentium II 400-MHz or faster processor and a close-talk microphone and audio output device
Information Rights Management features require access to a Windows 2003 Server running Windows Rights Management Services
FINAL THOUGHTS
I have been using Microsoft Word for about nine years now and have gotten so used to it that I cannot stand to use any other. I have tried many other word processors, but I can proudly say that there is no comparison between them and Word. This latest 2003 version has some very useful additions and enhancements that are worth purchasing.
I would recommend Word over any other word processor because it is easy to use and I learned to use it first so I am comfortable with it. I would not say that it is the best of the best, but it is worth a try. I like the little features the best that make my life a bit easier; like the nice Windows XP like the look, the quick keyboard shortcuts that make performing certain tasks faster, and the page layouts views that improve any kind of view. The sidebar that helps open a new or saved document, allows you to work with templates, and provides online help is one of the best features in this version. I have also noticed that some tasks perform a bit faster than the older version, such as saving, and other tasks that used to take longer. Just give it a try and I bet that if you forget for a second that Microsoft made it, you will enjoy using it. Microsoft does offer a trial version at their website if you would like to try it before you buy it.