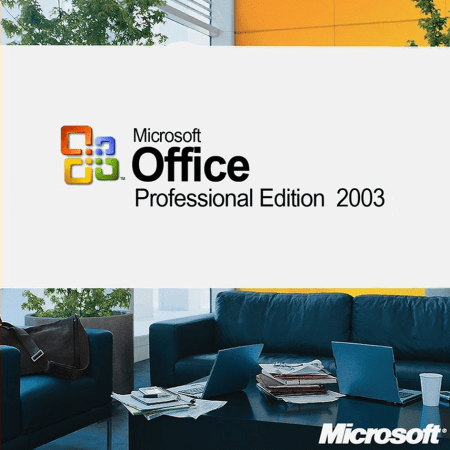 Office 2003 for your Office...
Summary
The best of the best in office applications…
Pros
A lot of useful features.
Cons
Sometime too many features to deal with.
A lot of people I know say they do not like Microsoft because their software is not reliable and has lots of bugs, but I do not think that is fully accurate. Even though I only use two types of software by Microsoft, I can say that Office 2003 is one of the best office application out today. I use it both at home and at work. The professional version has Access, Excel, Outlook, PowerPoint, Publisher, Word 2003, and InfoPath 2003.
ACCESS 2003
Access 2003 is a powerful tool that is sophisticated enough for professionals, yet easy to learn for new users. You can create or use powerful database solutions that make organizing, accessing, and sharing information easier than ever.
I use Access from work for an airline to input repair information. The airline has created a database with a graphical user interface to input data and keep track of preventative Maintenance (PMI) schedules. We access it through a Citrix neighborhood connection over the internet. The application is very reliable but is a bit slow due to my system limitations. Access is also great for personal databases like inventory or DVD/CD databases and more. My company uses to create expense reports using Access, but then we switched to Excel for a much simpler interface for some of the non-computer savvy employees (my boss). We recently upgraded from Microsoft Office 2000 just because we had to get it for another office of ours.
The built-in wizards help a lot with creating a new database quickly and easily. If you like me, I personally do not prefer to use Access for my database needs; instead, I just make my own customized application since I am a programmer.
EXCEL 2003
Excel 2003 enables you to turn data into information with powerful tools to analyze, communicate, and share results. It can help you work better in teams and help protect and control access to your work.
I use Excel every day at work and sometimes at home too. At work I mostly use it for our expense reports, record keeping, tracking PMI's, providing our customers with an up-to-date status of their equipment, employee timesheets, and much more. There are so many things we can use Excel that it is hard to remember them all. Sometimes we use it to create estimates or invoices to email to our customers and prospective customers. I have learned a lot about Excel after using it for more than nine years now. I have used Microsoft Office since version 96 came out and I have noticed a lot of changes and upgrades since then. Excel provides us with a fast solution to our reporting needs with its ability to customize to everyone's needs.
The built-in functions help a lot with calculations and text manipulations. It even allows me to create my own functions to use. I use a lot of the built-in function, but sometimes I have to create my own to do complicated calculations like automatically updating the date on the weekly timesheets so I do not have to do it myself every week.
OUTLOOK 2003
Outlook 2003 provides an integrated solution for managing and organizing e-mail messages, schedules, tasks, notes, contacts, and other information. It delivers innovations you can use to manage your communications, organize your work, and work better with others, all from one place. Outlook also comes with Business Contact Manager Update available as part of the Small Business and Professional Edition. It is designed to help small businesses manage customer information and sales opportunities within Outlook 2003.
I use Outlook at work for my emails and to manage my contacts. I usually order parts, pay invoices over the phone, or email customers so I use Outlook to do all of this quickly and easily. It blocks all unnecessary emails and sends them to the bulk mail folder and archives all of my messages so I do not lose anything ever. I can easily search through my contact quickly if I need it.
POWERPOINT 2003
PowerPoint 2003 includes new tools to help you create, present, and collaborate on presentations that have more impact. I have used PowerPoint to create presentations for school and even presentations that were later converted to slideshows on DVDs. I have created some photo slideshows using PowerPoint and other software to convert and burn it to a DVD. I have not noticed any major enhancements on this version of PowerPoint but can only assume that Microsoft fixed a lot of bugs.
PUBLISHER 2003
Publisher 2003 is a complete business publishing and marketing materials solution. It can help you reach out to customers, is easier than ever to design, create, and publish professional marketing and communication materials in-house. I use publisher sometimes when I need to create greeting cards, flyers, or cover pages. I used publisher for school projects and some work-related projects as well. I recently updated our company flyer that shows our services and contact information. The publisher is a great tool for everyday professional or home use and can help your creativity come to life.
WORD 2003
Word 2003 is the latest version of Microsoft's best word processor. It takes customer experience and feedback to deliver innovations you can use to create impressive-looking documents and help you work better with others. I used and still use Word daily for my personal and professional work. I use it for fax cover sheets, proposals, reviews, school work, and much more. I think everyone knows that there a many uses for a word processor.
INFOPATH 2003
Gather information flexibly and efficiently in rich, dynamic forms and more effectively share, reuse, and re-purpose information throughout your team or organization. InfoPath 2003 helps improve collaboration and decision-making to positively impact your business. Information collected with InfoPath can be integrated with a broad range of business processes because it supports any customer-defined Extensible Markup Language (XML) schema and integrates with Web services. As a result, InfoPath 2003 can help you connect directly to organizational information and then act on it, which leads to greater business impact.
I have played around with InfoPath a little bit, but have no real experience to share yet. All I know is that is it like or maybe better than Adobe Acrobat. You can create forms and you can also fill those forms right on your computer. It is an easy way to keep electronic records such as applications, personal data, employee data, and so on.
DEVELOPER TOOLS
Microsoft Office 2003 has the capability to add customized functions using Visual Basic syntax and Excel's built-in functions. I have come to enjoy creating my own functions to do just about anything I want.
So far the most sophisticated functions I have created are on the timesheet file. This file has functions that decide which week it is with a click of a button and matches the appropriate date with the days; this was tough because our pay period is from Fridays to Thursdays. But now I have written a 500 line piece of code that performs this task automatically. You can even create customized dialogs with this utility. If you know how to program a little with Basic syntax, then you will have no problem creating your own functions.
LOOK AND FEEL
This version of Microsoft Office looks and feels a lot like its predecessor Office XP but with a lot of improvements and eye candy. If you are just a beginner you may not even notice the difference from the previous version. All of the improvements and enhancements are either for professionals or business users.
One feature that I think we all need and use is the "Reading Layout" which allows you to read any document easily and without the need to scroll a lot. It shows two pages at a time on the screen; somewhat like the print preview feature but with edit capability. The toolbar buttons are easy to work with if you are upgrading but you might have to get used to it if you are new to this; just move your mouse over the buttons and it will tell you what it is. If you want to figure out what a certain button does, just look it up in the help contents or click it to see for yourself.
The menus are almost the same as the previous version except for the newly added features. The menus will show you the options you use the most first and if you want everything else. You can customize all of the tools to your needs and they will happily comply with you. Another amazing feature I like about it is the "Getting Started" bar attached to the right side of the window. This bar helps your open new, recent, or work with templates. I think this is one of the best additions to the application.
WHAT'S NEW?
Microsoft has a web page that shows exactly what is new in the 2003 version of the Office suite with explanations, but here are some of the most useful updates.
Please visit: http://www.microsoft.com/office
Access 2003
New features include "Improved Error Checking," "Field Property Changes," and more…
Excel 2003
New features include "Visual XML Mapping Tool," and more…
Outlook 2003
New features include "Shared Attachments," "Synchronize Contacts," "E-Mail Desktop Alerts," "E-Mail Reading Pane" and more…
PowerPoint 2003
New features include "Enhanced Statistical Functions," "Smart Tag Support," "enhanced Multimedia Support," and more…
Publisher 2003
New features include "Create CD/DVD Labels," "E-mail Wizards," "Advanced Print Settings," "Web View," and more…
Word 2003
New features include "Markup Balloons," "Editing Restrictions," and "Document Workspace," "Reading Layout View," "Workspace Sharing," and more…
InfoPath 2003
This is a new tool for the office suite so all features are new.
TEMPLATES
You can download templates easily from the "Getting Started" bar by clicking a link that will take you to Microsoft's templates page. There you can search and download the templates you need. I have personally used this feature a lot and it really does come in handy if you are in a hurry and do not have the time to create something from scratch.
Templates: http://office.microsoft.com
INSTALLATION
The installation on my computer takes about ten to fifteen minutes to complete. Most of the time I do not even have to restart the computer after installation. The hard part is installing the updates after the installation; this process takes a lot of time.
Microsoft has simplified the installation process to make everyone's lives a bit easier. The setup process is designed so that you will not need any help for anyone for installation. You can get help with the installation from Microsoft's website if needed, but the setup is so simple that you probably will have no need for it. A downside to the installation is the new "Activation" process. Even though this helps Microsoft reduce piracy, it also produces more work for us. Once you do activate it, you will never have to deal with it again; unless of course, you re-install.
HELP & UPDATES
Microsoft has made things easier by making "Office Updates" similar to "Windows Update" on its website. This update will allow you to get the latest service packs and security updates quickly and easily. One thing I do not enjoy about the online update is that it does take up a lot of bandwidth when it is downloading updates. It also uses a lot of system resources when installing the downloaded updates. Most of the time, I even have to restart my computer to complete the update installation.
FINAL THOUGHTS
I have been using Microsoft's office suite applications for about nine years now and have gotten so used to it that I cannot stand to use any other. I have tried many other office applications, but I can proudly say that there is no comparison between them and this office suite.