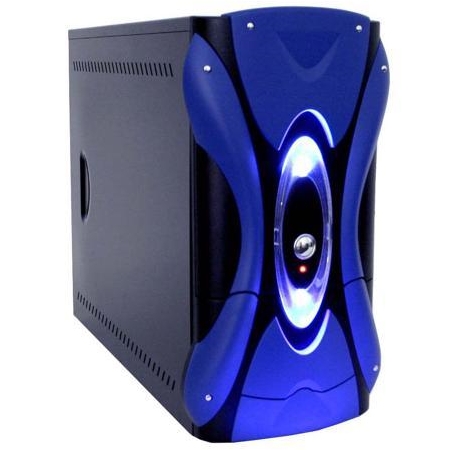 My Favorite...
Summary
Great for gamers, excellent for enthusiasts, and good for beginners…
Cons
Front panel wiring is a bit of a pain to connect…
Last year, I decided to upgrade my computer from a Compaq 800 MHz computer to something faster and more powerful. After thinking about it for a while, I finally decided that I wanted to build my own custom computer from scratch. Well since I had a limited budget, I wanted to get the best quality for my money. So I upgraded but did not get this Kingwin Mutant X ATX Mid-Tower Case case. After about six months, my best friend said that he is selling his case and wanted to see if I wanted it or not. I looked at it and bought it from him for something around $45.00; can never go wrong with a good deal.
DESIGN
Exterior
My particular model is silver and gray with its face shaped like a mutant, thus the name. I really liked the look because it has blue led lights in the front and the left side door which makes this case really attractive. There is a door on the lower end of the face of the case which has the mic/headphone/firewire/2 X USB connectors. This was another plus for me because I usually want to plug in additional peripherals. The left side door has a clear acrylic glass window, so I can see what the inside of my computer looks like when it is running. The fan on this door also lights up blue when powered up. Oh, by the way, this is a mid-sized case and is only meant for a mid-sized system.
The rear end of this baby can be customized to fit any motherboard that comes with its faceplate; all new motherboards usually do come with one. The covers/doors had regular screws to hold them in place, but I wanted something easier to open so I bought some additional screws that can upwind with just my two fingers. I do not need a screwdriver anymore.
Interior
Another factor that interested me to purchase this case was the amount of space inside for CD/DVD drives and hard drives. It even has a built-in fan to keep the hard drives cool at all times. This case allows me to put in four-CD/DVD drives if I want to. I have three hard drives installed, but it has room for six; all my hard drives run cool all the time.
The 420 watts power supply that came with this baby was good enough but since my friend wanted to keep that I decided to upgrade to a 500 watts one. This was great for my new power hogging 256 MB graphics/video card and all my hard drives. Well, the stock power supply motherboard form factors are ATX and Micro ATX and since I never saw the stock power supply I cannot say anything about the kind of connectors it had; I can only assume that it would be like most other one's.
There is room for seven expansion slots in the back for your graphic/video/sound/modem/network/etc cards. This baby can also fit two rear fans to keep the circuits cool and operating at normal efficiency. If I am not mistaken this case can accommodate any ~9.6 inches by ~12.0 inches motherboard. I did not measure the inner dimensions but it definitely fits my Asus A8V Deluxe motherboard without any hesitation. (here is more information on the motherboard)
EXPERIENCE
Now I have been using this baby for about a year now, and it has not fried any or my processors or drives yet. I have fallen head over heels for this fine piece of work. The led lights just add to the beauty of the whole system. I currently have five fans installed inside this case and it is still quieter than my old PC case (I do not know which brand it was).
The only problem I have right now is that the reset button does not work. This may be because I plugged in the wires incorrectly inside or the button itself is defective. I do not know and I really do not care at this point. The front panel wires are a bit pain to plug into the motherboard, but other than that this baby rocks.
To get you to visualize the internal capacity, here is a list of my internal components:
Motherboard
Asus A8V Deluxe
CPU
AMD Athlon 64 4000+
RAM
1GB of Corsair
Graphics Card
PNY Verto GeForce 6800 GT
Storage
1 X 40GB Hard drive
1 X 160GB Hard drive
1 X 200 GB Hard drive
Optical Drive
2 X Sony CD/DVD-RW/DVD-DL Drives
1 X Hi-Val CD-RW Drive
Power Supply
X-Connect Ultra 500W ATX (Titanium)
CPU Cooler
Thermaltake Silent Tower (CL-P0025)
PC Case
Kingwin Mutant X ATX Mid Tower
FINAL THOUGHTS
I can say for certain that this case will keep your system running smooth and safe for a very long time because mine is flying over cloud nine with this case. KingWin Inc has put a lot of love and passion into this case for the gamer's out there. Technically speaking, this case is meant mostly for gamer's, but I think anyone can use it, just like me. I am not a gamer but play a game or two here and there.