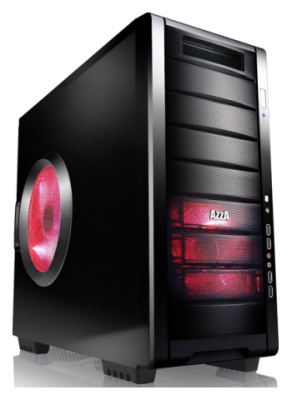 Red and black with lots of room!
Summary
Overall this case has lots of room and is designed properly.
Pros
Looks great with red and black color combination. Lots of thumb screws for easy assembly.
Cons
Not necessarily a bad thing but, some of the power cables ran short because the power supply goes on the bottom. Though, newer power supplies have longer cables.
After using the Kingwin MTX425SW MutantX mid-tower case for a few years, it's about time I got the chance to try out this cool new Helios 910R (as in Red) mid-tower case by Azza. The red and black color combination is very attractive also has a very generous room inside.
It has lots of huge fans (some with red LEDs) to keep your computer running cool at all times. There are 4 extra USB ports on the front panel and also an audio and mic port for easy access. It also fits nicely in your budget for only about $80.
EXTERIOR
The red and black color combination is one that I am beginning to enjoy now. The red LED fans just add to the attractiveness of this case. There is a huge 230mm round fan on the side that sits right on top of your processor to suck in air. There are pre-drilled holes on the bottom of the case that will help get rid of heat from the power supply. Unlike my old MutantX case, this Helios 910R has four rubber feet to elevate the case so air can better flow in or out.
The front panel has four USB, audio, and mic ports for easy access. The power and reset buttons are also on the same lane with the hard drive and power LEDs accompanying them. The front panel also easily comes off when you need to pop-out the covers for each optical drive bay. There are a total of 9 drive bays that you can use on the front, but who's going to use all nine? The very top one (or you can move it if you want) can be used for a floppy drive or card reader type of drive.
The rear-end has the usual expansion slot, power supply, and other motherboard port openings. It also has a 120mm exhaust fan vent and right below is two holes to be used for water cooling pipes. Other than that, the rear-end looks as good as it should. All you are going to use it for is to shove all your cables in the back.
INTERIOR
Inside the case is nothing but red and in a good way. The red on the inside really compliments the black on the outside along with the red LEDs. As you open the left side door, you will notice the circular 230mm fan (as I mentioned before). This fan is literally huge and it sucks in air which the rear and top fans take care of pushing hot air out. There is also a fan in the front that's 140mm in size which also sucks in air. So the entire cooling system inside looks and works really well.
There is a single hard drive cage that you can use to install four hard drives, which in my opinion is enough (since storing data on external network-attached raid drives makes more sense). I personally only have two drives installed; one for the operating system and program files and the other for downloading and working on files. But everything eventually ends up on external drives. Anyways, getting back to the 910R, it also sports elevated screw holes for the motherboard, so you don't need to screw in any more stand-off's (besides the three or four already on there).
All of the slot covers that also have holes in them are held in place with thumbscrews. Basically, this case is full of holes in a good way that enables better airflow. There are two pre-drilled grills opening on the bottom of the case, one for the power supply and the other for another fan if you please.
PERSONAL EXPERIENCE
So I was really excited to try out this new Azza Helios 910R mid-tower case after using my Kingwin MutantX case for what seemed an eternity. I installed my Asus M2N-E motherboard with my AMD Athlon 64 FX-60 processor. I also installed the Spire TherMax II CPU Cooler instead of the stock heat-sink and fan this time around. I have a decent PNY GeForce 7600 GS PCI-E video card installed. And to finish it off, I have a cheap and decent Dynex 400-watt power supply that does the job without hurting the wallet. Then I have a Maxtor 320 GB SATA hard drive with three DVD-RW optical drives (one of them is a SATA instead of IDE). Then I have my old and handy floppy drive for not so fun old-school moments when you want to boot to Dos or something. I just can't seem to let go of my floppy drive. Although, you can install a memory card reader in its place if you so wished.
I have had the system running smoothly for about a week now and I just love the four front panel USB ports that come in real handy when syncing my iPod, updating my TomTom, charging my Blackberry Storm, and running portable application from my OCZ Rally2 Turbo USB drive. Then I have the audio jack that helps me to relax by allowing me to listen to my music while I multi-tasking. I am not really a karaoke person but the mic comes in handy when you want to make those cheap international VoIP calls.
The overall setup and installation are easy if you have done it before and even if you are doing it for the first time. Just use your instincts if you can't figure something out. You can always look at the manual which will tell you where everything goes. The only complaint I had is that some of my old ATX power supply cables were too short to reach some of the components.
FINAL THOUGHTS
This is the first time I am trying a product made by Azza and I can say with full confidence that I will definitely use more and more of their creations. The Helios 910R is a great PC case that costs less than $100. The red and black color combination stands out to make the case look much more upscale. I would highly recommend this case for anyone looking for a budget case for the home or small office needs. After thoroughly testing this case for about a week, I rate it 4.5 out of 5 and recommend it to everyone.