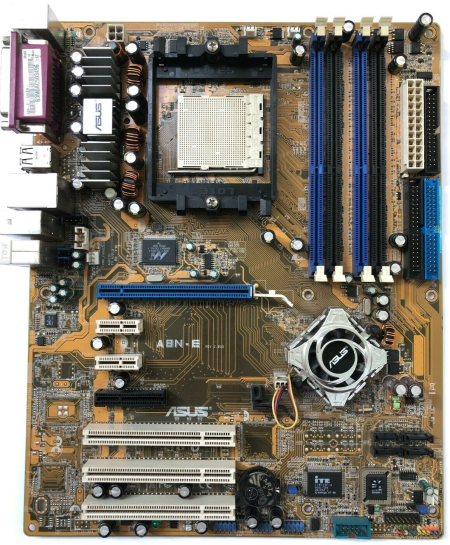 A mobo to die for!
Summary
One of the best PCI-E compatible motherboards available…
Pros
Fast, reliable, and overclockable…
I upgraded one of my client's computers recently and used this Asus A8N-E motherboard with the AMD Athlon 64 X2 4400+. The reason my client decided to get this motherboard was that he liked the Asus brand and he wanted to able to use his new PCI-Express video cards. He does play a lot of games so I recommended this to him as well. Another reason for getting this motherboard was the price. Since my client had already spent hundreds more on video cards he wanted a good motherboard that was under $125 and he got lucky as we got this for $110.
MAIN FEATURES
The A8N-E comes in many different variations; the 'E' version packs a lot of useful features that are just enough for my client's needs. It also has an 8 channel audio card built-in which is a really nice touch for gamers. Other features that are good to have are the NV Firewall (enhances network security and delivers highest system performance), AI NOS (automatically overclocks the system when you need it the most like when playing games and editing videos), Asus Q-Fan (adjusts CPU and fan speeds according to the system to reduce noise), and Precision Tweaker (designed for serious overclockers to achieve maximum performance).
INSTALLATION
Hardware
The A8N-E is compatible with the ATX form factor so it should fit any current ATX PC case. Installation from the side is somewhat standard and the motherboard did not create any complications for my client's case. His case is medium-sized so it was a tight fit.
This motherboard requires ATX 24 pin and the 4 pin ATX 12V power connectors to work properly. My client already has a 500-watt power supply so he does not have to worry about lack of power. This power supply has all the connections and the power that the motherboard (any component in the computer) will ever require.
The physical installation for this motherboard is no problem since all screw positions (to hold it in the case) are conveniently accessible even with the CPU and RAM already installed on the motherboard. However, watch out which screws you use since neither the motherboard nor the case goes into too much detail about which screws to use. The ones that fit the studs for the motherboard are the ones with the Hex/Phillips head! You should also use the red/pinkish washers so there are never any shorts.
I used two PNY PC-3200 512 MB memory sticks to go with this motherboard since older once are not compatible with these new motherboards anymore. On the first try with older memory sticks the system would not boot at all. But after adding appropriate memory sticks the system worked fine and without any problems.
I use Asus motherboards on my own systems also, so I did not have any trouble tuning the Bios settings to my client's needs. You can also turn off the features that you do not need to speed up the boot process; otherwise, the computer will just be wasting time looking for things that are not even there. The BIOS offers great flexibility and can be updated via a variety of sources (Bootable Floppy, or Asus Update utility). I like to use the Asus Update utility to flash the bios with the latest updates, it is quick and simple to use.
It is very easy to add SATA drives to the two SATA ports. However, be aware that transferring an ATA boot drive to SATA can be tricky. On the positive side, all SATA's are hot-swappable and can be removed or added with the system running.
Software
The driver CD has all of the software needed to make the board compatible with your operating system. The good thing is that all the drivers for this motherboard are now compatible with 64-bit Windows operating systems. My older motherboard (the A8V Deluxe) still does not have all the 64-bit drivers available.
My client already had the 32-Bit version of XP Pro installed on the computer, but wanted to try out Windows XP 64-Bit to see the difference in performance and power. I installed the retail version I had so and it was very quick to install. I did not notice any incompatibilities with the 64-bit operating system. Major speed increases are not expected in the 64-bit version, but I did notice that it boots up faster than the 32-Bit version does.
Now that the system seemed to work fine, I went ahead and downloaded all updates and drivers for Windows XP and XP 64-bit for this motherboard. This is a lengthy process since Windows XP alone has a lot of critical updates (which includes SP2) that is supposed to make the system more secure, but I think the updates makes my system run slower. The whole process takes a good hour or two. If you do not want to spend this time downloading and installing, you can just purchase a Windows XP version that already comes with SP2 and a lot of other updates.
PERFORMANCE
After we had all the hardware and software (even the updates) installed, it was time to harvest the fruits of the 3 – 4 hours of hard labor. I agree that a lot of credit goes to the graphics card, but overall speed improvement over my current Asus A8V Deluxe motherboard with an AMD Athlon 64 4400+ CPU and 1.2 GB of RAM is highly noticeable and expected. I noticed a reduced boot-up time from somewhere about 25 to 30 seconds to about a solid 15 to 20 seconds, which is amazing.
My client was already very happy with all his old components, so he did not buy anything else new. The AMD Athlon 64 4400+ processor started flying with this board and video card. With the entire performance boost, this Asus A8N-E has plenty of room to expand. The memory can be upgraded to a maximum of 4 gigabytes.
Overclocking is an easy way to get a bit more performance out of your system than the components are rated for. Even though this motherboard allows the processor to be overclocked much higher, we only got it to an additional 10% which is good enough.
FINAL THOUGHTS
My client knows that PCI-Express is the future of graphic cards and motherboards so that is why he went ahead with this upgrade. After this upgrade, my client's computer is now ready for the future and any future upgrades. All I say is that 64-bit computing is the future and my client wanted to be prepared for it before it was too late. Right now the prices are lower so it is a really good time to upgrade your system.