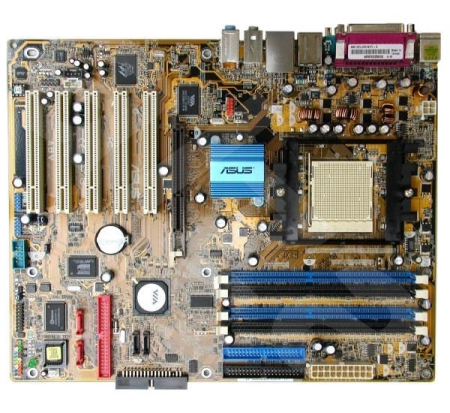 A mobo with attitude!
Summary
As always, Asus blows all competition to dust…
Pros
Fast, reliable, and 64-bit compatible…
Cons
Not compatible with older memory sticks…
I just upgraded my system from an AMD Athlon XP 2500+ on Asus A7N8X motherboard to my new AMD Athlon 64 4000+ on this Asus A8V Deluxe motherboard. Even though there are newer and more powerful motherboards with SLI (Scalable Link Interface) technology, I decided to go with this because it was the only 64-bit compatible motherboard with an AGP slot for my PNY Verto GeForce 6800 GT graphics card.
I did not want to get the PCI-express cards and get rid of the AGP version, even though I know it will be better in performance and quality. Another reason for getting this was the price; I was on a budget and wanted to get the best possible value for my money.
MAIN FEATURES
The A8V comes in two variations; the 'Deluxe' packs a bit more useful features than the regular version. The A8V Deluxe has the new "Wi-Fi – g" support where a user can easily establish 802.11g wireless LAN with the easy to use setup wizard. It also has the new "Instant Music" feature which is conveniently designed to allow users to enjoy their favorite music, without the need to enter Windows.
SYSTEM SPECIFICATIONS
Motherboard
ASUS A8V Deluxe
CPU
AMD Athlon 64 4000+
RAM
PNY DDR PC3200
Graphics Card
PNY Verto GeForce 6800 GT
Storage
40GB 7200RPM Western Digital / 160GB 7200RPM Western Digital
PC Case
Kingwin Mutant X (MTX425SW) ATX Mid-Tower Case
Operating System
Windows XP Pro SP2
Windows XP 64-Bit Beta
Fedora Core 4
Display
NEC 19"
Viewsonic 17"

INSTALLATION
Hardware
The A8V Deluxe is compatible with the ATX form factor which should fit any current ATX case. Installation from that side is somewhat standardized and the motherboard did not create any complications for me.
This motherboard requires ATX 20 pin and the 4 pin ATX 12V power connectors to work properly. Since I purchased a new "ULTRA PRODUCTS X-Connect 500W ATX" power supply, I was all set for this motherboard. This power supply has all the connections and the power I will ever have the need for.
The mechanical installation for this motherboard is no problem since all screw positions (to hold it in the case) are freely accessible even with CPU and RAM already installed. However, watch out which screws you use since neither motherboard nor case goes into too much detail about which screws to use. The ones that fit the studs for the motherboard are the ones with the Hex/Phillips head!
I used two PNY PC-3200 memory sticks to go with this motherboard as my older memory sticks had a problem getting along with this board. On my first boot, the "Voice Problem Reporter" said "System Failed Due To CPU Overclocking," but it was my first boot. How can I overclock when I could not even get into the bios settings. So I checked all the connections and after an hour of troubleshooting and failures, I called Asus customer service for help. They said that it was the memory sticks that I was using that were the problem. So I replaced them and my system worked fine thereafter.
Since my previous motherboard was an Asus, I did not have any trouble tuning the Bios settings. After reading the manual, I figured out that I can turn off the features that I do not need (like the SATA/RAID controllers) to speed up the boot process. The Award BIOS offers great flexibility and can be updated via a variety of sources (Bootable Floppy, or Asus Update utility). I like to use the Asus Update utility to flash the bios with the latest updates, it is quick and simple to use.
It is very easy to add SATA drives to the two SATA ports. However, be aware that transferring an ATA boot drive to SATA can be tricky. On the positive side, all SATA's are hot-swappable and can be removed or added with the system running.
Software
The driver CD has all of the software needed to make the board compatible with your operating system. One thing I did notice is that the drivers are not compatible with "Windows XP 64-Bit Beta." I tried looking up drivers for it at Asus' website and did find some, but not all. I cannot find the LAN driver which will allow me to connect to the Internet; as of now I cannot connect to the Internet from "Windows XP 64-Bit Beta."
After replacing the old memory sticks with new PC-3200 sticks, I had not problem booting and running my new system. I did not have any problems with it locking up and neither did I get any BSD (Blue Screen of Death) errors.
First I installed the 32-Bit version of XP Pro, and then I tried Windows XP 64-Bit as an alternative installation (dual-boot) on the same hard drive. I only had the beta version of the 64-Bit and until the full version is released I am not planning on fully switching over (mostly due to necessary drivers and software unavailability). However, during testing, it turned out to be very stable already and most programs ran without any problem. A major speed increase is not expected, but I did notice it boot up faster than the 32-Bit version.
I did a clean install of Windows XP Pro to start with a fresh clean system and it required me to load the drivers from the included ASUS CD in order to get non-plug-n-play devices running properly. Now that the system seemed to work, I went ahead and downloaded all updates for Windows XP and driver updates for the motherboard. This is a lengthy process since Windows XP alone has a lot of critical updates (which includes SP2) which is supposed to make the system more secure, but I think the updates make my system run slower. The whole process takes a good hour or two. If you do not want to spend this time downloading and installing, you can just purchase a Windows XP version that already comes with SP2 and a lot of other updates.
PERFORMANCE
Now that everything is in good working condition, it is time to harvest the fruits of the 3 – 4 hours of hard labor for setting up the system and troubleshooting the first boot problems. I agree that some of the appreciation goes to the graphics card (PNY Verto GeForce 6800 GT), but overall speed improvement over my old Asus A7N8X motherboard with an AMD Athlon XP 2500+ CPU and 1.2 GB of RAM is highly noticeable and expected. I have reduced my boot-up time from somewhere over a minute to about 25 to 30 seconds which is very amazing.
I was already pretty happy with my old components, so I did not buy anything else new. The AMD Athlon 64 4000+ processor started flying with this board and video card. With the entire immediate performance boost, the Asus A8V Deluxe has plenty of room to grow. When the time comes I may add a SATA 10k drive or two to create a RAID array for improved data security and speed. The memory can also be upgraded to a maximum of 4 gigabytes.
Overclocking is an easy way to get a bit more performance than the components are rated for. Even though this motherboard allows the processor to be overclocked much higher, I only got it to an additional 7% which is good enough; I do not want to exhaust the processor just yet.
FINAL THOUGHTS
I know that an AGP board is not the future of motherboards, but I just wanted to get my foot in the door so that I will be ready when the time comes. I am willing to upgrade in about two years from now when my new system will be obsolete and god knows what will be the most state of the art technology. All I know is that 64-bit computing is the future and I just had to prepare myself for it before it was too late.