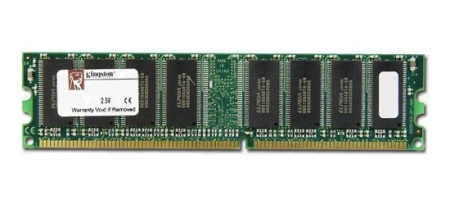 Got RAM?
Summary
A lot of bang for the buck…
Pros
Great performance, very reliable, and overclockable.
I recently built my new system with 512 MB of memory because my old memory sticks were not compatible with the new motherboard (it required PC-3200 sticks). So I went to Circuit City and bought two Kingston 512 MB PC-3200 memory sticks at $99.99 each. I mean, nowadays you cannot expect much from cheap memory, so I thought I should just get memory sticks that can provide me with the performance I need and crave.
These sticks are CL3.0 (memory clock latency timing) but I have that reduced to CL2.0. But with my Centon 512 MB, PC-3200 CL2.5 stick, and this Kingston sticks combined I am averaging CL2.5. This is still good enough for me as I am happy with the performance of my system. With my new system (AMD Athlon 64 4000+ processor on Asus A8V Deluxe motherboard) overclocked to 2.64 GHz (normal 2.40 GHz), it beats the AMD Athlon 64 FX 55 (2.60 GHz) in performance by about 5 percent.
WHAT I LOOK FOR WHEN PURCHASING RAM?
When purchasing anything you have to know what questions you need to ask to be able to get the best possible product for the best possible price. Here are some things I ask or look for before making the purchase:
How many megabytes?

I usually prefer and look for memory sticks that are at least 512 MB or more. I have read somewhere if you combine multiple low capacity memory sticks, the overall performance will be lower.

What is Clock Latency?

To me, this is the second most important thing to look for in any memory stick because I like to overclock and you need a good memory to be able to achieve faster but stable processor speeds.

Will it be compatible with my system?

You have to know what kind of memory you ware looking for: DDR, DDR 2, DDR 3, etc. You can find this out by reading your system motherboard specifications or by looking at your existing memory sticks. If you install incorrect memory sticks you may damage your system or your system may not work properly.

How easy is it to overclock?

How does it overclock; does it heat up or is it stable enough when you overclock your system? You can read reviews and talk to someone who has experience with it to get this information.

How much is it?

The price tag is the last thing I look at to make sure you are getting the best quality for the money you will be spending. No one wants to spend a lot of money on something that will not increase your overall system performance.
PACKAGING
The box has a plastic package that holds the memory stick, short warranty information, a brief installation guide, and customer service information. I think the box is big enough for much more detailed installation instructions; I think it will help novice users install the memory accurately and quickly.
INSTALLATION AND INSTRUCTIONS
To begin the installation you must first prepare your system properly; turn off the power and remove the power cord (just in case), remove all jewelry from your hands, and touch a metal surface other than your computer to get rid of any static electricity.
Open your computer case (may need a screwdriver or refer to manufacturer manual for details) and locate the memory stick slots (find the memory sticks that are already installed). You will notice there are two clips on both ends of the slots that hold the memory sticks in place; open these clips to allow new memory sticks to be installed (if you wish to remove the older sticks, you may do so at this point). Now pick up the new memory stick by the ends only and insert it into one of the empty slots (it only fits one way, so if one way does not work, try the other). One thing you should keep in mind is that you should not push too hard in the beginning because it may damage the motherboard and the memory stick if you insert the sticks in the wrong direction. So just see if the grooves match properly and then push it in and secure the clips on both ends to lock it in place. Make sure to push in both ends at the same time; you can even push one end and the clip should lock automatically, then the other and this clip should lock automatically also. If the clips do not lock automatically then you may do it manually.
Now you are done installing the memory stick, so just close your computer case back up and plug in all cords and cables that you disconnected. You may now wear the jewelry that you took off from your hands. Installation for me is a breeze as I have been doing this for a long time now and it only takes me about a minute to open my computer case and install the memory sticks.
EXPERIENCE
I have been using these Kingston 512 MB PC-3200 memory sticks for about four months now and I have not had any problems with them yet. Like I said before, I did overclock my processor and these memory sticks do help increase the performance a lot. I performed some benchmarks with 3DMark 03 and 3DMark 05; I got a score of 5885 and with 3DMark 05 and 12657 with 3DMark 03 (actual data).
I do play some games, but not too much. I have played Doom 3, Half-Life, Dear Hunter, Flight Simulator, and Halo on my system so far and none of these games froze ever. I installed a PNY Verto GeForce 6800GT 256 MB graphics card for my new system. I have not had any incompatibilities with the graphics card, memory, processor, or the motherboard. My system is running very fast and stable.
FINAL THOUGHTS
I have purchased many memory sticks and I think these Kingston 512 MB PC-3200 sticks are one of the best values out today. The price is right and the quality is exceptional. Knowing it is Kingston I can proudly say that it is reliable and it will continue to serve me for years to come. If you want good quality memory sticks with great performance, I would suggest getting these…