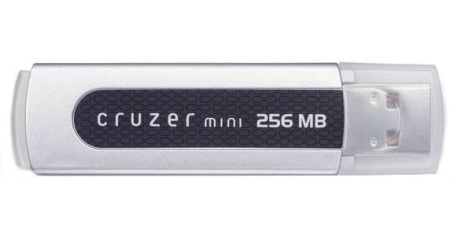 Goodbye Floppy... Hello Cruzer Mini...
Summary
Lots of room for your data…
Pros
Fast, compact, reliable, and safe…
A little while ago, I purchased two SanDisk Cruzer Mini flash drives; one 256 MB, and the other is 128 MB (I will write about it later). I got an HP Pavilion ZT3280US laptop about six months ago and I needed something to save my documents, songs, and other files on to that were portable. I looked around and found these Cruzer Mini's and was amazed at the idea of small storage devices that could hold more data than floppy disks. Since I shop at CompUSA a lot, I purchased this Cruzer Mini there for $49.99; I also got a $10.00 mail-in rebate form. That mail-in rebate seems like nothing now because the prices have gone down.
DESCRIPTION
The SanDisk 256 MB Cruzer Mini is a tiny storage device that plugs into your computers USB port and behaves like any other removable drive. Since it is a plug-n-play (PNP) device, your computer will recognize it instantly and it will be ready to use without restarting.
It works almost like the floppy disk, but with some improvements. Floppy disks can store 1.44 MB of information, but this Cruzer Mini holds 256 MB. And unlike floppy disks these are small and your information is secure in the drive. Oh one more thing, these flash drives are much faster than any floppy disk or drive.
WHY I BOUGHT IT?
My laptop does not have a floppy disk drive, so using floppies for transferring information is out of the question. I configured my laptop to connect to my home network which works very well, but I also needed something to store data on the go like at school or work.
Imagine if my laptop dies or the hard drive crashes, I will lose all data on it. But if I save all my important information on this Cruzer Mini, I will still have my information but will have to get the laptop fixed. Don't you think that is a good idea? My laptop does have a CD/DVD-RW drive, but who wants to wait ten or maybe fifteen minutes to burn a disk to transfer information from one computer to another. I just use this flash drive and transfers are done in just about a flash.
DIMENSIONS
The SanDisk Mini Cruzer is about half an inch wide, two inches long, and less than a quarter-inch thick. Yeah… it is small enough. It only takes up enough space for one slot; you can plug in two of these flash drives side by side if you had the need for it.
It comes with two different colored caps to protect the USB connector. There is a light in the back that notifies you that there is power passing through the flash drive when it is plugged in. Mine also came with a long strap to wear this flash drive as a necklace when I am on the go.
PACKAGING
The package includes the Cruzer Mini, two additional color caps (green and blue), a neck strap, and a book of additional fun toys you can purchase that are made by SanDisk. I seem to only like the clear cap better because I lost the other two somewhere.
FINAL THOUGHTS
The Cruzer Mini is easy to use because it does not require you to install drivers, and it is faster than any floppy drive. The drive compact size also makes it easy to store and plugin without disturbing anything else. Best of all, you can almost use the Cruzer Mini on any computer with a USB port. If your computer has USB 2.0 compatibility than the transfer rate will be even faster. So throw away your floppies and welcome the new flash drives.