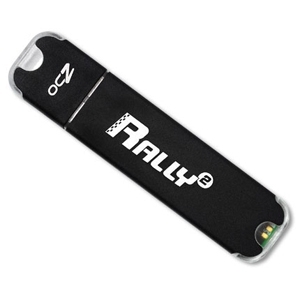 Very impressive speed with huge capacity!
Summary
Get this if you want absolute fast performance and huge capacity.
Pros
Extremely fast performance and huge capacity.
Cons
I wish they had it in 16 or 32 GB also.
After using my PNY Attaché 8GB USB 2.0 flash drive for almost three years, I finally decided I couldn't deal with slow running portable applications.  I usually run Trillian Astra Pro (for IM), Mozilla Thunderbird (for emails), RoboForms2Go (to have all my passwords and form data to go), and many other applications from my USB drives, but I just needed them to load and run faster.
So I looked around for the fasted available USB flash drives and I ran across very few drives and one of the best I found was this OCZ Rally2 Turbo 8GB flash drive.  I was trying to find the fastest driver with at least 8 GB of storage capacity and also one that is compact.  This drive does not disappoint at all.  I found the best deal at Amazon.com but the seller was tigerdirect.com.  So for a $100 plus free shipping, I couldn't ask for more.
WHAT IS IT?
This OCZ flash drive is a compact storage device that plugs into your computers USB 1.1 or 2.0 (Universal Serial Bus) ports and works like any other removable drive. Since it is a plug-n-play (PNP) device, your computer will recognize it instantly and you will be ready to use it without needing to install any drivers or restarting your computer (unless you still use an older operating system like Windows 98). Flash drives have come a long way since they were first introduced in 2000 by IBM and other similar companies, but this one even leaves most newer ones in the dust. USB flash drives offer potential advantages over other portable storage devices, particularly the floppy disk. They have a more compact shape, operate faster, hold much more data, have a more durable design, and operate more reliably due to their lack of moving parts.
WHY I BOUGHT IT?
The only reason I purchased this flash drive was the smoking data transfer rates that this drive is capable of.  I mean I have used many flash drives, but this is something else.  I was expecting the usual 15 seconds for Thunderbird to load and the excruciating 45 seconds for Trillian 3.x to load.  Boy, did I have the wrong expectations or what!  I did my research and did my digging to come to the conclusion of purchasing this.  Yes, I did read other reviews of this and I do agree with them.
Anyways, I have been using USB flash drives for well over 10 years and the need for more storage space and faster transfer rates keep increasing and increasing.  If you want to store your digital photos on a flash drive you want something that has a lot of space and can copy those pictures to and from your computer fast (the same thing applies to your music, videos, and documents).  You also probably want to run some of your portable applications (applications that do not require any files to be stored on the computer to run) when you are on the go or at work.  That's exactly why I bought this drive — because I wanted huge capacity and faster read and write speeds.
DIMENSIONS AND DESIGN
This OCZ Rally2 Turbo is about five-eighths (5/8) of an inch wide, two and five-eighths (2 5/8) of an inch long, and only one quarter (¼) of an inch thick. Yes, it's smaller than my PNY Attache so it takes up less space when plugged to any USB port (does not block any other ports beside it so you can plug in other USB cables with any interference). This one also comes with a long silver neck lanyard to wear this flash drive as a necklace when I am on the go. The lanyard also makes it easy to find and handle.
There is an orange LED indicator light on the other end of the drive that blinks when transferring data or just emits a steady stream when idle. The supplied USB extension cable also helps when there are no ports on the front or easy to reach are of your computer. Just plug in the extension cable and plug this drive into the cable and you have this drive in an easy to reach the place.  The only complaint I have about the design is that there really isn't a place to put the cap. Although if you lose the cap, you can purchase replacements that come in packs of 5 and sell for around $15 on OCZ's website. If you ask me, I think they want you to lose the cap, just so you can donate another $15 to them.  But in any case, the drive is still not bad.
THE PACKAGE
The package includes the OCZ Rally2 Turbo 8GB USB flash drive, a silver lanyard, USB extension cable, and some information.
TEST SYSTEM
| | |
| --- | --- |
| System | Lenovo Thinkpad X301 |
| CPU | Intel Core 2 Duo U9400 1.40GHz |
| RAM | 3 GB |
| Storage | Samsung 120 GB SSD SATA |
| Optical Drive | Matshita DVD-RAM UJ-844 |
| Operating System | Microsoft Windows XP Pro SP3 |
TEST RESULTS
I used HD Tach and HD Tune to test the data transfer rates of this flash drive and here are the results.  I ran this test on a Lenovo Thinkpad X301 notebook with the drive plugged in the directory to one of the built-in USB ports (did not use the extension cable).
EXPERIENCE
I have been using this OCZ flash drive for over a month now and I am extremely happy with it.  I run all my portable applications off of it without any issues (and they load quickly). I still have enough room to install a whole operating system (maybe I will install Windows 7 on it) on it. I have not experienced any trouble with this drive nor have I lost any data. I use it daily at work and at home to access my files, music, videos, photos, portable apps, and more. I run my instant messaging application called Trillian from it so I don't have to install it over and over again.
I use PortableApps.com's portable menu on this drive so I have access to all my files and applications quickly and easily.  I also have my RoboForms2Go start automatically when I plug this into my computer.  I cannot be any happier with the snappiness of this drive.  I also like to customize my Firefox with certain plug-ins and its a pain to install and set it up on different computers the same way.  So I installed it on this drive and set it up the way I want it.  Now all I have to do is insert this drive and launch Firefox from it.  No need to install or configure (and it runs way faster from this drive than it ever did with any other flash drive).
I got an overall average read speed of 23 MB per second when I combined the results of all my tests. While the results were a little lower than I had expected, the drive still performs faster than I had expected also.  So I am very happy with it.  Also, the test results may vary depending on the type of test system you use.  So don't just rely on the results from one system.
FINAL THOUGHTS
This OCZ 8 GB USB flash drive is worth every dollar that I paid for it.  I am absolutely satisfied with it and cannot complain about anything.  Just wish they had a 16 or 32 GB model available because I know I will run out of space very soon.  The flash drives compact size also makes it easy to store and plugin without disturbing anything else that is plugged into the USB ports of your computer. OCZ made this drive rock solid so it doesn't feel cheap or flimsy. These will be reliable in almost any condition.
I have also found out from my colleges that you can easily lose the caps if you take your eyes off of it for a little bit. But that really doesn't affect me as I always keep the cap in one single place at work and at home. I would have rated this drive 5 out of 5 but if it wasn't for the fact that there really isn't a place to store the caps safely changed the overall outcome. The long lanyard comes in handy to allow me to identify the drive or to carry and store it easily.  I would highly recommend this drive to everyone who wants speed, reliability, and capacity.