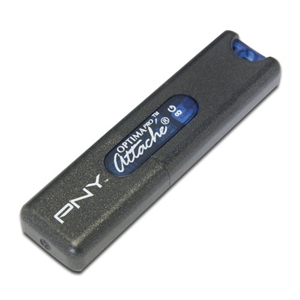 Huge capacity but could be faster!
Summary
This USB flash drive is very reliable and goes everywhere with me. I would highly recommend it to everyone.
Pros
Huge storage capacity, comes with a long neck lanyard and pretty fast.
Cons
Could have been a little faster and the cap may get lost if you take your eyes off of it for even a second.
Nowadays, it's not possible to live without a USB flash drive especially in the Information Technology field.  That being said, I have used flash drives to store just about anything for more than a decade.
As you can imagine, after a while of use you tend to fill up the flash drives up to the brim.  So I started looking for a replacement that would give me the capacity I wanted and the reliability I needed.  I searched the web and found this PNY Attaché 8GB USB 2.0 flash drive on sale at newegg.com.  And as usual, Newegg shipped the flash drive quickly and without any damage.  I have been using this drive for over three years now and it hasn't failed me yet.  Although, I recently replaced it with a much faster drive from OCZ that provides much faster data transfer rates.
WHAT IS IT?
The flash drive is a tiny storage device that plugs into your computers USB 1.1 or 2.0 (Universal Serial Bus) port and behaves like any other removable storage drive. Since it is a plug-n-play (PNP) device, your computer will recognize it instantly and you will be ready to use it without needing to install any drivers or restarting your computer. Flash drives have come a long way since they were first introduced in 2000 by IBM and other similar companies. USB flash drives offer potential advantages over other portable storage devices, particularly the floppy disk. They have a more compact shape, operate faster, hold much more data, have a more durable design, and operate more reliably due to their lack of moving parts.
WHY I BOUGHT IT?
As I mentioned before, I first started using USB flash drives more than 10 years ago and the need for more capacity emerged as technology evolved and digital photos, music, and videos began taking up more and more space on any drive they resided on.  I store photos, videos, documents, and applications (including portable applications) on my flash drives so I need the fastest and biggest drives available for the best price.  This drive also allows me to take my tools (for PC repair, diagnostics, and development) with me everywhere without taking up a lot of physical space.
DIMENSIONS AND DESIGN
This PNY Attache is about three quarters (3/4) of an inch wide, two and three quarters (2 3/4) of an inch long, and three-eighths (3/8) of an inch thick. It only takes up enough space for one USB slot on your computer so you do not block any other ports.  You can plug in two of these flash drives side by side if you had the need for it and not have them interfere with each other.  Mine also came with a long neck lanyard to wear this flash drive as a necklace when I am on the go or just to make it easy to find and handle.  There is a LED indicator light in the middle section of the drive that blinks in certain intervals or colors to notify you of what it is doing.
Slow flashing: connected or inactive
Quick flashing: Transmitting/receiving data
Orange pulse: Indicates high-speed data transfer rate
Green pulse: Indicates full-speed data transfer rate
THE PACKAGE
The package includes the Attache flash drive, a long neck lanyard, and some information.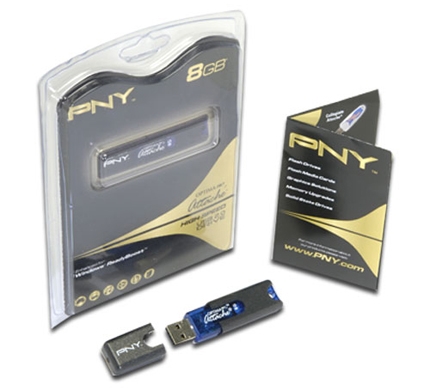 EXPERIENCE
I have used this flash drive for more than three years now and have been running a portable application off of it all the while without any issues (besides the little slowness). I still have enough room to install a whole operating system on it (even though it might not work). I have not experienced any trouble with this drive nor have I lost any data. I use it daily at work and at home to access my files, music, videos, photos, portable apps, and more.  I wouldn't have replaced it if it wasn't for the speed issue that I came across while running certain portable applications like Firefox and Adobe Photoshop.
FINAL THOUGHTS
The PNY 8 GB Attache USB flash drive is absolutely worth the $57.99 price I paid for it.  The drive compact size also makes it easy to store and plugin without disturbing anything else plugged into your USB ports.  These are very reliable in almost any condition.  I have dropped it, stepped on it, left it in my boiling hot car in the summer days of California, and spun it around like helicopter propellers and hitting many things — amazingly this drive didn't stop working and I never lost any data.  The only reason I replaced this flash drive with another is because of the data transfer rate; I wouldn't have otherwise.  I have also heard from my colleges that you can easily lose the cap if you take your eyes off of it for a while.  But that really doesn't affect me as I always keep the cap in one single place at work and at home.  I always know where it is.  I also like the long lanyard that comes with this drive and makes the drive easy to handle and find.