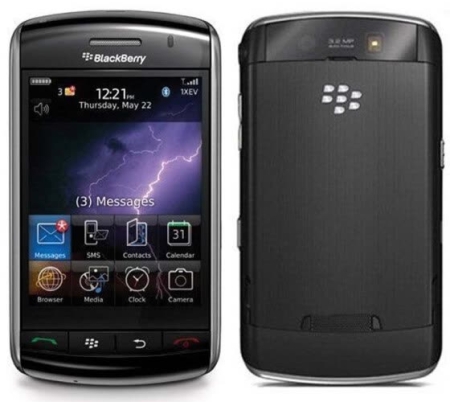 Never buy first generation anything... period!
Summary
If you want a touch screen Blackberry, wait until the Storm II comes out. Never buy 1st generation anything! I learned my lesson the hard way.
Pros
First touch screen Blackberry. Faster processing than other Blackberry devices at the time of release. Big high resolution LCD. Camera quality is very good.
Cons
Buggy, laggy, slow, rusty, unsuuitable and premature operating system. Not as advertised! No Wi-Fi.
I was so excited when I got the Blackberry Storm 9530 smartphone on the day it was released (November 21st, 2008). I have since gotten three warranty replacements (with the same device of course) hoping to get a device that would work as it was advertised.
The first time around it was the screen clicking issue, the second time was the device not connecting to BES anymore and the third time was a combination of both. After the last replacement, things seem to be working pretty well. The screen clicks fine and I have no network issues as of yet. I did upgrade to the latest *official* operating system but it's crap. So I went to the Blackberry Storm OS black market (well not really, they are pretty easy to find now) and got the latest *leaked* or beta OS. I am currently on version 5.0.0.230 and loving every minute of it. Flick scroll, faster everything, the camera works faster, pop-up keys when typing, and more.
WHAT IS IT?
The Blackberry Storm 9500 or 9530 is the very first touch screen Blackberry that came to market.  They wanted to compete with the iPhone but that really didn't happen and the main reason behind that was the flaws which we will discuss below.  This Blackberry has all of the functions of other Blackberries and then some — for instance, the entire LCD is a big button (some people argue that this doesn't work too well if you want to type faster).  There is only four physical buttons on this Blackberry that are on all Blackberries (the Send, Menu, Escape, and End buttons).
Like any other Blackberry, this one also has the usual functionalities. It can manage your day-to-day tasks, hold all your contacts, provide you access to all your emails, and lets you browse the Internet with the added benefit of a touch screen. Basically, it keeps you connected even when you don't want to be. You can still use the Storm as a modem to access the Internet at broadband speeds from your Laptop or Desktop. Just add the tethering feature to your service plan, download the software, plug the phone into your computer with the supplied USB cable and you are good to go. No more crappy wireless at hotels that opens your computer to vulnerabilities like viruses and spyware. This of course depends on whether your phone has cell service or not where ever you are.
BATTERY LIFE
The Storm has a 6-hour battery life but with different OS versions, you will notice different capacities. I usually have my Blackberry plugged-in to my laptop at work and AC charger when at home (not all the time though).  I really get to test how the battery performs during long weekends because I hardly ever charge it. With normal use, this device lasts me three days without charging (four if I don't play any games). By the end of a three day weekend, I will usually have 1 bar left on the battery life indicator.
THE SOFTWARE
The two applications that come with this Blackberry Storm will make your life much easier. First is the Blackberry Desktop Manager, which allows you to update the operating system (official only of course) or load application that you have downloaded or purchased. You can also backup and restore your Blackberry with this utility. This utility also helps synchronize your Blackberry with your computer (if you use BIS and not BES). In other words, install this utility even if you are not going to use it; it will come in handy sooner or later.
The other software is the VZ Access Manager (since my service provider is Verizon) helps me use the Storm as a broadband modem (tethering feature).  Meaning, I can access the Internet anywhere Verizon's service is available. All I have to do is plug the Blackberry into my laptop or desktop using a USB (the one you use to charge the thing) and connect using the VZAccess Manager utility. But before you can do this, there is a service you have to get enabled for your account (not really sure how much that costs).
Pre-installed on the Storm are two games, Word Mole and Brick Breaker. Word Mole is very addicting and will waste as much of your time as you will allow it to. These games come in handy when you are at airports waiting for the airplane to arrive or at work when you don't have much to do. I just wish they had Texas Hold'em King 2 for this device (I usually have good luck with poker or maybe that's the only game I am good at).
EXPERIENCE
I mostly use this Blackberry for work-related emails, meetings, and managing contacts using BES (Blackberry Enterprise Server), though I do have my personal emails configured on it using BIS (Blackberry Internet Services).  You will have to contact your companies IT department to connect to their BES server but you can set up BIS yourself.  Once you have BIS configured with all your email accounts (10 accounts max), you will not have to configure it ever again. If you ever switch your device, all you have to do is log in to your BIS account and change the device pin and all your emails will start coming in.  Basically I use this phone daily or let's just say it's always with me (and I mean always).
I also travel often for work and pleasure, and I cannot live without Internet access. So what I usually do at airports and hotel rooms that do not provide free (I am a big fan of anything free… isn't everybody?) Internet access is to connect my Storm to my laptop (I am using a Lenovo Thinkpad x301 right now) with a USB cable and connect using the VZ Access Manager software. Now, this feature will only work if you have Tethering enabled on your account and the fact that you have a good signal on the Blackberry.
The touch screen and typing on this new Blackberry will take some time to get used to. The fact that the whole screen is a button is a major change that some people may not want to get used to. But once you do get used to it, you do tend to start liking it. I personally cannot go back to using a regular phone or Blackberry now after using this touch screen one. The battery life when using the official OS is really bad. You will literally notice the battery life indicator bars moving.
Like I said before that I am currently using a leaked version of the OS that you can find easily by doing a simple Google search.  Be advised that these leaked OS's are NOT supported by either RIM or Verizon and they can leave your Storm useless.  So only install leaked OS/software on your device if you know what you are doing.  But there are also lots of benefits to using the latest leaked OS's.  You get to try out new features such as flick scrolling, pop-up keys when typing, threaded SMS, and much more.  But all this doesn't always come easy.  Sometimes leaked versions have features that did work on previous leaks that don't work on new ones.  But you cannot and should not complain as they are leaks and it is expected.  As mentioned above, the latest beta/leaked OS version is 5.0.0.230 and it does have all of the features I mentioned above with a lot more improvements.  Overall, the battery life and performance of just about everything (scrolling, transitions, flipping, browser, camera, and more) have improved.
I use the camera a lot to take pictures and videos of my five-month-old son.  The picture and video quality are excellent.  The huge 3.25 inch LCD doesn't leave anything out when displaying those images or videos either. GPS capability works without a hitch. The voice prompts were clear and accurate when using Verizon's VZ Navigator application.  Calls on the Storm sound loud and clear.  On the other hand, the people on the other end of my calls often say that my voice sounds somewhat digitized.  But that's not always the case.  Most of the time I sound like myself, though that isn't far from a robot's voice.  Now if I pair this with a Jawbone II Bluetooth headset, you will eliminate all background noise and sound somewhat better also.  I hardly ever use the media player but when I do it is really easy to use and is loud and clear also.  I have a few MP3 on my SanDisk 8 GB MicroSD HC card.  I do though have lots of pictures and videos and the Storm can handle them pretty well.
FINAL THOUGHTS
I have been using this Blackberry Storm 9530 for almost a year now and I cannot wait for the Storm 2 to come out already. I hear its due to release this October 2009 — keep an eye out. I wouldn't recommend getting the Storm one to anyone at this time or at least until a newer OS is released. Personally I would wait until the Storm 2 or get an iPhone. I am rating this Storm 3 out of 5 because of the flaws in the operating system. The hardware on the other hand is outstanding. Or if you are a technology freak like me, then there is nothing in the world that will stop you from getting this. But if you do get it, install the latest beta OS and you will not complain.