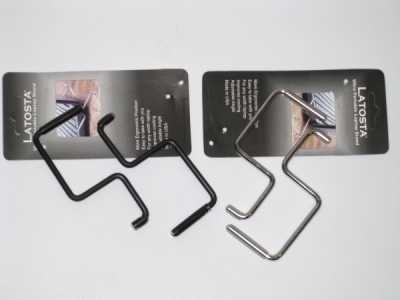 Nice lift and cooling without fans!
Summary
Excellent idea for a ultra portable laptop stand but there is always room for improvement.
Pros
Compact, light weight, inexpensive, flexible angle adjustments, fits almost any sized laptops.
Cons
May block some ports, slots or drives — but its not a major issue because you can always move it.
I was lucky enough to test both the Aluminum and Stainless steel versions of the Latosta Ultra-Portable Laptop Stand made in the US by Starlight Creations.  These stands are portable and cost anywhere from $9.95 to 15.95.  Check it out!
LOOK AND FEEL
This laptop is designed with ultra-portability in mind because it can easily fit into almost any carrying case or pocket.  They come in two different materials: anodized aluminum and stainless steel.  They have tiny plastic caps to prevent scratches and also helps with gripping on whatever you set your laptop on.  Here are some pictures of what it looks like with the Lenovo T60 and the HP ZT3280US laptops.
SETUP AND USAGE
There is really nothing special that you need to do to set this laptop stand up. All you do is place a stand on either side of your laptop (the longer armrests on the table and the short one on the keyboard bezel). It will only take about half an inch of space on the top so it will not block the keys on the keyboard. Some smaller laptops may not have enough space on the sides to accommodate this stand and it says so on the manufacturer's website. So please read all of the compatibility information before you make the purchase (refer to the images on the previous page).
Now as you can see on some of the pictures above, it may block some ports on the sides of your laptop, but that can easily be fixed by moving the stand.  If even that doesn't help, then this stand may not be the best solution for your laptop.  Again, please read the compatibility information carefully.
PERFORMANCE AND COOLING
Now to test the Latosta, I used both of my laptops as usual on my desk in the standard position (this is the control) and monitored the temperatures at idle.  Then I repeated the test same test with the Latosta stands and recorded the data.  Then I did the same with the load by compiling a huge Visual C# .NET project (takes 30 minutes to fully compile and uses almost 100% processing power).  The results are as follows:
| Laptop | With Stand (idle) | Without Stand (idle) | With Stand (load) | Without Stand (load) |
| --- | --- | --- | --- | --- |
| Lenovo T60 | 48°C | 52°C | 79°C | 83°C |
| HP ZT3280US | 50°C | 55°C | 82°C | 87°C |
Well as you can see, the laptops run cooler when using the Latosta stand when idle or on load, but it will not dramatically make your laptops run cooler either.  It just uses the regular airflow that the laptops built-in fans generate.  Now if you use a larger cooler with a fan than the result will obviously be much cooler operation.
FINAL THOUGHTS
These Latosta Ultra-Portable Laptop Stands are a very innovative and inexpensive way to keep your laptops running cooler while also providing ergonomic benefits so you don't hurt your wrists. On the other hand, this laptop stand is still not perfect as there is still a lot of room for improvement. I did notice that if you slide or move your laptop a lot while using this stand, it tends to wiggle a little out of place. But I think it can easily be fixed with another plastic cap in the middle section that rests on the underside of the laptop to grip it better. There also is a small issue for instances where this stand may block access to some ports on the side of the laptops. You can always move the stand to accommodate your needs. All in all, I will rate this product with 4 out of 5 stars for innovation and uniqueness and recommend this to everyone who is looking for a cheap way to achieve better ergonomics and cooling for their laptops.