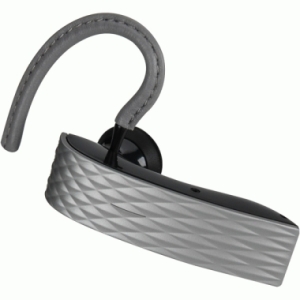 Very good hands-free Bluetooth headset!
Summary
This is a very good Bluetooth headset but the ear loop or ear bud could have been designed better.
Pros
Small, light weight, best noise cancellation, and easy too use.
Cons
The ear bud/loop doesn't always fit well. One size or style doesn't always fits all.
Jawbone headsets are one of the most popular headsets in the market, therefore the reason for my purchase.  There are a few improvements in the Jawbone II compared to the first generation headsets.  First is the smaller and lighter design and the second was the unusual ear hooks that were difficult to position.  Although it made my wallet a whopping $130 lighter, it was worth every penny for a while at least.
ABOUT THE HEADSET
The Jawbone II is about half the size of the original Jawbone I.  That is one of the best improvements on this headset over the original.  The smaller size and reduced weight made this more comfortable to wear for longer periods of time.  On the other hand, the earbuds and earloops do not really fit the "one-style-fits-all" criteria.  There are still lots of room to improve and Aliph is doing a lot to get feedback from its customers and they are listening.  So that is a very good thing for any company.
PROS
These Jawbone II headsets have noise cancellation technology called NoiseAssassin and it works very effectively.  Jawbone has been able to eliminate real-world noise better than any other headset that I have used because it is the only headset that can accurately separate speech from ambient noise.  The smaller size also improves comfort and ease of use.  You can use the headset with or without the ear loops but I wouldn't recommend it.  You can fully charge it in less than an hour and it will last for hours (depending on the amount used of course).
CONS
The earbuds do not fit well enough to stay in your ear for too long and the ear loops do not help all that much to keep it in place.  When you have this headset in your ear and you talk or eat or even adjust your jaw, the headset tends to slide out of your ear a little and that makes all the difference in sound quality and volume.  But fortunately, Aliph did provide their "new fit" earbuds for free (just had to pay a $2.99 shipping fee).  These new ear bus work a lot better and keep the headset in your ear without causing irritation.  The ear loops do break after fair use.  The one that fits me the best broke after about 11 months of use which is not bad but the next size is either too big or too small for my ear.
IN THE BOX
1 x Magnetic USB cable & wall charger included.
3 x Earbuds – small, medium, and large.
2 x Fine leather ear-loops – medium and large.
2 x Slim ear-loops ideal for use with eye-wear – medium and large
SOUND QUALITY
The sound quality is amazing on this headset.  When on a call the caller sounds crystal clear and crisp.  The volume can go much higher than that of most other Bluetooth headsets I own or have used.  I have not experienced signal drops or static noise while on a call with this headset.  My Plantronics Discovery 665 headset always used to lose Bluetooth signal while in the middle of a call or standing idle.  With this Jawbone, everything is crystal clear and solid.  No drop-offs or static.
DESIGN AND CONTROLS
The Aliph Jawbone II has a diamond pattern on the face of it that looks and feels sleek.  The face also has the power/pair indicator LED, on/off button, and the not so easy to use volume control/NoiseAssassin button. The size of this Jawbone is only 2 inches long, 0.5 inches wide, and 0.5-inch thick.  It only weighs a tiny 0.35 ounce.  The headset comes with two leather or two slim ear loops so you can choose whichever fits or suits you best.  If you don't like ear loops that you have the option to go loop-less (if you will) and just use the earbuds (or inserts) that may be used without the ear loops.  This option didn't quite work for me as the headset didn't stick on to my ear.  Under the headset is a white rubbery kind of little nipple that will sit on your cheek/jaw (thus the name Jawbone… I think) is the sensor that detects your voice and helps the Jawbone eliminate background noise.
BLUETOOTH VERSION
Bluetooth technology has been around for a while now and it has gained a lot of popularity when mobile phones, PDA's and laptops started adopting the technology and making it standard on their devices. Throughout these years many different versions of Bluetooth have been developed as newer technology evolved. So far, the most popular Bluetooth version is 2.0, although I keep hearing about 3.0 coming out soon. If you want more information on the latest Bluetooth technology please visit bluetooth.com.
WARRANTY INFO
The Jawbone II has a one-year limited warranty (more information at http://us.jawbone.com/warranty.aspx). You can also call Aliph product and technical support at 1-877-ALIPHCO (254-7426) for any questions or concerns that you may have.
EXPERIENCE
I have been using this Jawbone II headset for about 11 months now and I am very satisfied with the design, controls, quality, ease of use, and customer support.  I especially like the small and lightweight design which does not hurt my ear after long hours of use.  It always comes in handy when I am driving (eliminates road and background noise — callers cannot tell if I am at my office or not). This headset fits nicely on my ear (left or right) with or without the loops.  The supplied earbuds didn't quite work for me so I got the free replacements and that has worked without any issues.  Besides the fact that my favorite ear loop broke, I am very much happy with this headset.
I mostly use the headset when I drive and also when I am at work.  I usually have it hanging from my martial arts medallion that hangs on my rearview mirror while I drive.  I keep it plugged in to the charger while I am at work so it is always charged and ready to go.  It goes in the center storage compartment of my car while not in use to keep it safe from the hot sun in beautiful California.  A full charge lasts me throughout the weekend without ever needing to charge.
Pairing this headset with my Blackberry Storm is also very simple as well. Press and hold both the on/off and volume/NoiseAssassin buttons until the LED indicator starts flashing white and red.  Then just search for available Bluetooth devices on your mobile device and it should find a device called Jawbone.  You should be prompted for a passcode to pair with the Jawbone and it is the usual 0000 (four zeros). You will only need to do this once per mobile device as with any other headset.  Now every time you turn the headset on or off, your device will detect and pair with it automatically.  You will hear a little jingle when turning the headset on or off–there are two slightly different tones that differ for on and off. Also when you get a call, you will hear another tone that signifies a call coming in.  Incoming calls also invoke the LED on the face of the headset to light up and flicker irregularly to get your attention.
FINAL THOUGHTS
The overall design, performance, and quality of the Aliph Jawbone II wireless headset is very good when compared to others such as the Motorola H500 or the Plantronics Discovery 665.  Noise-canceling technology (NoiseAssassin) is very impressive and effective.  This headset is very easy to use and is designed to work with no discomfort at all. I would highly recommend this wireless headset to all who are in the market for their first or a new Bluetooth headset.