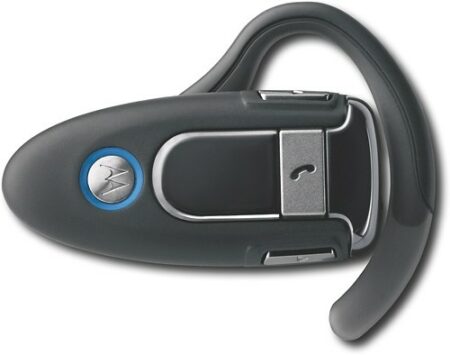 Barely there...
Summary
The best wireless headsets just got a better…
Pros
Compact design, good range, long battery life, light weight and very comfortable to wear…
My sister just got a new Bluetooth compatible phone (I forget what make and model) and the thing that caught my eye was this Motorola H500 wireless headset. I have wanted to get this for a while now and now was my chance to try it before I buy it. I tested this headset with my new LG VX8100 (also Bluetooth capable).
I myself use the Motorola HS850 headset so I could not wait to try this one out. I somehow convinced my sister to let me use this for a week (I offered her to use mine for a week). I checked online for the price and found that Motorola has it for about $70 dollars, but of course, you can get a better deal at other online stores or eBay. My sister bought this from a wireless store somewhere; I do not know where (somewhere local though).
WHAT'S NEW?
There is not much that is different in this new H500 model; there is the new compact design that makes it look sort of like the older HS820 model. Since Motorola made it smaller, the weight is less also. It is the same color at the HS850 but there is no boom to unfold to automatically connect; instead, you press the multi-function button. I did notice that the sound quality is a little better and the volume is a bit louder than my HS850, but I really do not think it makes that much of a difference.
BLUETOOTH VERSIONS
Even though Bluetooth technology has been around for a number of years, it has just recently gained popularity when wireless phones and laptops required wireless connectivity. Throughout these years many different versions of Bluetooth have been developed as newer technology evolved. So far the most popular versions are 1.1 and 1.2; the HS810 has version 1.1, the HS850, and H500 is compatible with 1.1 and 1.2. If you want more information on the latest Bluetooth technology please visit bluetooth.com to get detailed information. Version 1.2 is now the most popular version is the newest Bluetooth compatible devices and soon as technology progresses and this version number will increase resulting in a better faster wireless connectivity technology.
BATTERY LIFE
The H500 has almost the same battery life as my HS850, but the only difference is the lower standby time (200 hours on HS850 and 150 hours on H500). This could be a result of the smaller size, but it is still good enough. Depending on the amount of usage this unit will give you six to eight hours of talk time; that is the longest any Bluetooth (rechargeable) headset will give you (right now). Your cell phone battery will probably run out before this headset runs out of juice. By the way, it takes about an hour (or maybe less) to fully charge this baby; the blue light will turn off when it is charged.
SOUND QUALITY
I have used the HS850 for more than two months now and I did notice a little difference in the quality. The sound is clearer and the volume can go a little higher. I did not experience static or any other kind of disrupting noises while using this headset. The volume control helps adjust the volume to my needs and without the need to touch my phone.
EXPERIENCE
Well, I have used this H500 Bluetooth headset for about a week now and I have been totally satisfied with all of its features (although not much is new). It usually comes in handy when I am driving; it brings out the true meaning to the hands-free system. Since my phone has the Voice Dialing feature, I do not have to press anything on the phone to make a call or answer it. This headset fits nicely on my ear (left or right), and is a little lighter in weight than the HS850. It does not hurt my ear like some wired headsets I have used in the past; it fits perfectly without any irritation.
The specifications say that it takes less than an hour to charge this unit, and so mine always takes around forty to sixty minutes to fully charge. It is also small enough to fit in my shirt pocket when I am not using it. I think it will make anyone fall in love with it once you get used to it hanging on your ear.
I did try to connect this headset to my computer like I did with my HS850 and it was as simple as before and easy also. I was able to listen to music and dictate a review of my voice recognition software. It works better than the HS850, but I have to talk louder for the voice recognition software to hear me properly. I was very excited to try this with my desktop computer as I bought a USB Bluetooth adapter before working with this.
FINAL THOUGHTS
The overall performance and quality of the Motorola H500 when compared to the Motorola HS850 about the same. I really did not notice any major differences besides the small size and weight. I did not come across any problems or defects, but if you ever do encounter any defects, Motorola does provide a one-year limited warranty. This limited warranty does not cover everything, so I suggest buying from a retailer that provides an extended warranty plan (for free or maybe a small price). This headset is very simple to use and is designed to attach itself to your ears perfectly without any discomfort. I would recommend this wireless headset to all who have a Bluetooth compatible phone just because it is smaller, lightweight, and cheaper than the HS850.