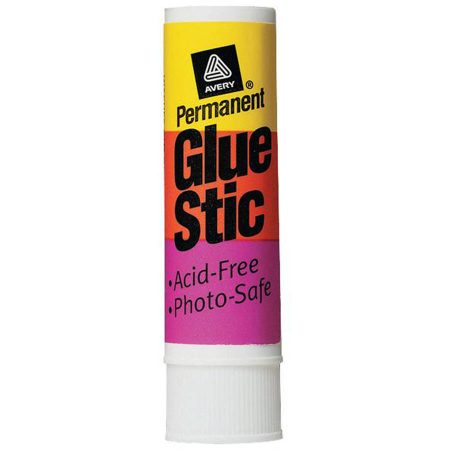 A very sticky stic!
Summary
Will only stick to it for a while…
Pros
Good enough for envelopes and regular paper…
Cons
Not enough strength for other things…
For all those times when you need to glue some things together, you would need one of these Avery Permanent Glue Stic. I will keep you from licking those nasty tasting envelopes. I am glad I have one of these to seal my envelopes because I have licked one too many of them already. I start to freak out when I run out because I just cannot lick that nasty thing again. I have also gotten paper cuts on my tongue while licking envelopes; I think you know what I am talking about.
DESCRIPTION AND USAGE
This glue stick is really small so you need to get a firm grip on it to get the lid off; the lid is really tiny also. There are a few ridges on the cap to help you get a good grip, but sometimes they do not work that well either. I am not saying it is a bad thing because it prevents the glue from leaking on to things you do not want glue on or to prevent the glue from drying. Over time the lid will begin to stick to the body of the stick as some of the glue tends to stick to the inside of the cap which you cannot prevent.
Once you get the lid removed safely, you will need to turn the knob/base of the stick which pushes the glue-up in small increments so you can easily handle it. Now all you do is just glide the glue that sticks out across the surface that you are trying to bond and you are done. Oh, by the way, do not forget to turn the base back to make sure the glue is not sticking out or it will stick to the inside of the lid and you will definitely have the hardest time opening it the next time.
I mostly use this glue stick to seal envelopes and special projects for school. I also use it to create collages of my family pictures for our hallway. There are many other uses and this kind of glue will work on almost all paper products.
EXPERIENCE
The glue is clear once it is dried and it will not wrinkle or produce wet patches like the white liquid glue we used to have in middle school. There are times when I wish this glue stick was stronger because at times it does not bond that well. If I do not apply a lot of glue on an envelope, it will not seal properly and will open easily, so make sure to not be greedy and use a lot of this glue. Also, make sure you have a piece of paper or something to prevent the glue from getting on to your desk or table because the stick is a bit thick.
Even though the label says it is permanent, this glue does not last too long. Over time it will dry out and whatever you bonded together with it will come apart. By overtime, I mean a long time, in hot weather, or in direct sunlight. So if you are sealing something for storage, be sure to use tape or stronger glue. The color of this glue is whitish and you probably will not be able to smell it. If you ever get it on yourself, it will easily wash off (even on clothes).
FINAL THOUGHTS
I have been using this product since high school now and besides all the mess, I would still recommend it to everyone. I would not say it is the best glue stick in the market, but it will get the job done for a very low price. In other words, you really do get what you pay for. The best usage for this glue would be on envelopes and regular paper; you will need something stronger on other stuff. Best of all you can get one of these for about forty to sixty cents, so it really does not hurt to give it a try.