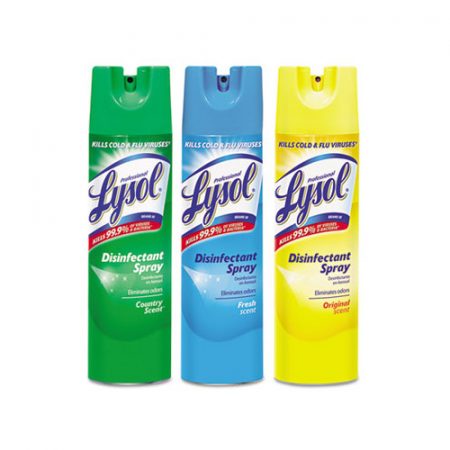 Kills germs, viruses, bacteria, and smells good too!
Summary
Your home will be a lot safer place to live in after you disinfect it with this sprayer.
Pros
Gets rid of all harmful things in my home and makes it smell good too…
Cons
The can is a bit on the large side, but that's not really an issue…
Since I work at a repair shop, you can only imagine what kind of smell I get exposed to in the office. So one day after a huge truck with exhaust problems exhaled all its disgusting fumes in my office, I quickly ran to turn on the fan and spray some air freshener.
Luckily, I found a can of Lysol Disinfectant Spray (Spring Waterfall) in one of the cabinets, and all the smell was gone after just a few sprays. Since then, I starting getting these for my home (I usually get the Summer Breeze and Spring Waterfall scents); I usually need it in the restrooms and kitchen as we cook a lot, and therefore use the restroom a lot also. My wife and I usually purchase this from Target because she gets ten percent off when she uses her store credit card.
WHAT IS IT AND HOW IT WORKS?
This particular one comes in a 19-ounce can that sells for around five to eight dollars each. Lysol says that it comes in 3 sizes, kills 99.9 % of germs in just 30 seconds, and it is safe to use around kids and pets. Plus it does not evaporate too soon and is priced almost fairly for everything it does, but it could have been a bit cheaper. The label on the back of this can provides usage instruction and names of viruses and bacteria's it kills (like Escherichia coli, Influenza, and many more).
All you have to do to use this product is to hold the can about six to eight inches from the surface you wish to disinfect. You can also spray Lysol Disinfectant Spray directly into the environment to eliminate all odors.
THE GOOD
Everything about this disinfectant spray is good because it does a lot of work for you. If you want to be sure you will not have any germs in your food, make sure you have a can handy in your kitchen. Just spray, let it sit for 10 minutes, and wipe it clean with a wet towel. Then do whatever you want on the surface you just disinfected and you can be sure that you will not get any germs or viruses on your food. We also use this as an air freshener which also kills germs, bacteria, and viruses as a bonus.
THE BAD
Even though this product kills germs and eliminates odors, the smell is sometimes too strong when your allergies start to act up. The can tends to get very cold after a while of continuous use or winter weather, so take breaks after each use or wear gloves or something. One more thing I would like to mention is that the can sizes could have been a little smaller because these cans are huge and will not fit in all cabinets.
CAUTIONS! (this information can be found on the can)
Here are some things you should never do with this product as it may cause some serious health problems.
Keep this out of reach of children and pets. It can cause eye irritation so do not spray in eyes, on the skin, or on clothing.
First Aid
In case of eye contact, immediately flush eyes thoroughly with water, remove any contact lenses, and continue to flush eyes with plenty of water for at least 15 minutes. Get medical attention if irritation persists.
Physical Hazards
Flammable – Contents under pressure.
Keep away from heat, sparks, and open flame.
Do not puncture or incinerate container.
Exposure to temperatures above 130 degrees F may cause bursting.
Do not use on polished wood, painted surfaces, leather, rayon fabrics, or acrylic plastics.
EXPERIENCE
My family and I have started using these Lysol disinfectant sprays after years of those cheap air fresheners that do not last too long. My mom seems to not mind the smell too much but since my wife has a very sensitive nose; it gets too strong for her if we spray a lot. We mostly tend to use this disinfectant spray in the restrooms because of the smell and the germ, bacteria, and viruses that can be found there. This Lysol spray gets the all odor out quickly and also disinfection's whatever it comes in contact with.
I like to clean all the doorknobs in our home with this spray to make sure we do not have any harmful beings. My wife and mom clean the kitchen counters, the sink, and the stovetop with this. I sometimes use it to disinfect our grill; after long storage periods, you can just imagine how many different species of starting making a living in your grill.
FINAL THOUGHTS
This Lysol disinfectant spray is easy to use and store when done properly. I have never done any of the above-described cautions and thus I have no problems using it. It is absolutely safe for me and my family. After using this disinfectant spray for about eight months now, I can confidently say that my family is a lot safer from many viruses, bacteria, and germs.