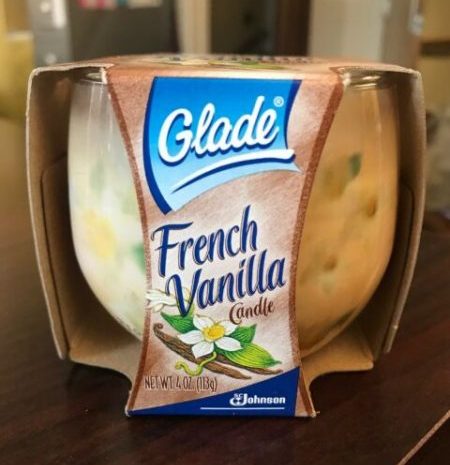 These smell so good!
Summary
This will keep you home smelling the best…
Pros
Long lasting, many scents, and cool designs on jars…
My wife likes scented candles so I finally agreed to get some of these Glade Scented Candles; of course, I had to smell them before I bought them. We usually light this up in our bedroom, kitchen, and living room to make them smell better (I think I have even used these in the bathroom once).
We usually get the Mountain Berry and the Angel Whisper's scents because they smell good and do not give us headaches. My wife and I usually purchase this from Target or K-Mart because she gets ten percent off when she uses her store credit cards; they cost around two to three bucks each.
WHAT IS IT AND HOW IT WORKS?
These candles come in a little 4 oz. jars but lasts a long time (about 13 or 14 hours). There are many nice scents you can choose from Angel Whispers, Apple Cinnamon, Butterfly Garden, French Vanilla, Hawaiian Breeze, Lilac Spring, Mango Splash, Melon Burst, Mountain Berry, Mystic Garden, Rainshower, Starlit Garden, Strawberries and Cream, Sweet Nothings and Waterfall.
All you have to do to use this product is to remove the packaging and light it up with a lighter or match. Well, you really do not have to light it to get the smell, you can also leave it in a room for some time and it will smell good. Once you light it though, the smell will fill the room quickly and you can always blow it off for later use.
THE GOOD
The reason I chose to buy these Glade candles over other brands is that I like the wide range of scents to choose from and the fact that they last a really long time; I also like the small jars they come in (they look nice at night). We also use this as an air freshener in our restroom that I always stink up… LOL.
THE NOT SO GOOD
Even though, these candles smell good and last for a long time, some times you may wish there was a lid for the jar. So you can save the smell or blow out the candle without actually blowing it. I have seen some other brand candles that come in jars with lids and all you have to do to blow them out is to close the lids; simple as that. Maybe Glade will come up with that later… or maybe they already have something like that, but I have not seen it yet.
EXPERIENCE
My family and I have started using these Glade candles often now that we know they smell nice and keep your mood calm. I have seen some other brand candles where the scent is overwhelming and always gives me a headache. But the scent from these candles is soft, smooth, and soothing. I like to light one of these in my bedroom for half an hour or so before I go to bed so the smell will let me fall asleep quicker. I have also used these in the bathroom when I want to relax in the tub; just light it up and put it on the edge of the tub. Just do not tip it over or you might have a problem.
RECOMMENDATION & WARNINGS FROM GLADE
Recommendation
Glade recommends that you light these candles for about 4 hours at a time to maximize their life. I usually light them for an hour or two at a time. Secondly, keep the candles away from vents and air currents for the best performance. We should trim the wick to 1/4 inch before each use for an even burning experience. I have not ever done this and never had a problem with the candles burning unevenly. The candles are made of wax (if you did not know that already), so do not expose them to extremely high or low temperatures; they can freeze or melt very easily.
Warnings
Place lit candles on a flat, heat-resistant surface away from flammable materials. Do NOT move lit candles or candles with hot wax. Wait for the wax to harden. Always keep burning candles in plain sight. Keep out of the reach of children and pets at all times. Only use these indoors and away from drafts.
FINAL THOUGHTS
These scented Glade candles are not expensive, last, a long time, smell great, and come in many different flavors. I have never had a problem with these candles (as the warning suggests so do not worry). These are absolutely safe for me and my family. After using these for some years, I can confidently say that my family will keep buying these until there is something better. Our home always smells the best for everyone.