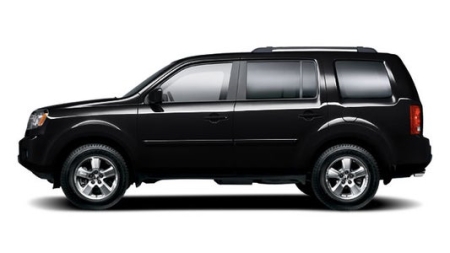 Powerful, Roomy and Stylish!
Summary
If you have a big or growing family, then you need a bigger car to haul everyone while keeping them safe and comfortable.
Pros
Very good handling, more than enough power, reliable, comfortable, roomy and stylish at the same time.
Cons
Only regret I have is that there is not USB port for my iPod built-in to the EX model; should be a standard on all model by now.
I had been driving my 2006 Toyota Corolla LE for a while now and I was fairly happy with the service it was providing until my family grew from two to four. Yup, having two kids will always result in the need for more space not just in the car but in your homes too. So when planning on having kids, also consider the cost of a bigger car and maybe a bigger living space. This is where my new 2011 Honda Pilot EX SUV comes in to play to replace my still young 2006 Toyota Corolla that I loved dearly.
First of all, even though I am a family man, I did not want to be seen driving a mini-van every single day, and plus, I don't like the way mini-vans handle. So that is why I was in the market for SUVs and crossovers. I test drove a lot of similar SUVs and crossovers before finally deciding on the Honda Pilot. For starters, tested the Toyota RAV4, Toyota 4Runner, Toyota Highlander, Nissan Pathfinder, Nissan Murano, Jeep Grand Cherokee, Jeep Liberty, and the Volkswagen Toureg. Ford, GMC, Buick, Dodge, etc were out of the picture here for a reason. In my family, these American brands are not considered good/reliable cars. After driving all these cars, I finally went and drove the Pilot and fell in love with the power and how it handled without actually letting the salesperson know of course. I looked at the options in all of the trims the Pilot comes and before deciding on the EX model. Because I didn't need 4WD, leather/heated seats (will discuss reason later), navigation, or DVD systems. What needed and wanted were three rows of seating available, dual or tri-zone climate controls, good sound system, lots of storage, leg and headroom, front and side airbags, and decent gas mileage. The MSRP for the one I bought was around $31,675 and the invoice price according to the dealer was $29,799. For the record, I went to Honda of Serramonte in Colma, CA.
MY PICK AND AVAILABLE TRIMS
The Honda Pilots come in four different classes (LX, EX, EX-L, and Touring) to fit most people's needs and budgets. I decided to get the EX model because I couldn't get leather seats and didn't want navigation or DVD entertainment system. Why you may ask? Well, as for leather, the wife has an issue with the smell of it. Her over-sensitive nose cannot withstand the soothing smell of new or for that matter any leather. So leather was absolutely out of the question for me. As for navigation, I own a smartphone (Motorola Droid X) and a TomTom Go 930 so I really didn't need one built-in to the car I was going to get. DVD entertainment system wasn't a necessity but I would have gotten it if the price was right but since it wasn't, I didn't get it.
The EX model I purchased has an in-dash 6-disc CD changer with 7 speakers including a sub-woofer (115 watts), tri-zone climate controls which is very nice to have so everyone can be comfortable in their own zone, third-row seat (8 passenger capacity), 10-way power driver's seat with lumbar support, steering wheel audio and cruise controls and 250 horses in the 3.5 liter i-VTEC V6 engine. I didn't get the EX-L model with other bells and whistles because I wanted to save a little money (I don't have any regrets about my decision either). If I had an extra five to seven thousand dollars to spare, I would have gotten the Touring model with everything.
I like how the 2011 Pilot looks from all angles. The features that stand out are the glass hatch on the tailgate, 17-inch alloy wheels, standard fog lights, the chrome exhaust finishers, and the roof rails. I decided to get mine in black because I have always liked dark colored cars (my 2006 Corolla was charcoal gray). The only downside to these dark colors is that it starts to look dirty quickly and even small chips or dings will show very easily (not that I have chips and dings already). Another reason I chose to get the Honda Pilot is because of the overall look of it that stands out as an SUV instead of a minivan or crossover. The Pilot looks like an SUV, drives and handles like one, and has the room to fit everyone in my family and then some. The Pilot can tow up to 3,500 pounds with the 2WD models and 4,500 pounds with the 4WD models. You will need to purchase additional accessories unless you are getting the Touring model. One thing I would like to mention is that the turning diameter of the Pilot (38.6 ft) is very similar to that of my 2006 Toyota Corolla (36.10 ft) even though the Pilot is a much larger vehicle. I was very impressed when I made a U-turn for the first time in my Pilot. I am also looking to add running boards or side steps soon because other family members are somewhat short and have somewhat of a hard time getting into the SUV. I would probably look at eBay for all my accessory purchases because Honda OEM accessories cost an arm and a leg which I don't have spares of. Since this is a big vehicle, I would have liked the backup camera but then again, I can always install that myself for a lot less money. I was also thinking about adding a hood air deflector and see how it looks.
INTERIOR
The space inside the Pilot is huge and will fit anything you can throw in it. Even though I didn't get the leather seats, the cloth seats are still very comfortable; I just have to find seat covers for them so as not to spoil them. I have two boys so have to be very careful with everything. The driver's seat can be adjusted 10 ways with the handy power controls. One thing, I hoped this model had was the seat memory (only available in the Touring model), but I am the only one who will be driving this baby mostly so don't have to adjust it too often to care more. The foot pedals are not adjustable like they are on the Honda Odyssey minivan's touring model. Maybe I am too spoiled by it. In any case, I can reach the pedals fine and don't really need to adjust them. The dash display is nicely illuminated in white (some people may not like white but I actually like it) and every indicator is easy to read and understand. The brightness of the dash light can be adjusted by turning the trip nob left or right. The steering wheel can both tilt up or down and telescope back and forward; this will come in handy when my wife who is very petite learns to drive. The cruise control and audio controls are right on the steering for easy access.
There are a total of 12 beverage holders in this vehicle so you will never have problems with those soda cups, cans, or anything that can fit in those holders. Storage capacity is also worth mentioning because there is a lot of space to store things in this SUV besides people. The multi-functional center console has three compartments (one for your 2 cup holders, another small one for your small items like phones and coins, and a larger one for everything else) with a sliding cover and also includes an armrest that can store even more stuff (there is a 115-volt power outlet and also a 3.5mm auxiliary input jack). The glove compartment is small but can easily store restaurant menus, your registration information, and so on; there is also a lock on it if you would like to secure whatever is important to you. Right above the glove compartment, there are three flat sections to store and separate smaller items quickly and easily. All of the doors have two pockets for even more storage while the rear doors have cup holders too. The interior door handle section can also be used to store smaller items like phones, candy, coins, Bluetooth headsets, or whatever. The center instrument panel on the EX model has more open storage because there are no navigation controls and screens. There is also another flat storage space right above the instrument panel where the LCD display is for everything. All of these small storage spaces may not seem important but come in handy when you are driving. If you open the tailgate you will have ample storage space for your everyday needs, but there is also a hidden storage area under the floor for stuff that you do not need on a daily basis. Storage isn't an issue ever with the Pilot; just load it up and go.
All of the power controls (windows, doors, climate, and audio) are very nicely organized and placed for easy access. The driver can control all windows and door locks; both the driver and front passenger windows have auto up and down feature. The turn signal, light, and wiper control lever placements are adequate and easy to reach/operate. I really like how easy it is to use the tri-zone climate controls; the driver, front passenger, and rear passengers can have their own settings. I usually set it to auto but adjust as needed; the only thing missing is the sync button that quickly syncs the other two zones with the drivers like on the Odyssey's Touring model.
XM satellite radio is also built into the audio system and is free for 90 days as a free gift from Honda. The 6-disc CD changer is nice to have that can also read MP3 and WMA (Windows Media) CD's, but I would have liked a USB port to plug-in and control my 60GB iPod Classic with. But I can add that myself for just $150 (I didn't want to pay a few thousand dollars more for the EX-L model just to have a USB port or $500 or so for the dealer to install it) using and aftermarket adapter that plugs into the back of the stock stereo (I will go into more details on that in a separate review). But for the record, I purchased the USA Spec iPod Interface from Crutchfield and it works exceptionally well. The steering wheel audio controls operate the volume, mode, and disc/station/track changes. The tailgate is not powered but the glass hatch can be unlocked using a convenient button on the driver door.
COMFORT, CAPACITIES AND SAFETY
There are a few things in this vehicle that make the ride comfortable and convenient for you, such as the tri-zone climate controls that make sure no one is too hot or too cold. It also takes the guesswork out of controlling the temperature and also defrosting during winter months. Other small things like front driver and passenger auto window up and down, hidden storage areas in the rear, 60/40 split and flat-folding 2nd and 3rd-row seats, child seat anchors, and many more features make your overall experience enjoyable. Combine that with the room to fit 8 regular sized adults and you got a winner in my books. One of the major deciding factors when shopping for an SUV was the interior storage and seating capacities. The fuel tank can carry 21 gallons of fuel so filling up can be sort of expensive in this day and age (if you worry too much about fuel cost then you should buy an SUV in the first place). But the good news is that you only need regular unleaded fuel, not premium. The Pilot meets or beats most competitors in that area. As for safety, I don't want to list everything but some of the major safety features that I looked for were front and side curtain airbags, vehicle stability assist, anti-lock braking system, daytime running lights, and anchors/latches for child seats. You may have other requirements for your situations but check out all the specifications before deciding on any vehicle.
PERFORMANCE FEATURES
The powerful 3.5-liter 24-valve SOHC i-VTEC V6 engine can provide 250 horsepower at 5700 RPM and 253 lb-ft of torque @ 4800 RPM when you need it most but also has the capability to manage cylinders when you don't with its Variable Cylinder Management (VCM) technology. How does that work you ask? Well, VCM works on the principle that a vehicle only requires a fraction of its power output at cruising speeds, so the system electronically deactivates cylinders to reduce fuel consumption. The engine in the Pilot is able to run on 3, 4, or 6 cylinders depending on the amount of power you require. Basically you get the V6 power when accelerating or climbing and the efficiency of a small engine when cruising.
There is a 5-speed automatic transmission with grade logic control on all models of the 2011 Pilot. Grade logic control improves efficiency in different driving conditions like uphill/downhill and city-traffic driving. It knows when the vehicle on a hill and automatically holds the engine on a lower gear for better climbing performance and increased engine braking when going downhill (no more gear hunting like on other automatic transmissions). There is enough power in this vehicle to meet and even exceed your day-to-day needs.
DRIVE AND HANDLING
I am no professional automotive test driver/tester, but I can compare how the Honda Pilot drives and handles compared to my old 2006 Toyota Corolla, my dad's 2006 Honda Odyssey, and my sister's 2006 Toyota Sienna. Out of all three of these vehicles, the Pilot handles the best (in my opinion). The Corolla didn't handle well at all during the rainy season — maybe because it didn't have any stability controls (the new models now do I believe). It also had a hard time on corners at highway speeds. The Odyssey handles better than the Corolla, but it's a minivan after all and there is a lot of body roll on that. After driving my Pilot, whenever I drive the Odyssey, I have to tell myself to go easy on the gas in corners. The same applies to the Sienna, but during my driving experience with it, it handled a little better than the Odyssey. So overall, the Pilot's handling beats all our other cars without a doubt. It can handle corners even sharp ones at some pretty high speeds without much body roll.
While the Pilot's cabin is not the quietest at highway speeds, it is the most comfortable (again in my opinion). The Odyssey and Sienna are also very comfortable but the Sienna is the quietest of them all. The Pilot is the most powerful of them all. Best of all, the Pilot fits perfectly in our one-car garage without any hesitation. While the Pilot is quieter than my Corolla and the Odyssey, it can still get pretty loud with the road and wind noise at highway speeds. Better sound dampening would have been better, but it isn't as bad as my Corolla so I can deal with it.
I drive my Pilot to work daily and also use it as a weekend shopping and long trip vehicle. During the week I get an average of 16 to 18 MPG depending on traffic, weather, and other situations (a combination of highway and city driving). For the weekends, I am averaging between 17 and 21 MPG with mostly highway driving. Coming from a Toyota Corolla, I did have to change the way I drive to be more efficient with this better and heavier vehicle. You cannot drive the Pilot like a small/mid-sized sedan and hope to get good gas mileage. If you have a steel foot and like to stay ahead of everyone (like I used to be), I predict you will spend more on gas than most people. With gas prices booming, I would highly suggest changing your driving habits somewhat for this vehicle. But who buys an SUV for the gas mileage anyways?
ISSUES AND CONCERNS
A few days ago, I noticed that the front passenger window was squeaking when I rolled it down. I didn't think anything of it until I also noticed that one of the interior panels in the back (right where the D panel is) popped out a little bit. So I got tired of it and took it to the dealer where I bought the Pilot and had them take a look. So after 4 hours of waiting, they said both issues were fixed. I got in the car and checked the window, no squeak — excellent. I was just about to drive off when I thought about checking out the panel in the back to make sure it was fixed. I open the tailgate and it was popped out. I called the service technician again to have a look and he said that they would have to order the whole panel from Honda. Three days later, I get a call that the part has arrived and to schedule a time to get it installed. Great, now I have to spend another 4 or so hours to get it replaced.
So what my concern about all this is, while I think that Honda's are very reliable and safe, I am having doubts about the quality of the interiors and other accessories. Although, other than these two issues, I have not had any other problems. So I wouldn't come to any conclusions as of yet. I have only owned this Pilot for two months and only driven it for 2000 miles. We'll see how it goes!
OTHER NICE FEATURES
The key-less remote can open the rear glass hatch but not the tailgate in the EX model, but I believe the EX-L and Touring models can. There is also a sun-glass holder and three home link buttons (as expected) that you can use to open garage doors, turn on lights, and more. The new display for the audio and climate controls is very nice and well shaded from the sun for clear visibility. There is also a tiny blue LED light that turns on when you have your headlights on for interior nighttime visibility. There are 3 12-volt power outlets (Front, 2nd row, and rear cargo area) for convenience. I like the audio system very much in the Pilot because it has a sub-woofer (while not too powerful but good enough for a family) and also the fact that it has a speed-sensitive volume control feature (I was always adjusting the audio volume in my Corolla).
FINAL THOUGHTS
Overall, I loving driving the Pilot and am very glad that I don't have to drive a minivan every day. Coming from a Toyota Corolla, I noticed a huge jump in performance, comfort, safety, and capacity. The only thing I noticed a decline in was gas mileage, but I think I can live with that. The longest trip that I have taken in the Pilot lasted about an hour and a half to Santa Cruz, CA (the Boardwalk) with three adults (including me) and two kids with a bunch of beach fun related stuff in the back. The trip was comfortable and enjoyable for all of us and the kids. I think this SUV serves its main purpose in the family which is to haul everyone and all related things for everyone. During the day-to-day commute to and from work, the Pilot is also very good and the mileage is not too bad either. Overall, my family and I are very satisfied with our purchase. I just wish I would have negotiated with the dealer better — oh well, there is always a next time.