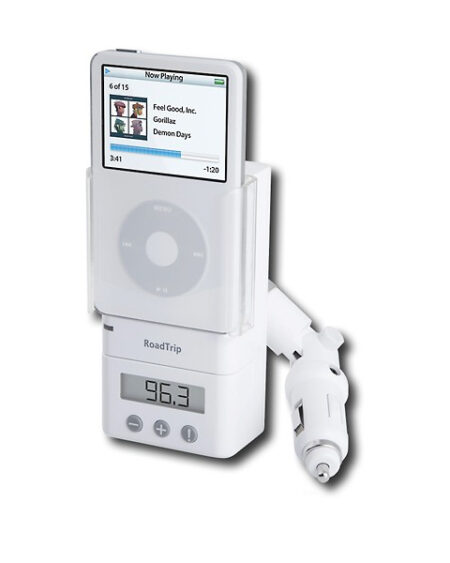 One of the easiest FM transmitters I have used...
Summary
It is cheap, works greats, and is made for any iPod model.
Pros
One of the few transmitters that also charges your iPod…
Cons
May be a bit bulky for some people…
I have been using my RoadTrip Charger / FM Transmitter with my 60 GB (5th generation) iPod for about three or four months now and have had no problems with it what so ever. If you want an FM transmitter for your iPod that charges your iPod while transmitting via the FM frequency to your radio, then get this. I have to admit that there are unfortunately some downsides to this as well. It all boils down to the sound quality that is transmitted to your radio. So let me get right to the point.
DESIGN, CONTROLS, & INSTALLATION
First of all the color is white, the same color as the white iPod; you do not have to worry about how it will look with your cool new hi-tech MP3 player (your iPod). This is basically a cradle that does it all while on the go, it charges your iPod, transmits your music to any FM frequency, and does not even use up your iPod's battery power because you can just plug it into the cigarette lighter port of your vehicle. It has three buttons on the front panel under the LCD (Liquid Crystal Display) screen; two arrows for scrolling through the FM frequencies and another to quickly choose frequencies like 88.1, 100.0, and some other unused one's. The LCD shows you the frequency that is currently selected.
The installation was a breeze as all you have to do is plug it into the cigarette lighter port. When you first open the box, you have to join the connector that goes into the cigarette lighter to the back of this cradle; if needed you can use the other extender to make it longer. Unlike the iTrip, you do not need any special software or configurations for this transmitter. Once installed, the whole thing does tend to shake or vibrate sometimes when the vehicle is in motion so if you have a vehicle with the cigarette lighter under the cup holders, just tie the cradle to the cup holder with some plastic zip ties or just regular ties. My new 2006 Toyota Corolla has the cigarette lighter port in front of the shifter and it fits really nicely without the need for any reinforcements. My older 2001 Toyota Corolla, on the other hand, had the cigarette lighter under the cup holders so I had to tie it up.
WHAT IS IT & HOW TO USE IT
The Griffin RoadTrip is an FM transmitter for any model of your Apple iPods. In simple terms, it will allow you to listen to your music through any FM radio without having to use any headsets or cables. This is a very good idea but the sound quality is reduced to be the same as the sound you get from any other radio station. In other words, it will not be of CD-quality even though the actual music on the iPod might be of even higher quality. To take full advantage of the RoadTrip, you will obviously need an iPod because it does not work with any other media player. This is another side effect for this unit, that's if you want to think of it that way.
To use this FM transmitter all you have to do is connect it to the cigarette lighter, plug in your iPod, choose the appropriate FM station or frequency, and use the Play button on your iPod to listen to your music. Oh, make sure your radio is on and set to the same station as the transmitter. The volume control on your iPod will not affect the volume you hear through the speakers in your vehicle so make sure it is tuned appropriately.
EXPERIENCE
I have used this RoadTrip for a little more than three months now and I have had no problems with it so far. I use my iPod in my car every day so this transmitter gets used a lot. One thing I like the most is that it charges your iPod while you play it in your car. So when I leave my car, I just have to plug in the headphones and I do not have to worry about battery life because I know it will last me the whole day.
I usually use 88.1 or 100.1 FM stations because they are one of the vacant ones in my area. Vacant stations give you better sound quality; if you choose a station that is already in use, this RoadTrip will transmit your music to it, but there may be too much distortion.
FINAL THOUGHTS
Are you planning on getting an iPod or do you already have one? Do you use your iPod on-the-go or do you just want to go wireless in your vehicle? I would suggest trying out this RoadTrip because it will improve the relationship with your iPod and your car. Get rid of your older obsolete FM transmitters that just clutter up space in your car and get the RoadTrip to make your trip better. All you have to do is set it up and forget about it.