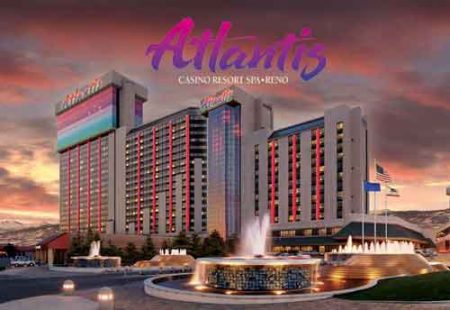 Comfortable Hotel with the worst service ever...
Summary
If you want good service, comfortable rooms, great casinos, and excellent food… go elsewhere. Forget Atlantis!
Pros
Comfortable rooms and big casino…
Cons
Worst customer service ever.
Beginning of this month (April 2006), I had to go to Reno for software training for one of our customers. The training was held at the Atlantis Hotel Resort in one of their paradise suites.
Since my company was going to take care of all the meals and cost of the room, I had to book the lowest priced rooms for me and my boss (at the Motor Lodge). These rooms cost us about $160 for three nights. I had no problems with the room at all, but the front desk people are just too darn rude.
Here is what happened: when I first checked-in they said that they would not be able to use the credit card number I gave them when I reserved the room, so I had to give them a $50 cash security deposit because my boss was going to take care of the bill when he checked in. Then, a day before we had to check out a message was left in my room that I had to settle my bill at the front desk. So I went there and asked if my boss had given a credit card when he checked in and they said no, but my boss told me he had given them a credit card. So the front desk clerk said that I have to settle the bill before 6 PM that day or they would send security to my room to search my belonging to see what we can give them. Yup, those were her exact words! From that moment on, I made up my mind that I would never stay at that hotel ever again. I had to use my own credit card and I told my boss what happened so then he went up there and settle both bills himself.
If you ever want to feel helpless or violated when far from home, I would recommend staying at the Atlantis Hotel in Reno. But if you want a piece of mind and safety then stay elsewhere. If you do not want any problems on your vacation, go elsewhere. I would highly recommend the Silver Legacy or the Eldorado for a much better service.
THE ROOM
The Motor Lodge rooms are not that big; they only have basic amenities. The Motor Lodge is a separate two-story building with the cheapest rooms. It had one very comfortable queen bed, a TV, iron, ironing board, one eating table, two chairs, an alarm clock (broken), another desk for my laptop, lots of towels, AC, drawers for out things, a nice big window, and a decent bathroom. I would say it was like a small studio apartment. But my wife and I had no complaints about the room. The only thing that I thought was somewhat of a con for the rooms were the keys. They do not use key cards for the Motor Lodge, but actual keys. It would have been much more convenient if they used a key card for the Motor Lodge rooms as well.
THE CASINO
The casino is big and they have lots of low limit machines that people like us who do not have a lot of money can use. My wife likes to play the penny slots and she said they have good paybacks. I never play the table games because I know I am not good at them and so I do not want to waste the money. We mostly played the penny or nickel video or reel slots and we had a little luck but not much. But overall we had lots of fun. Even though we lost about two hundred fifty dollars, we came home with a smile on our faces.
THE FOOD
Like all casino hotels in Reno or Las Vegas, this one had a buffet too. But have you noticed that all the buffets you go to in Reno or Vegas, they say they are the best in town? How in the world can all of them be the best in town? Well, to tell you the truth, the buffet at Atlantis was somewhat okay. That's about it. They also have a cafe that serves pizzas and they make them really yummy. There is a Sushi bar on the sky terrace but I did not try that. My boss said it was really good. I do not like the way they cook seafood anywhere America; maybe that's because I am from the Island of Fiji and we make it spicy. I personally think the seafood here in the US has no taste at all. One thing I like the most about the Atlantis was that every morning someone would walk around the whole casino with complimentary donuts; it is up to you if you want to tip the server. Now the Victorian Buffet at Silver Legacy is the one I like the most. They have many varieties and just the kind of food I like.
THE COMPLIMENTARY COCKTAILS
Well, if you are playing on a machine, there is a good chance that someone will come up to you and ask if you want a drink. But if you are just walking around or just sitting at a machine and not playing (because you ran out of money), they will never ask you for a drink. So if you are lucky enough to get a drink, it would be in a tiny glass filled mostly with ice; you might as well bring your own water bottle.
THE ENVIRONMENT
Well, most of the room and hallways do not smell like smoke, but some do. The casino floor smells like a garbage dump on fire, but most casinos smell like that. This one was the worst of them all because I had a headache every night. The restaurants or buffets were a little better but since they are in the same place they smell the same. There is a smoke-free sky terrace, but some idiots smoke there too.
THE SHOPS
There is a little gift shop inside the casino where you can purchase souvenirs, gifts, and snacks for a much higher price than they are actually worth. Little things like key chains go for around $10 each. So it is okay for little items as a remembrance of the visit.
FINAL THOUGHTS
After spending three nights and almost four days at the Atlantis, I would not ever stay there again for several reasons. The front desk clerks are rude because they threaten you. The casino floor smells like poop on fire and the food is not that good. The rooms on the other hand are reasonably priced and comfortable to rest in. But I would still not recommend the Atlantis Casino Resort to anyone just because of the extremely bad service they have.