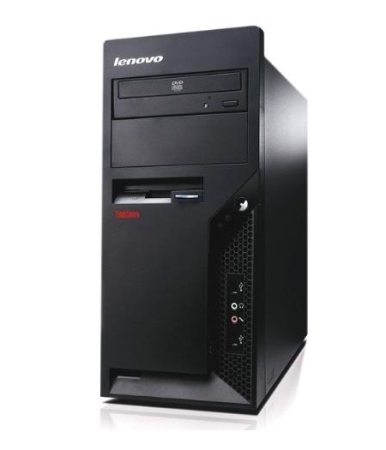 Handles pretty much anything I throw at it... and I throw everything I got at it!
Summary
I am happy as long as it takes care of whatever I need to do.
Pros
Very quiet, powerful, and light weight.
Cons
Could have been a little bit faster.
Beginning of this month, my boss decided that I get a better desktop as I do a lot of coding (scripts and web apps).
He suggested that I get a desktop that allows us to add a second video card so I can use dual 19-inch Planar LCD monitors so I can do my coding on one and other applications on the other. So we decided to switch me from my older IBM ThinkCentre M52 8215 small form factor to this new Lenovo ThinkCentre M55e tower desktop which has a dual-core processor to handle all my needs. Well, it comes with Windows Vista Business installed, and re-imaging it with one of our standard images was a pain because Lenovo puts a diagnostic partition on the hard drive and for some odd reason after a re-image, all you see is a blank screen (I think it was trying to boot from that other partition). So I had to install Windows XP Pro (we experienced some problems with Vista freezing on us) from scratch and install everything as per my own specification (which I don't mind at all). Now I have a clean and stable system that is set up to my exact specifications. I have been using this desktop for about two weeks now and haven't had a problem yet.
THE DESIGN AND INSTALLATION
Well, the look isn't what you would want in a gaming system that Alienware makes, but it is adequate for an office environment. The case is all black with a Lenovo logo on the top and a ThinkCentre logo right under the drive bays. There is a power button on the right of the ThinkCentre logo which has a white dot in the middle to make it stand out in all the blackness. There are two LED lights placed evenly under the power button for the power and the hard drive. Right under these are the front panel USB and audio jacks; the mic and headphone jacks are placed between two USB ports (a nice touch I would say). One thing I liked about this case is that it is very easy to open and you can easily remove and install the components inside (no tools are needed). The ports are color-coded so even a rookie can hook up all the cables.
PROS AND CONS
There are several features I like about this tower better than the smaller form factor of the M52's. First is that it has more room inside and therefore has better airflow to keep the system cool and so there is less noise from the fans. The M52 processor fan has a tendency of being loud when the processor has some load, but this M55e is better and I do not hear the fan at all. It is a bit faster than the M52 also. The doubled hard drive capacity (160 GB) was very much needed for me because I store a lot of scripts and data on my local drive. The integrated video card is good but could have been better. I am used to screen-resolutions higher than 1280 x 1024 and for some reason, I cannot set it higher than this. That is because the monitors maximum resolution is 1280 x 1024. I hope the second monitor I get has higher resolution capabilities.
INSTALLATION
No installation is required because it is a desktop. All you need to do the first time you open the package is to plug in all the cables and turn it on. Basically that is all of the installations and you are ready to be on your way.
THE WARRANTY
Lenovo provides a three-year limited warranty and is entitled to parts, labor, and on-site repair service. Service is available Monday-Friday, except holidays, with a next business day response objective. Many parts can also be delivered to you using the Customer Replaceable Unit (CRU) method.  You can visit Lenovo's website (lenovo.com) and click on Support & downloads for warranty service, status, and information.
EXPERIENCE
I have been using this new desktop for just over two weeks now and I have not had any problems. I did however have problems with Windows Vista was installed, but that is no longer the case since I installed Windows XP Pro. I also purchased the Logitech USB wireless mouse and it worked just as I plugged in the little USB adapter in the back. I did not have to install any drivers for it, which is good. Moving this tower around on my desk is no problem as it is very lightweight. I tried opening the case up and install a video card that we had in stock (later found out that it doesn't fit). I put this tower on my desk and I do not feel vibration or noise on the desk at all. I have a desktop at home that I have on my desk that creates this humming noise and vibrates the whole desk, but not with this tower.
I mainly use this desktop to browse the internet, connect to a virtual desktop on our server via and Citrix ICA client, write VBScripts, write PHP, ASP, HTML, and JavaScript code, use an instant messenger, use Microsoft Office applications, and use remote desktop to help our users when in need. I can perform all of these tasks without any problems on this machine. On the older M52, the fan used to speed up and make lots of noise when I was multi-tasking or even using Firefox with multiple tabs. The dual-core processor really does help a lot.
FINAL THOUGHTS
So far I have been impressed and pleased with the performance of this tower. I mean I am used to high screen resolutions and faster speeds but I think I will settle for this at work. If I want something faster and more powerful I will just use mine at home. I would highly recommend this desktop computer to everyone or for any office/home use. This PC will fulfill most of your computing needs without any hiccups. So buy one today.