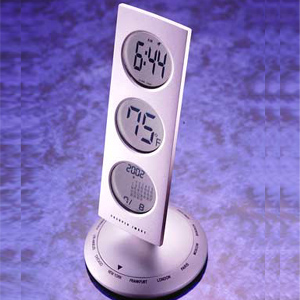 Very sleek and cool for any desk...
Summary
A must have for any cubical or office!
Pros
Big easy to read digits and lots of features…
Cons
No back-light and takes some time to get used to…
For New Years, my boss presented me with this Sharper Image Swivel World Clock since I don't drink wine or champagne-like everyone else in my team. At first glance, I thought this was a very cool clock and I was right. It took a while for me to read the instruction and get the time to what I wanted it to be, but it was no problem. I was surprised that this clock tells me the room temperature also.
This isn't an atomic clock so it doesn't synchronize automatically, but it is good enough for everyday desk use. I did have to manually adjust to the new Day Light Savings time since it is new and there is no patch available for this clock… yet! Anyways, last time I checked, this world clock was selling for about $30, which is not bad at all.
THE DESIGN
On the face of this clock, you will see three circular LCD screens. The top will tell you the time of whichever zone you select. The middle one will either tell you the room temperature or the seconds. The third one will show you a calendar with today's date. There is a swivel on the base that lets you pick different time zones such as Los Angeles, Denver, Chicago, New York, London, Paris, Moscow, Bangkok, Hong Kong, Tokyo, Sydney, Wellington, and Honolulu. There are four buttons on the back of the unit: Mode, Set, Up arrow, and Down arrow. There are also three holes on the back that allow you to reset the unit. Mine is gray so it matches perfectly with my desk and everything else in my cubical.
This unit is about eight and a half inches tall and will only occupy about four and a half by four and a half square inches of space on your desk.  That's a little more than what a regular post-it-note stack would take.
OUT OF THE BOX
Right out of the box, I had to put in the two triple-A (AAA) batteries that came in the package and the unit came on. As far as I can remember, I just selected Los Angeles and it automatically set the appropriate time. But if it doesn't you can always set it manually using the buttons on the back of the unit. Keep pressing the SET button until you see the digits that you want to change flashing, then just use the up or down arrows to make the necessary changes. I was up and running with this clock in less than 5 minutes.  You can use the MODE button to toggle between seconds or the room temperature.  As far as I know, the temperature reading is pretty accurate but I don't know how sensitive it is.  I will probably test it to find out.
FINAL THOUGHTS
I have had this world clock on my desk for about four months now and I have never had a hard time finding the right time or temperature. I always use the swivel at the bottom to find the time in other states or countries. The only thing I wish this world clock had is a black light so the information would be visible at night or when it is dark. It is lightweight and very helpful and everyone should have one on their desks.