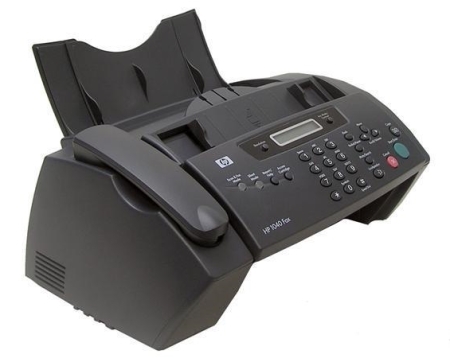 Does photos, like a charm...
Summary
Piece of cake once you get the hang of it.
Pros
Compact, cheap, and it works…
Cons
A little noisy at times…
A few weeks ago our old Xerox 470CX fax machine died and we got this brand new HP 1040 fax machine to replace it.
I had done some research on prospective fax machines candidates on Epinions for recommendations and the lowest prices. As a result, we found the lowest price at a Staples store a couple blocks from us. The main reason for our purchase of this machine was that my boss wanted a good fax machine for the lowest price possible. This HP 1040 also provides us a lot more benefits over our older Xerox.
DESIGN & CONTROLS
One of the features we like about this unit is its compact size; we saved a lot of room on the desk where we placed it. All the buttons are clearly labeled and regular-sized so they are easy to find and use. The button positions were obviously very different from the Xerox but we quickly got used to it. Actually, I had to get used to it first and teach everyone else how to use it. The "Scan & Fax Mode" and "Silent Mode" buttons are the only ones with illumination because the same button is used to turn the features on and off. All other buttons are black and non-illuminated except for the "Start/Enter" and "Cancel" buttons.
There is a one-line 16 character LCD panel that displays the date and time when the fax is not in use and the status of transmission when in use. It will also display the caller-id of the incoming fax. When sending a fax, it will display the name and number of the recipient if you are using a stored number or just the number.
This unit also has a wired handset, unlike the older Xerox 470CX. This will help us answer if someone dials the fax number instead of our phone line number. The paper feeder can hold only 50 pages, unlike our older one which could hold 100. This is not a problem as we refill the paper tray every evening. This unit supports Legal and Letter sized paper. The paper tray is located at the back of the unit so it is out of the way but still easily reachable. It would have been better if the paper feeder/tray was on the bottom as there are fewer jams; this feature is available in most HP printers.
The HP 1040 only takes one ink cartridge so it is even better for us. The HP 20 ink cartridge gets the job done perfectly or at least what we need it for. It costs about $30 at Staples, but if you buy re-manufactured the price is a lot lower (sometimes at half price).
The speed dial feature is a little different from the Xerox, but it is very useful. You can store up to 80 numbers on the speed dial; each entry can store the number and a brief description. To send a fax to a number on your speed dial, just press and hold the single-digit number for about two seconds. For double digits, you have to press the "Speed Dial" or "#" key and the number and the "Start/Enter" button.
SPEED
The manual states that this unit can transmit at about 10 pages per minute or 6 seconds per page. This is not bad, but sometimes it can be a bit slow. The machines with 3 seconds per page speed cost a lot more so I guess we are stuck with what we paid for. If you send a lot of pages at once, it may take a while and tie up the line which may result in some missed faxes.
SENDING & RECEIVING FAXES
To send a fax with this unit, all you have to do is load your sheets on the document feeder facing downwards and either dial the number manually or use the speed dial function. The unit will then start scanning the sheets and then it will dial the number to send to (if the Scan & Fax Mode is ON). If the Scan and Fax Mode is off, then the unit will dial the number as soon as it starts to scan the sheets. I prefer to have the Scan & Fax Mode ON at all times because usually has more than one page to send at a time. Once it has finished sending, you will hear a beep that means the transmission was successful. If you hear three beeps, then the transmission failed and you will have to try again.
It has 1 megabyte (1024 KB) of memory available for scanned pages which can hold about 100 pages. That means you can scan up to 100 pages in memory before sending it. To receive faxes, you really do not have to do anything. This unit will pick up and receive faxes automatically if the Answer Mode is set to Auto. You may have to hit the "Start/Enter" button otherwise.
PRINTING FROM YOUR COMPUTER
Unlike the Xerox, this unit does not allow printing from a computer or sending faxes from a computer. I wish this unit had this feature so it would be easier to send faxes without having to print them first. I guess this feature is available in the higher-priced models.
MAKING COPIES
You can make copies with this unit, but I would not recommend it because once you load the document to be copied and pressed the Copy button, you have to set several settings before it will start scanning and printing. The quality is good, but I would suggest using an actual copier to make your copies.
INK CARTRIDGE
This HP 1040 fax machine uses the HP 20 ink cartridge that can yield about 450 pages based on 5% coverage. The yield may vary as we do not always send the same thing over and over. Replacing the ink cartridge is very easy; all you have to do is press the "Access Cartridge" button, open the control panel and cartridge compartment covers, pull the old cartridge towards you and remove it, insert a new cartridge (it must click into place) and close everything up. Then you have to press the "Start/Enter" button, then 1 for new or 2 for old.
FINAL THOUGHTS
We have had this fax machine for about a month now and I have used it every day. It took a little getting used to, but it wasn't all that hard to figure out. I did not have to refer to the manual for anything. This machine does what it is supposed to and we are happy with that. It is not a fast high-end fax machine, so you should not expect too much from this unit. But if you pay a bit more, you can get a faster and more powerful full unit that will make you happy.