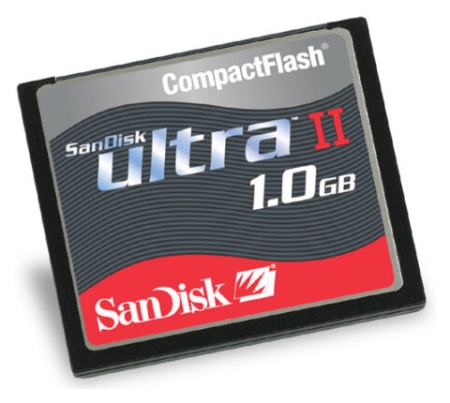 CompactFlash -- Small and Fast!
Summary
An extremely fast card for all you daily photo taking needs…
Pros
Small card with a big heart…
I have been using my 256 MB CompactFlash and xD cards with my Olympus C-8080 8 megapixel (MP) digital camera, but they were just not enough for heavy picture taking. So I went ahead the bought this 1 GB SanDisk Ultra II CompactFlash card from Costco Wholesale for around $50. This card is ultrafast and at the same time has decreased dramatically.
I also have a lot of room; about 250 pictures at 8 MP each. But I also keep my 256 MB xD handy with me just in case. I originally wanted to get the 2 GB card but I do not need that much capacity at this time. But if you want more space there is an 8 GB CompactFlash Ultra card available too that retails for around $300 or more.
DESCRIPTION
This SanDisk CompactFlash card is not as compact as the xD or the SecureDigital cards, but it is compact enough to hold 1 GB of pictures or data. I think CompactFlash is one of the only cards that are available in 8 GB capacity. This card is fully compatible with my Olympus C-8080 digital camera and the speed is amazing.
I always used to run out of the room when I went on vacation, but now I can go on vacation twice and I will still have room for more. Even though I think this is enough disk space for my photo-taking needs, I always keep extra memory cards (256 MB xD and Compact Flash) just in case. Now that I have this card and the 256 xD card combined (the C-8080 has dual memory card slots), I do not have to worry about switching cards in the middle of a trip. The fast transfer rate helps get the pictures on the card faster as they are taken. This also improves the transfer rate to the computer also. To transfer about 100 8 MP (roughly 4 MB per photo) pictures to my computer, it only takes me close to or less than a minute.
WHY I BOUGHT IT?
When I first bought my Olympus C-8080, I thought I would not need more capacity, but as I start to take more and more pictures day by day, I think I will soon have to buy that 8GB card. But the main reason I purchased this card was the ultra-speed and the huge storage space. This card offers a 60x data transfer rate which is about 10 megabytes per second (so transferring 100 8 MP photos to my computer only takes about 40 seconds).
The 1 gigabyte or 1024 megabytes of storage space is all I needed to take pictures without having to switch cards in the middle of a trip or occasion. Now I have the capability to take about 250 photos without switching cards and that is a big plus for me. I also have a 256 MB xD picture card in the second memory slot on my camera that can hold about 64 more high-quality photos (I also have smaller capacity cards as backups). Now I can proudly say that the battery on my camera will run out of juice before it runs out of space to store photos. I already have a card reader (SanDisk ImageMate 8-in-1) on my desktop computer so I was all set to go. Even though my camera has a USB connector, I use my card reader because it offers faster transfer rates. Use this card reader is convenient and easy.
DIMENSIONS
The SanDisk Ultra II CompactFlash 1 GB card is about 36 mm wide, about 43 mm long, and a little more than 3 mm thick. Yup, it is small but has lots of room. It is exactly the same size as any other CompactFlash card, but one thing I cannot figure out is how can they fit so much in so little space? I guess I will just have to research a bit more to find out.
PACKAGE AND WARRANTY
The package includes the CompactFlash Ultra II 1 GB card and a book of additional fun toys you can purchase that are made by SanDisk. SanDisk provides a limited lifetime warranty on this product. To obtain warranty service or more information, you can call 1-866-SanDisk (726-3475), email them at support@sandisk.com, or visit sandisk.com.
FINAL THOUGHTS
The SanDisk Ultra II CompactFlash 1 GB flash memory card is easy to use because it does not require you to install any drivers, and it is faster than most other memory card types. The card compact size also makes it easy to store and plugin without any problems. Best of all, you can almost use the CompactFlash cards on many digital cameras with a compatible port; you can also use it as a portable storage media. I have used the 1 GB card but I would highly recommend getting the biggest capacity card you can afford because you will certainly run out of space before you know it.