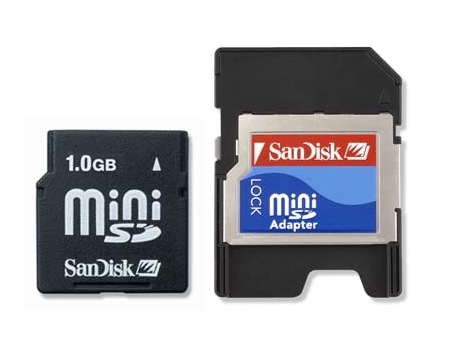 I take back what I said about size...
Summary
One of the best storage devices for mobile phones…
Pros
Huge capacity, fast, reliable, and compact…
It has been over two months now since I started using my new LG VX-8100 cell phone and after hundreds of pictures, I finally decided to confess that I was wrong. When I said "size does not matter," I was mistaken. What I should have said was "the bigger the better." So I decided to upgrade and buy a miniSD card that would hold more; the SanDisk miniSD 1 GB flash memory card.
My phone is great but I just did not want to be limited to just 20 or so pictures and video clips with the built-in memory and hundred or so with the 256 MB miniSD. I needed more space and freedom. I went online to tigerdirect.com and purchased this MiniSD for about $75.
DESCRIPTION
The SanDisk 1 GB Secure Digital Mini is a tiny (almost like those Olympus xD picture cards) storage device that plugs into any compatible device and extends the storage space enormously. It is a plug-n-play (PNP) device, so the phone you plug this into will have no trouble recognizing it. The package also comes with a MiniSD to SD adapter so you can use it in any memory card reader (I use the SanDisk ImageMate 8-in-1 card reader).
Since I ran out of space often with the 256 MB card that I purchased about two months ago, I think this 1 GB card has made my life easier and is also saving me some money. I used to take pictures on my phone and email (costs money) them from my phone to my Yahoo email account; then I would have to download them to my computer. Now, all I do is take the picture and when I am ready, I just plug the card into the adapter and then into my reader and I am done. All the pictures and video clips are there; just have to copy them to my hard drive.
WHY I BOUGHT IT?
In the beginning, I thought I would not need any more space when I bought the 256 MB card, but boy was I wrong. After just a few weeks I started running out of space and had to frequently transfer the pictures and clips to my computer. Then finally I decided to purchase this memory card so I will not run out of space that often. I take a lot of pictures and video clips so I do not want to have to email one file at a time to myself (time and money consuming) to be able to delete it and get more space. Now I do not have to worry about it because I can virtually store about 500 pictures, video clips, and sounds on it. I also bought this because my phone can play MP3's and I needed a memory card to store them on to play it on my stereo phone.
I already have a card reader on my desktop computer and my laptop has an SD card reader built-in also, so I was all set to go. Even though my phone has Bluetooth capabilities, it still requires some special configurations and time to transfer files to and from it (now I only use it to transfer ringers and back up my phone book). I can access everything else via this miniSD card.
DIMENSIONS
The SanDisk Secure Digital Mini 1 GB card is about nineteen millimetres in width, twenty-one millimetres in length, and less than two millimetres in thickness. Yup, it is very small (makes sense why they call it mini). It is about half the size of the regular SD card. The adapter is the same size as the regular SD cards and this mini SD fits perfectly into it from the top. Once the mini is fitted properly into the adapter, you will not be able to tell if you are using a regular SD or a mini SD. Together they will look like the regular SD cards.
PACKAGE AND WARRANTY
The package includes the Secure Digital Mini 1 GB, the miniSD to SD adapter, and a book of additional fun toys you can purchase that are made by SanDisk. SanDisk provides a 5-year limited warranty on this product. To obtain warranty service or more information, you can call 1-866-SanDisk (726-3475), email them at support@sandisk.com, or visit sandisk.com.
FINAL THOUGHTS
The SanDisk miniSD is easy to use because it does not require you to install any drivers, and it is faster than most other data transfer device. The card compact size also makes it easy to store and plugin without any problems. Best of all, you can almost use the miniSD on any cell phone with a miniSD port. I have used the 256 MB card and all I can say now is that get the biggest capacity card you can afford because you will certainly run out of space before you know it.