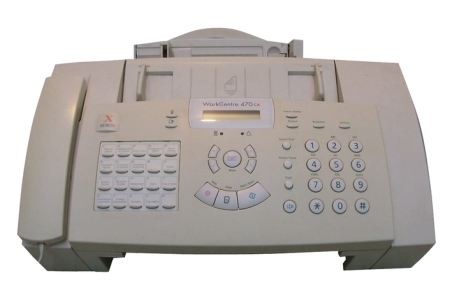 Gets the job done...
Summary
If you want a budget machine that will get the job done, this is the one for you.
Pros
Gets the job done one way or the other…
Cons
Slow, poor quality, not smart enough…
Our company has used this Xerox WorkCentre 470CX fax/print machine for over five years now. We do not usually use this for printing but mostly for faxes. It is our one and only fax machine at our San Francisco (SFO) location. I do not have a clue of how much the company paid for this equipment since I am fairly new to this company and this product is no longer in the market. It has been discontinued as newer models have surfaced.
DESIGN AND CONTROLS
On the bottom of the machine, on the information plate, it says that this particular unit was made in October of 1999. Since it is about six years old, it would explain the size and speed. This model is a bit large compared to the latest and greatest models out in the market today like the Xerox FaxCentre F110.
The buttons are big, easy to read, and thoughtfully positioned. The dialing pad buttons are about one and a quarter centimeters in diameter, so you will not have a hard time finding the numbers you want to dial. Also, the Start/Enter and Stop buttons are big also to make everyone's life a bit easier. The buttons do not illuminate to improve visibility in low light situations, but it is fine since we do not send faxes in the dark… yet!
The one touch-dial pad and buttons are not so big or easy to see when compared to the other buttons. These buttons are about one and a quarter centimeters in length, and the space provided to write in the description of a stored number is limited to 1.25 X 1.25 centimeters boxes. So you can only imagine how much space is there to write and to make out what is already written. Now I would suggest writing in pencil, just in case you decide to dump one tough-dial number from the memory. By the way, there are twenty memory locations and buttons to access the one touch-dial numbers.
This unit also has a speed-dial function which allows to store up to fifty numbers. Now I never use the speed-dial when there are the one tough-dial buttons available. But the speed-dial function is also an advantage for this unit because you can store more number than the one touch-dial. The paper feeder can hold about 100 sheets, which is excellent because I do not have to reload paper every day. This product supports Letter, A4, and Legal paper types. The paper feeder tray is located in the back of the machine so it is out of the way but still easy to access. I, on the other hand, prefer paper being fed from the bottom of the unit like the HP Printer products.
There is an LCD (Liquid Crystal Display) screen that supports thirty-two characters in two lines. There is no illumination on the LCD so you will have a hard time reading it in low light situations, but that is not a problem because who would want to send faxes in the dark? This unit weighs roughly about fifteen pounds and on top of that, it is about 15 inches in depth.
SPEED
The specifications say that this unit can print black at about six pages per minute and color at about three pages per minute. This was not bad back in the days, but now we have the need-for-speed which this unit lacks. If it were up to me, I would try to sell this unit on eBay and purchase a new unit that can meet our speed requirements nowadays.
The transmission speed as in the specifications is about 4 to 6 pages per minute. This is good for transmitting a couple of pages at a time, but when you want to send let's say a presentation package, it will take some time. This is when you wish you had a faster fax machine because you will not be tying up the fax line for too long. This usually results in some missed faxes from our vendors or suppliers.
SENDING AND RECEIVING FAXES
When you want to send a fax with this unit, all you have to do is lay your sheets on the document feeder facing downwards. Then you either dial the numbers manually or use the speed-dial function or the one touch-dial function. It is that simple. So then you see the unit scanning all of the documents into its half megabytes or 512 kilobytes of memory. From my experience, it can store about twenty-five pages in memory when transmitting. Once the documents are scanned, you will hear the machine dialing the recipient's fax number. After a connection has been confirming, it will start transmitting the documents. When the transmission is complete you will hear a long beep to confirm. But if for some reason it fails, you will hear three short beeps to warn you that something went wrong; it usually retries transmission two more times in about one to two-minute intervals. Then when it fails the last time, it will print the cover page of the documents being sent with a failure message.
PRINTING FROM YOUR COMPUTER
The CD-Rom that came in the package has drivers for your computer to give you the ability to print using this fax machine. I would not recommend this function as the quality is not that great. I would only recommend this unit for fax purposes only.
MAKING COPIES
If you are in a rush and want to make some quick copies, you can do that too with this unit. Just place the documents on the document feeder and hit the Copy button in between the Stop and Start/Enter buttons. Again, I would not recommend this function because of the poor quality.
INK CARTRIDGES
The specifications say that the black ink cartridge can yield 1075 sheets if only 75% of every sheet was filled when printed. Now that is not always the case because you do not always send documents that contain only text through the fax. Sometimes you want to send pictures, charts, and other documents that fill up a page entirely, so the total yield count drops to about 800 to 900 prints per cartridge for us. The color cartridge on the other hand should yield about 240 sheets as per the specifications, but that is also not the case most of the time. For us, it is around 150 to 200 pages if we are lucky with the color ink cartridge.
Replacing ink cartridges are very simple and easy. Just press the button with a picture of an ink cartridge and open the front panel and the ink cartridge compartment door and you will see the cartridges ready to pop out of their seats. After you replace the cartridges you will notice on the LCD that the unit wants to know which cartridges you replaced (Left, Right, or Both). You select one and then it will print out a cartridge alignment sheet and you go through set alignment settings. It would have been easier if the unit aligned the cartridges itself and figured out which cartridge was replaced itself also. But I would not expect that from this unit because it is so old and back then the technology was not as advanced as today's machines.
FINAL THOUGHTS
After using the Xerox WorkCentre 470CX for about two years now, I have gotten used to its nature, but have to say that we need a new fax machine or maybe one of those all-in-one (printer/copier/scanner/fax) machines. So if you wish to know whether I would recommend this product, I would say no because of a couple of reasons I discussed in this review. First of all, the speed, intelligence, and quality are the major issues that have been improved in the latest models out in the market today, so I would suggest purchasing the latest model from Xerox which is the FaxCentre F110.