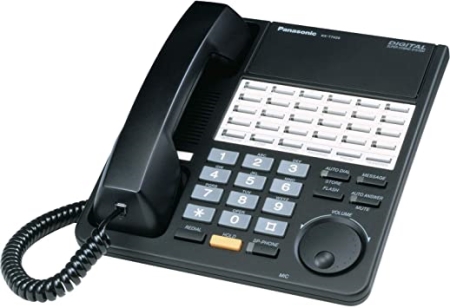 Another Excellent Phone System!
Summary
I would recommend this product if this were not an old model, but Panasonic has definitely made improvements, so look for a newer model when purchasing.
Pros
24 programmable lines, paging system, and speaker phone.
Cons
Twisting cords, single number redial only, confusing manual, and no LCD.
Our review of the Panasonic KX-T7433B phone system explained most of the features of the KX-T74 series phone systems. There are only minor differences between this KX-T7425B and the KX-T7433 models. I did not buy this phone either, but instead, I used to work with this phone every day at work before we dumped it in our old office and started using the KX-T7433Bs.
I do not know how much our company paid for this unit, but I can find out that retail is $130.00. The reason I am writing about this phone is that I like using this phone; it is easy to use. When I first started this job, I had some trouble using these phones, but once I got the hang of them, they were no problem. I downloaded the user manual from Panasonic's support website so I could learn more tips and tricks about it (panasonic.com).
PROS
My company is not very big so we currently have four active lines and transferring between them is a breeze. Most of the time, I need to page an employee of ours if there is a phone call and to make my life easier, Panasonic put a paging system on it. The paging system can be used in two ways; first is where you put a call on hold and page another phone in the same system (at another desk). The second is where you do an overhead page throughout the company for someone if that person is not at their desk. This feature comes in handy every single day for me because I do not have to get up and look around for someone.
The big deal for the volume control which handles the voice levels for the speakerphone and the headset. This helps when you have a loud person on the phone or when you can barely hear someone. As of yet, I have not figured out how to change the ringer volume because we stopped using these models shortly after I started working for the company.
One of the most used features on this phone is the Speaker Phone; I use it every time I make a call. I push the speakerphone button and dial the number I want and do not pick up the headset until someone actually answers on the other side. I also use this when I get to put on hold when I am searching for a specific part, etc…
There are a total of 24 buttons for different lines on this phone which is more than enough for any small business. All I have to do is press the transfer button and the preset extension button and the call is transferred.
CONS
First of all, I really wish it had an LCD (Liquid Crystal Display) screen to make my life easier. I think that is the only improvement in the KX-T7433 models from the KX-T7425 model. I have noticed that everything else is the same as the KX-T7425 model in the newer KX-T7433 models.
One of the things I do not like is when the twisted cord that connects the headset to the phone base gets even more twisted with itself and does not extend far enough. This happens every single day so I have to pick up the headset and unwind it.
The other feature I do not admire that much is the Redial; it redials the last dialed number only. It would have been better if it redialed at least the last 3 to 6 or maybe more numbers.
The user manual is a bit hard to read, but it does explain the major features very well. It seems to explain the minor feature not as thoroughly as it does the major ones. Panasonic could have improved on the manual's wording; it would have helped if they added a little more detail.
EXPERIENCE
I had used this phone for about three months before the company got the new models and it had been with the company for over four years. It had never failed to perform its duties. The only difference in the newer KX-T7433 model is the new LCD screen; everything else is the same.
From the three months, I had used this particular model of these phone systems, I can confidently recommend this phone or the newest model of this product line from Panasonic to everyone. I have always trusted Panasonic with any kind of phone system; whether is it for home or business use. I am a loyal Panasonic customer when it comes to phones. I can say this proudly because I use a Panasonic phone at work and home, and it has been almost like a family tradition to only buy Panasonic phones for my family.
FINAL THOUGHTS
When I look at all of the advantages this phone has, I tend to overlook all the disadvantages because I know the newer model of this product definitely has a lot of the cons I listed fixed, updated, or even upgraded. So I would not recommend you or your company buying this particular model, but the newest one that Panasonic currently has out in the market. Whether you or your company are thinking about buying new phones, I would say forget everything else and go with Panasonic because they will never let you down; you will always be in communication range. I can say this from experience.