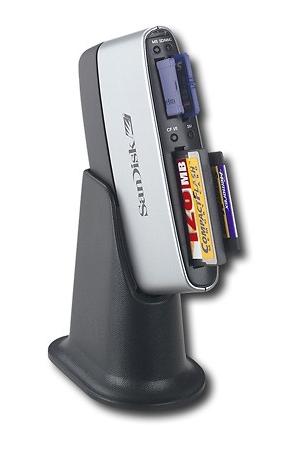 Excellent Memory Card Reader!
Summary
This unit has the best compact design, transfer rate, and price.
Pros
Fast transfers, great price, and compact size!
I originally bought this ImageMate 6-in-1 Card Reader and Writer when I bought my Olympus C-4000 Zoom because I was tired of plugging in my Camera every time I wanted to transfer photos; plus this baby is way faster. It is also compatible with all of the memory cards I use, so I am all set; that is until I bought a new camera (Olympus C-8080) which uses xD and Compact Flash memory cards so I gave it to my sister who owns my old C-4000 Zoom.
PROS
There are many good things about this unit like the stand. The stand fits nicely with the body and does not even take a lot of space. I like to use the stand to position the reader upright, but you can also use a USB cable (not included) and lay it on its side and not use the stand at all. But I think it is better to use the stand and not bother with getting another USB cable; nowadays they cost about $25.00.
The unit installs very quickly; all you have to do is connect the body to the stand and plug it into your computer. Another good thing is that it is plug-and-play so you do not even have to install any drivers for it. But if you want to see some nice icons in your "My Computer," you can use the CD that comes with it and install the driver/software. Once installed and mounted this unit works just like any other removable disk drive, so you can use this with any software you want. I would recommend using Adobe Photoshop Album software to manage all your photos.
CONS
I have not had any bad experiences with this unit when I used it; my sister also has not had any problems so far. I used to use this unit about three times a week because I like to take a lot of pictures which results in a lot of full memory cards.
The only thing I do not like about this unit is that viewing the picture while they are still in the memory cards is kind of slow. The computer builds the thumbnail previews fast but it takes about 2 to 4 seconds per image. This was on my AMD Athlon 2500+ computer that I built myself. So the best way to look at your pictures is to first transfer them to your computer and then look at them. A tip to keep in mind is to turn off the thumbnail feature in the removable drive to make this unit work faster.
EXPERIENCE
I used to use this SanDisk ImageMate 6-in-1 all the time as I took a lot of pictures and I still do with my new Olympus C-8080. The transfer rate is amazing when copying larger megapixel images to my computer. I have never had corrupt, damaged, or missing files while using the ImageMate 6-in-1. One other good thing is that when you insert a memory card in one of the slots, and the auto-run window pops up and you can choose either to open as a folder or with a software program like Adobe Photoshop Album.
FINAL THOUGHTS
I like using this reader and writer and would have continued to use it until I got my new camera (C-8080); I use the SanDisk Imagemate 8-in-1 now. I have had this unit for over a year and I had no problems with it ever. I will recommend this to anyone thinking about buying a flash memory card reader and writer, but if you want more I would suggest getting the 8-in-1 or better yet the 12-in-1.