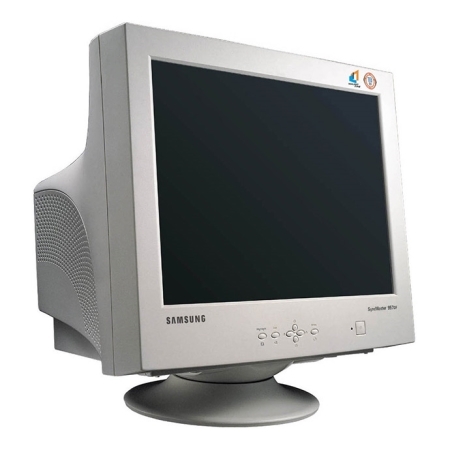 Just one of the Best!
Summary
The Bottom Line is that there is no bottom line…
Pros
Bright, light weight, and great quality…
In my office, there are two computers, and the one I use has this Samsung SyncMaster 763MB monitor. I have no idea how much the company paid for this but I can only guess it would have been anywhere from $200 to $300 back then. I have been using this computer for almost two years now and this monitor has not kicked the bucket yet. And with a name like Samsung one can not expect anything less.
DESIGN
Well, first of all, the specifications say it is a 17-inch monitor, but actually, as most people know that the viewable size is always different. The viewable area for this monitor is 16 inches, which is not bad considering it has a maximum resolution of 1280 x 1024 at 66 Hz.
This particular unit that I have on my desk has a silver front panel and a black rear panel. The front panel matches my old KLH Vertical CD Radio Cassette System that my boss uses. The rear matches very nicely with my Panasonic KX-T7433B Digital Phone. So there is no question that its looks will make your desk look ugly.
The buttons on the front panel are easy to see and operate. There are four arrow buttons pointing in each direction that can also be used to change the brightness and contrast easily. There is a Menu button that shows you the whole menu of options that you can use to customize the look on the screen to your needs. The Exit button works hand in hand with the Menu button to help you get out of the Menu options. One additional button that is available only on Samsung monitors is the MagicBright button. This button allows you to change the brightness with just one button. The settings are named Text, Internet, and Entertain. Text mode is the darkest of all then the Internet and the Entertain is the brightest of all. There is a (1 in X 1 in) power button with a little green LED light. When the monitor is on, the LED is lit green and off when the power is off.
RESOLUTION
The maximum resolution this monitor can support is 1280 x 1024 at 66 Hz, but the recommended setting is 1024 x 768 at 85 Hz for optimal performance. Mine is set to 1152 x 864 at 75 Hz and I have no problems with flickering or anything. I have an Nvidia GeForce 4 MX 440 video card to go with this monitor. I must say that the video card and this monitor work great together.
Minimum Resolution: 640 x 480 pixels
Minimum Refresh Rate: 60 Hz
DIMENSIONS AND WEIGHT
This monitor weighs about 42 pounds when it is still in its packaging, but once you remove it from the packaging it drops to only about 36 pounds which is really light for a CRT monitor. It is 15.7 inches wide, 16.2 inches high, and 15.7 inches in dept without the packaging. If you include the package it came in it will be 22.8 inches wide, 18.4 inches high, and 20.4 inches in depth.
If you were going to purchase a 16-inch monitor you would check if the whole package will fit in your vehicle. I suggest taking it out of its packaging before loading it in your vehicle if it does not fit with the packaging. Most stores do allow you to take it out of the package and leave the box behind for them to dispose of.
QUALITY
The Dot Pitch for this monitor is 0.20 (mm) which is pretty good (in my opinion) for its type, size, and age. I have watched movies, edited some videos and pictures, and browsed the internet with this monitor and I have not ever had a hard time seeing what I was seeing. The image quality is excellent and is never extra blurry or extra sharp; it is always just right.
WARRANTY INFORMATION
Samsung provides a three (3) year warranty for all parts, labor, and CRT of this monitor. You can visit Samsung's website (samsung.com) for warranty repairs or call them on their toll-free phone number 1-800-SAMSUNG.
FINAL THOUGHTS
This is an old monitor but still is a quality product. One thing I have come to know is that brand names like Samsung, Viewsonic, and Sony will never disappoint you with their products. I have used all three of these for a long time now and will recommend them to anyone who wants a reliable and long-lasting monitor for either their home or office.